T-Mobile claims fastest 4G LTE in US, says there's no reason it can't be No. 1
Something about Uncarrier moves working...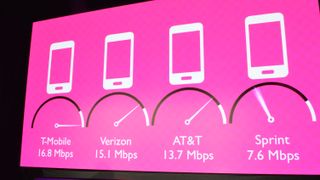 T-Mobile may be making it more inciting to switch to its network, but what's the point if its 4G LTE coverage isn't as snappy as the other guys?
CEO John Legere and crew made the au contraire claim at a CES 2014 press event that T-Mobile actually has the fastest connectivity around.
Based on user tests gathered from the Ookla Speedtest app, the company laid claim to the quickest 4G LTE in the country. It provided speed comparisons taken January 7 between it, AT&T, Verizon and Sprint during a press event earlier today and are displayed in the image above.
Of course, independently procured speed reads are the only way to know whether T-Mobile is telling the truth, but the company presented the data as hard fact anyway.
Numbers game
Company CTO Neville Ray also pointed out that along with being the fastest 4G LTE network around, T-Mobile's is also the most reliable.
"Eighty-five percent of the time, customers get great, consistent speed from T-Mobile. It's not just peaks - it's a consistent and reliable service," he said.
The day's announcements may have revolved around ETFs, family plans and LTE, but T-Mobile figured what better time to drop its preliminary Q4 2013 fiscal results on the crowd.
Legere threw out various numbers, but the key take away was that the carrier added 4.4 million net new customers in 2013, with 1.645 million coming in Q4.
We can be No. 1
While the company may be stuck in fourth place, Legere was adamant that there's no reason why T-Mobile can't take the top spot, specifically when it comes making it into rural and suburban areas with better coverage.
"I want to make it clear - I do not see limitations for T-Mobile to be seen as only a fourth or third or second carrier," he said.
"There is nothing strategic and long term that we can't do to make us be the carrier in the United States. It won't happen next year, it won't happen in two years, but we're playing hard. We're playing direct into consumers. We're investing in the things that are required to do that and we will cover those areas."
Sign up to receive daily breaking news, reviews, opinion, analysis, deals and more from the world of tech.
Michelle was previously a news editor at TechRadar, leading consumer tech news and reviews. Michelle is now a Content Strategist at Facebook. A versatile, highly effective content writer and skilled editor with a keen eye for detail, Michelle is a collaborative problem solver and covered everything from smartwatches and microprocessors to VR and self-driving cars.