Siri crowdsourcing patent could harness human brainpower for iOS devices
Apple's personal assistant may take a poll of experts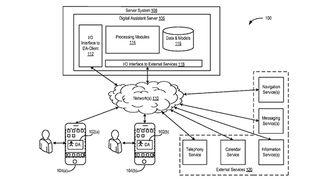 Siri could one day be more useful than just setting timers and answering basic questions, as Apple has filed a patent that envisions an expanded database with answers from human sources.
The "Crowd Sourcing Information to Fulfill User Requests" filing with the US Patent and Trademark Office suggests the Cupertino-based company will tap into the knowledge of real-life experts.
Apple's 2,000-word document indicates that crowd-sourcing for an answer is initiated if Siri fails to retrieve a good enough solution from its current database.
"In response to detection of the failure, information relevant to the user request is crowd-sourced by querying one or more crowd sourcing information sources."
ChaCha real smooth
Right now, Apple's voice-guided personal assistant relies on sources such as Bing, Yahoo and Wolfram Alpha.
But additional results from "self-identified experts" could give Siri the power of human-based search engines and Q&A sites like ChaCha and Quora.
"In some embodiments, queries and answers in a particular field may be posted in a public area for all self-identified experts of the field to see," explained the patent's text.
"The answers provided for the queries can be peer reviewed and rated by other self-identified experts in the field."
Siri's theorized crowdsource module would then make use of ratings to select the best answer for a user's question, exactly like ChCha and Quora.
Playing the long game
While peer-reviewed results from humans would be a boon to what Siri offers right now, the answers wouldn't always be as instantaneous as machine-based solutions from Bing, for example.
The patent talks about a "delayed response" that happens outside of the time frame of the current user session.
"The time frame in which a delayed response to a user request is provided ranges from several minutes to several hours, days, or weeks," noted the patent.
"[This depends] on the nature of the user request and the typical time frame that useful information may be crowdsourced from external CS information sources."
Of course, this patent doesn't necessarily mean we'll see a crowd-sourcing Siri in tow with iOS 8 or any future update to Apple's mobile operating system.
Siri doesn't seem to want to tell us either way.
Sign up to receive daily breaking news, reviews, opinion, analysis, deals and more from the world of tech.