Though the new Mac Pro 2022 hasn't been getting as much attention as other Apple products like the MacBook Air 2022 and the new Apple M2 chip, the grapevine has been strongly hinting at a new workstation from the tech giant on the way.
The news comes from Apple's senior vice president for hardware engineering himself, John Ternus, who teased its existence during the Apple Peek Performance event in March 2022. He stated that "And [Mac Studio and Studio Display will] join the rest of our incredible Mac lineup with Apple silicon, making our transition nearly complete, with just one more product to go: Mac Pro, but that is for another day."
That means an official announcement may finally come soon, so let's dive into what we do about the new Mac Pro 2022.
Mac Pro 2022: Cut to the chase
What is it? Apple's next-gen workstation computer for production- and industrial-level users
How much will it cost? We don't know, but it will certainly be much more expensive than the Mac Studio, which starts at $3,999/£3,999/AU$7,599 and maxes out at $7,999/£7,999/AU$12,099.
When is it out? We expect an announcement as soon as June 6, 2022, at WWDC 2022, but it might be several weeks or months after that before the workstation itself will ship, possibly as late as September 2022.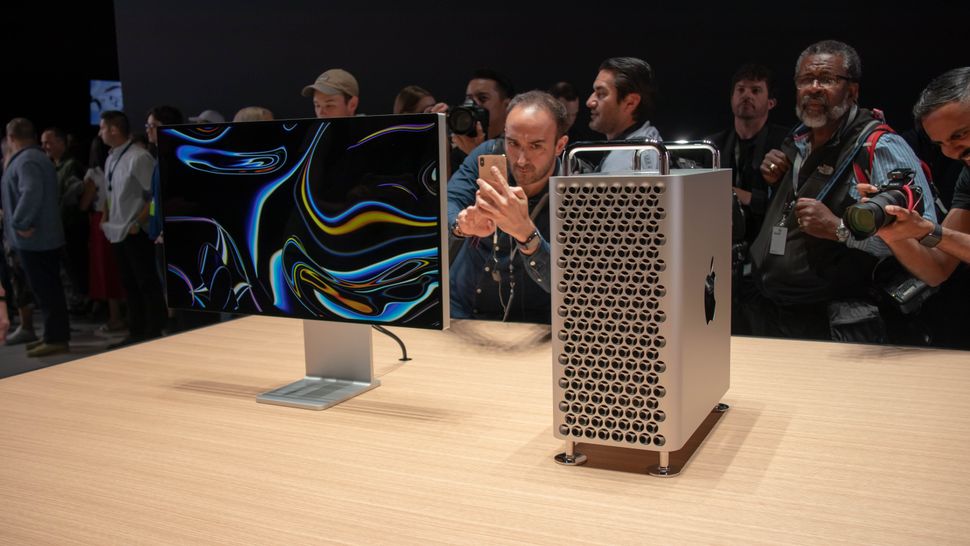 Mac Pro 2022: Release Date
We cannot say when the Apple Mac Pro 2022 will be released, but we fully expect that there will be an announcement of the new workstation-class desktop at WWDC 2022 and a preorder period to start soon thereafter. When the Mac Pro 2022 will actually ship is another matter, though Majin Bu, a noted Apple researcher, says that certain supply chain sources indicate a September 2022 ship date (opens in new tab).
This would be in line with what we saw with the 2019 Mac Pro, which was announced at WWDC 2019 in June, but didn't actually ship until December 2019.
We do know that it is coming, though. Apple's Ternus confirmed as much during the Apple Peek Performance event, though he did not give a time frame for a release beyond "another day." Will that day be Monday, June 6, 2022? We certainly hope so.
Mac Pro 2022: Price
We don't know where Apple will price the new Mac Pro 2022, but we definitely expect it to start somewhere in the $6,000/£6,000/AU$9,000 range and scale up from there as you increase the amount of RAM, storage, with an option (most likely) to increase the GPU core count.
Part of the difficulty with pricing out the Mac Pro is that unlike most other Apple devices, the Mac Pro is far more modular than your typical Mac. Most consumer and enterprise Mac devices have several configuration options, but these are mostly limited to a choice of processor-step (Apple M1 Pro vs M1 Max in the MacBook Pro 14-inch (2021) and MacBook Pro 16-inch (2021), for example, with different options for GPU core counts in some cases), the amount of RAM, and the amount of storage.
The Mac Pro 2019, meanwhile, had a far more extensive list of configuration options from an 8-core Intel Xeon to a 24-core Intel processor, from 32GB up to a staggering 1.5TB of DDR4 ECC memory, and ten different options for AMD Radeon graphics cards, ranging from a Radeon Pro W5500X with 8GB GDDR6 VRAM to two Radeon Pro W6900X graphics cards with 32GB of GDDR6 VRAM each.
The six storage options range from a 512GB SSD all the way up to an 8TB SSD. You also have the option of installing an Apple Afterburner card for faster decoding of ProRes and ProRes RAW video codecs in supported applications like Final Cut X, adding $2,000/£2,000/AU$3,000.
All of this means that the cheapest Mac Pro 2019 model will run you $5,999/£5,499/AU$9,999, while the most expensive configuration will cost you an eye-watering $53,799/£53,299/AU$81,699. It doesn't matter how much VC funding your startup or studio has, that is a lot of money. And that's not even considering the displays and additional peripherals needed to use the workstation.
The great mystery about a 2022 Mac Pro is that Apple is looking to move away from third-party silicon entirely, specifically Intel Xeon CPUs and AMD Radeon GPUs. How configurable the new Mac Pro 2022 will be in light of this remains to be seen.
Mac Pro 2022: Specs and performance
Mac Pro 2022: Specs and performance
The new Apple Mac Pro 2022 is most likely going to be a powerhouse of a workstation, courtesy of the M1 Ultra. And given the interconnect technology that Apple used to produce the M1 Ultra, it's entirely possible, maybe even likely, that the Mac Pro 2022 (at least for high-end configurations) will be powered by two M1 Ultra chips running in a unified fashion, rather than in parallel or tandem like many other multiprocessor systems.
Based on what my resource reports, here is some official information on the new Mac Pro 2022This is the bridge that connects 2 M1 Ultra together and will be found in the new 2022 Mac Pro.Processor name: "Redfern"Coming with new Macs Pro this September #Apple #AppleInternal pic.twitter.com/afj0dSmQvkMarch 12, 2022
This could make for a massively powerful workstation, but how will it stack up against the Mac Pro 2019? That remains to be seen. The Intel Xeon W processor in that workstation was able to support up to 1,536GB of DDR4 RAM, which is vital when dealing with creative content workflows.
If the rumor that the Mac Pro will come with two M1 Ultra's wedded together, similar to the way the M1 Ultra is two M1 Max chips connected through an interconnect bridge, are true, then the Mac Pro (2022) might only top out at 256GB of unified memory.
Only? Did we just say "only 256GB"? We must be getting spoiled.
Still, if the Mac Pro comes with two M1 Ultras joined together than the memory bandwidth for the Mac Pro 2022 could more than make up for the lower physical memory compared to its predecessor.
Digging deeper, assuming we'll have the option of getting a 2x48-core and a 2x64-core GPU on the Mac Pro's double-Ultra processor, you're looking at a 40-core CPU, a 96- to 128-core GPU, and a 64-core neural engine in the new Mac Pro 2022.
Honestly, we're not even sure how to quantify that kind of potential yet, but it makes us more excited than ever to see what Apple has in store for us.