Meta Connect 2023 as it happened: Meta Quest 3, Ray-Ban smart glasses and AI
The Meta Quest 3 ushers in a new era of mixed reality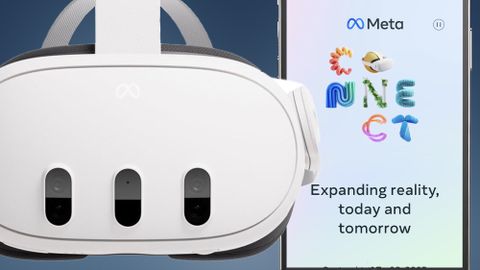 (Image: © Meta)
Welcome to the TechRadar live blog for Meta Connect 2023. We'll be keeping you updated with everything that's announced at this year's Meta event as it happens, as well as giving you our expert thoughts on all the hardware and software that's announced.

This year we know the headline item will be the Meta Quest 3, a new VR headset set to replace the Oculus Quest 2 (the most popular VR headset ever made). Meta has called the Quest 3 its "most powerful headset" yet, but beyond this, its price and that it'll have full-color mixed reality like the Meta Quest Pro there's a lot we still don't know - chiefly when it will release.

Alongside the Quest 3, Meta will likely show off other VR and AR tech it's working on (though expect a lot of the stuff to still be in fairly early development stages, based on previous years' keynotes), as well as AI advancements it's developing.
What was announced at Meta Connect 2023?
The Meta Quest 3 is here with impressive capabilities for its price
New Ray-Ban Meta smart glasses are coming too, with an in-built Meta AI
Emu is a new image-generation AI that can create Instagram edits and stickers
AI personalities are coming too, with celebrities bringing them to life via video
Refresh
Currently running this live blog is:
Currently running this live blog is:
Hamish is TechRadar's resident VR expert, as well as a member of the news team – so you'll see his name on a whole range of different topics including audio, computing, and TV tech. He's been a member of the TechRadar team for over two-and-a-half years, and has been writing about tech and gaming for the past seven years.
Meta Connect 2023 is here! I'm Hamish and I'll be with you for the next hour or so as Meta takes us through all of its VR and AI announcements. The biggest of which will be the Meta Quest 3 VR headset.
I'm super excited to see this new device, especially its mixed reality capabilities, as this seems to be a major focus for Meta. The Meta Quest Pro left a lot to be desired in this department, though, so the Quest 3 needs to be a big improvement if it wants to convince us that mixed reality is the future of XR tech.
The Meta Quest 3 is launching in a very different VR world than when the Quest 2 was released. VR is way more mainstream, and now massive names like Apple are starting to get involved with the likes of the Apple Vision Pro.
Apple's headset is set to launch at roughly seven times the price of the Quest 3 so the two gadgets aren't exactly in direct competition with each other. But Apple is a very recognisable name and when it enters a new market people pay attention.
Meta's Quest 3 is a chance for it to win back the VR spotlight, and in a few minutes, we'll see what it has in store for us.
Less than one minute until Meta Connect starts. I'm really hoping we see more of Meta's AR tech, and some more details about its partnership with Microsoft.
I really want to play Xbox in VR, but its been a whole year since we heard anything.
Oops, maybe we spoke too soon, it looks like Meta Connect 2023 is going to be delayed by about 30 minutes folks!
Things now look set to start at 6:30 pm BST / 10:30 am PST / 1:30 pm EST.
While we wait, let's recap some of the Meta Quest 3 details we do know.
First off, the price of the cheapest 128GB model will be $499 / £499 which is up a decent amount from the launch price of the Oculus Quest 2 at £299 / $299 / AU$479.
It's unclear how many different models of Quest 3 there will be, but we expect at least one more with either 256GB or 512GB of storage at a higher price than the base model. Our best guess would put it around $599 / £599 or potentially up to $699 / £699 but we'll have to wait and see what Meta announces.
We also know that the Meta Quest 3 boasts a 40% slimmer design than the Quest 2, though it's unclear if it'll be lighter or just smaller than its predecessor.
This slimmed-down design will be thanks to its pancake lens optical system. These lenses were also used by the Meta Quest Pro and not only offer visual enhancements over the Ques 2's Fresnel lenses, but they're more compact to boot.
The controllers will have a trimmed-down design as well as they lack a tracking ring like the one found on the Quest 2 handsets. The Quest Pro also dumped the tracking ring but replaced it with tracking cameras built into its controllers; the Quest 3's controllers seem to lack these cameras so I'm admittedly a little worried about them. Hopefully, Meta has an accurate tracking system worked out otherwise its new handsets might be a downgrade.
Only five minutes more until Meta Connect 2023 begins, if this new countdown clock can be believed that is!
The countdown now has fun, seemingly AI-generated objects for numbers.
AI will also be a focus for Meta at Connect 2023 as it looks to show off its answer to big players in the space like ChatGPT, Bing Chat, Dall-E, and Google Bard.
And now the stream seems to have ended, technical difficulties are running rampant today it seems.
Ah wait, it's back!
Here's a Facebook link if you want to catch it.
Meta Connect has started! Finally.
Mark Zuckerberg has taken to the stage, lets see what VR and AI announcements for us. Perhaps the difficulties have been because of the return to a live presentation.
Zuckerberg looks to be building on this idea of mixed reality, a world that merges real world and digital world interaction.
We're probably a little far from interactive holograms, but hey maybe Meta Holo is getting announced today.
Smart glasses? Is Meta going to show off new AR specs?
Its first foray into this field was the Ray-Ban Stories, though they aren't AR-capable, they're just wearable cameras. Maybe it has something more akin to the Xreal Airs up its sleeve.
The Meta Quest 3 is here! You can check out our thoughts on the Meta Quest 3 announcement or stay here for some of the key details from the announcement.
Mixed reality is a massive improvement on the Quest 3, and Mark is right; it's something else to play Stranger Things VR with portals seemingly appearing in tears in your living room walls.
YES! Xbox Game streaming is coming to the Quest 3 in December. So you'll be able to play Xbox games in VR on a massive virtual screen.
Augments are coming the Meta Quest 3 and they're like mixed reality widgets. They offer you a huge range of different uses like portals to your favorite experiences, a floating media player for a radio station, and a readout of your local weather conditions.
Bets of all your Quest 3 will remember where you put them between sessions.
I haven't tried them out yet but I'm really excited to.
No one is as excited about Horizon Worlds as the Meta Connect crowd, didn't expect it to get a bigger cheer than Assassin's Creed in VR...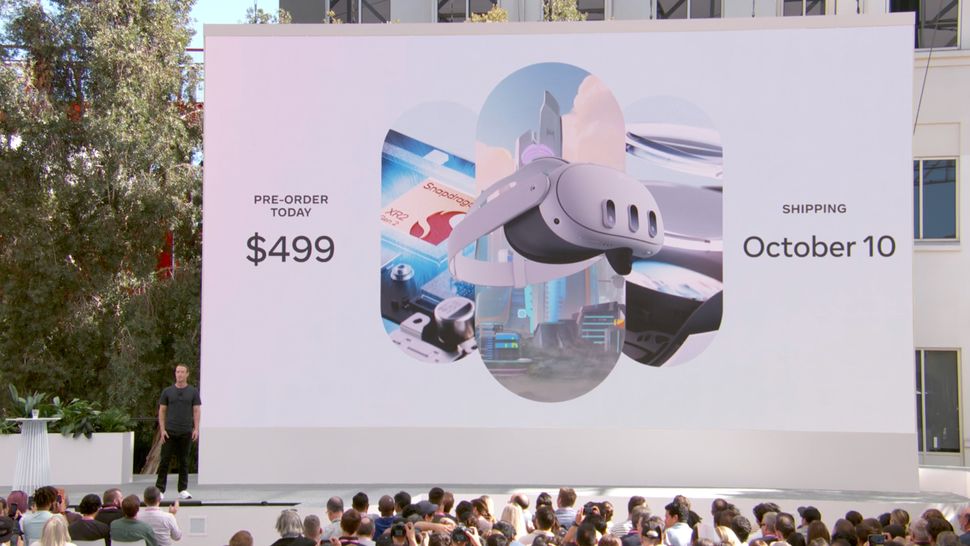 If you want to get the full run-down of the new headset you can check out our hands on Meta Quest 3 review.
It's on preorder right now and it will be launching on October 10 for $499.99 / £479.99 for 128GB or $649.99 / £619.99 for 512GB. It has a powerful XR 2 Gen 2 chipset, 8GB of RAM, and a super slim design that's comfy to wear (based on my short experience with the headset so far).
It's AI time, and Meta is showing off the "state of the art AI" its been working on, and plans to introduce to its suite of popular apps such as Facebook, Instagram and Threads.
Emu is the name of Meta's image generation AI tool, and it can apparently create pictures in five seconds which seems lightning fast.
And with Emu, you'll be able to create custom stickers for you'll Meta Messenger chats.
Instagram is getting AI editing tools via Emu to help you make your images look wild.
On stage, Zuckerberg showed a photo of his dog turning from a regular image to one that showed it as an origami sculpture, and there was an old photo of Zuckerberg that was edited to show him in a range of outfits using Emu.
Meta is teaming up with Microsoft so that its AI models based on Llama 2 (its large language model) can access the internet with Bing. This sounds a lot like Bing Chat which was made using ChatGPT.
This should help make it better at answering a wider range of questions as it won't be limited to just the data Meta has trained it on. Though giving AI internet access can be a double-edged sword given how much misinformation is out there.
Meta's rumored AI personas have just been confirmed! These different AI will have personalities based on different needs you might have.
Viktor is a fitness expert who can give you customized workouts, while Dylan can help you come up with costume designs for Halloween. There's also a Snoop Dogg Dungeon Master that will take you on a text-based adventure game, and voice is apparently coming sometime in 2023.
The presentation is taking a break while Zuckerberg plays with his AI DM, it will resume shortly... we hope...
These persona AI actually look kind of fun, and I love the video component using recreations of familiar faces. It makes them seem a lot more personable than chatbots offered by Google and Microsoft.
Maybe the Mr. Beast AI can help me make a 1,000,000,000 view YouTube video!
AI is coming to the metaverse? Can we handle two big tech buzzwords in one sentence?
Maybe these AI will help to make the Horizon Worlds feel a lot less empty than it is at the moment.
We're onto the final announcement; the new Ray-Ban Meta Smart Glasses. A follow-up to Ray-Ban Stories.
These new smart glasses offer a lot of improvements, but a big one Zuckerberg is focusing on is that the glasses are shipping with Meta AI.
As you explore you can speak to the glasses to ask them questions about the world around you. This seems really neat though I'll have to wait and see how well they do once I get my hands on them for a full review!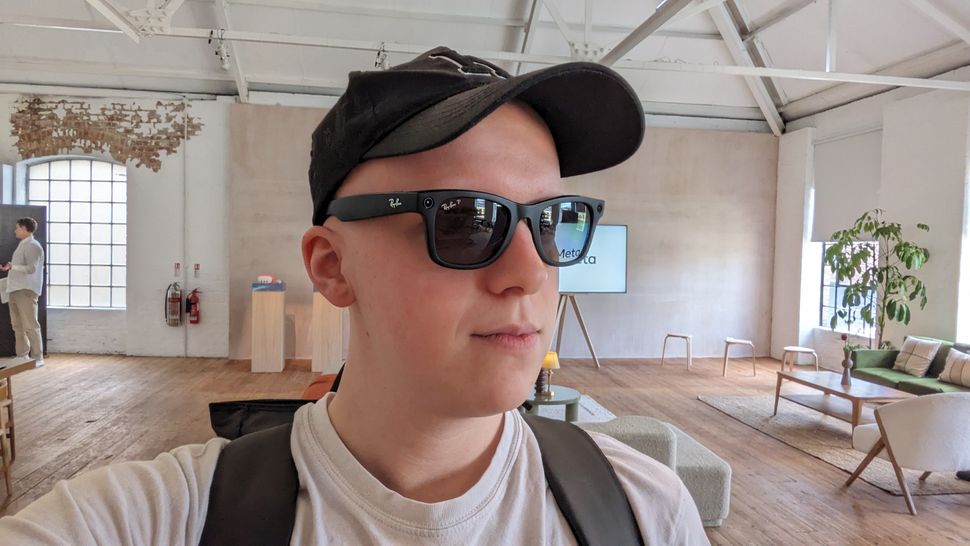 If you want to know more about the new smart glasses you can check out my hands on Ray-Ban Meta Smart Glasses Collection review for my thoughts on them.
They're a lot of fun to use though I'm a little worried people around me won't like that I'm wearing a camera everywhere I go.
One issue that hasn't been brought up yet, but I was told about while I was trying the Ray-Ban Meta Smart Glasses ahead of today's announcement is that they only offer four hours of charge.
With that little battery life I'm not sure how I'm expected to walk around wearing these all day chatting to the AI and recording video for my Instagram followers. That is without taking a lot of stops to get them back up to full power.
Ooo, is Mark building to a one more thing? Let's see...
Nope, no one more thing! That's it for Mark Zuckerberg's opening Keynote, with just those announcements.
In fairness they were pretty big reveals from Meta so we can't be too disappointed.
I'm actually kind of glad we didn't get a one more thing. At Meta Connect 2022 we got a teaser for the Quest 3 not that long after the big Meta Quest Pro announcement, and it put an immediate dampener on many people's excitemnet.
Why should they buy this new headset, when the next big thing is coming in only a year and it's being set up as a big improvement?
This lack of a final teaser gives the Meta Quest 3, the Ray-Ban Meta Smart Glasses, and its Emu and persona AI room to breathe. We can enjoy them without being fixated on what's coming next.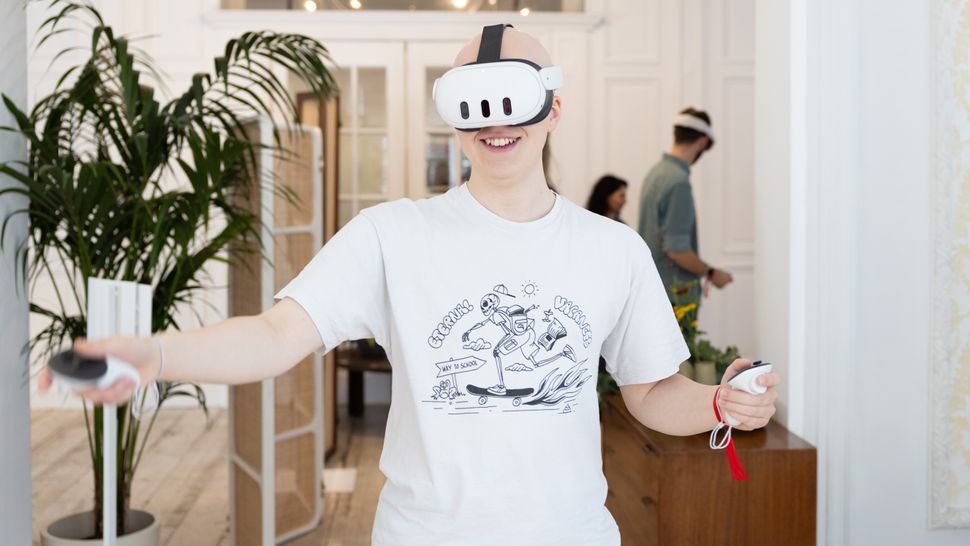 So to recap everything we got:
The Meta Quest 3 was announced. It's a new powerful XR headset with both impressive VR and mixed reality capabilities. I'm already in love with it based on my 30-minute trails of the device ahead of the announcement. The graphics are way better than what I saw from the Quest 2, its way smarter with full-room mapping, and mixed reality passthrough is better than any of Meta's previous headsets (I actually want to use it on this new device).
It's up for preorder today starting at $499.99 / £479.99 (Australian pricing to be confirmed by Meta) and is set to ship on October 10. If you order one before January 27 you'll get a free copy of Asgard's Wrath 2.
Check out my hands on Meta Quest 3 review for an in-depth look at the new device.
Then there were the AI announcements.
Emu is a new AI art generation tool that's rolling out to Meta apps. It can create wild edits for your Instagram photos, and it can generate custom stickers for your Messenger chats in a matter of seconds according to Meta – which is lightning fast compared to other AI.
We also saw new chatbot AI that have a variety of personas and celebrity actors portraying them. Each personality will be tailored for different tasks – from cooking to working out to being a dungeon master – and Meta hopes to give them a voice in 2024. Currently they can only chat over text with a semi-responsive AI video of the personality appearing on screen.
Lastly, we were introduced to the new Ray-Ban Meta Smart Glasses Collection.
These glasses not only have improved specs compared to the original Ray-Ban Stories, but will offer two new features. Using the specs you can livestream your view on Instagram and Facebook, and these spectacles will also have access to Meta AI.
At first, it can perform fairly basic functions like taking pictures and calling contacts. But it will also have the ability to answer questions about the world around you, and chat with you, though these tools will take longer to implement.
And that's it for Meta Connect 2023! Thanks for spending your time with me and the TechRadar team while we watched the event, and be on the look out for in-depth coverage of all of today's announcements in the near future.