Fujifilm X-T5 launch recap: the exciting 40MP camera is officially here
All our early thoughts from the official Fujifilm X-T5 launch
News
Contributions from
published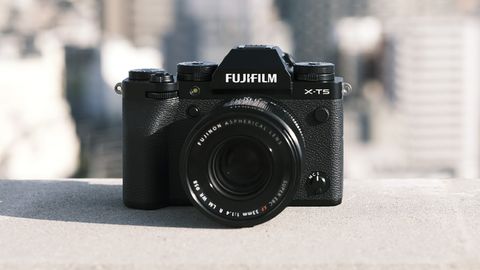 (Image: © Fujifilm)
Fujifilm's third X Summit event of the year is now officially over – and it certainly lived up to its billing with the launch of the Fujifilm X-T5, a very promising mid-range mirrorless camera for keen photographers. (Looking to jump straight to our first impressions? Check out our hands-on Fujifilm X-T5 review).
Heads up: Black Friday camera deals
In the market for a new camera? The latest releases don't always offer the best value, as sparkling as they often are. But it's potentially a good time to land a camera bargain, as the Black Friday deals are now a matter of weeks away.

Not sure where to start? Our guide to the Black Friday camera deals has picked out some of the best early offers (yes, it's started already at some retailers). But it's also packed with advice on what to look for, which cameras could offer the best value and how to formulate your plan of attack. And if you're after a really cheap video camera, tit's always worth checking out the Black Friday GoPro deals, too.
As its name suggests, Fujifilm's new camera is the follow-up to the Fujifilm X-T4, which has consistently ranked highly in our guide to the best cameras for photography. The big news is that the X-T5 packs the same 40.2MP APS-C sensor and X-Processor 5 from the Fujifilm X-H2 into a more classic, dials-based body.
Interestingly, the X-T5 is a more photo-centric camera than its predecessor, with the three-way tilt screen from the X-T3 making a return, alongside all of the latest Film Simulations and an in-body image stabilization that now offers around seven stops of compensation.
Looking to catch up on all the news you missed so you can create a plan to justify buying an X-T5? Have a good scroll through all of our liveblog posts below – and stay tuned for some more of our first impressions, based on our first few hours with the exciting camera.
Rewatch the Fujifilm X-T5 launch
Refresh
Hello, I'm Mark (TechRadar's Cameras editor) and I'll be guiding you through today's Fujifilm X Summit event. I've used, reviewed and owned a lot of Fujifilm X-series cameras, so I'm really looking forward to seeing what the unique camera brand has up its sleeves for today.
It's already been a cracking end to the year for new cameras, with the OM System OM-5, Hasselblad XQD 100C and Sony finally springing into life with the FX30, ZV-1F and A7R V. I played with the latter last week and it's shaping up to be one of the cameras of the year. Could Fujifilm actually manage to upstage it today? We'll find out it in just over ten hours.
So, how do you actually watch today's Fujifilm X Summit? The event's being livestreamed on YouTube at the link above, with the official start time being November 2 at 9am EST / 1pm GMT. If you're in Australia, that works out as 12am AEDT on November 3, but that's no excuse not to tune in.
YouTube handily lets you set reminders for when livestreams are about to kick off –just hit the bell icon on the video above and you'll get an email reminder. But the better approach is clearly to grab some popcorn plus your favorite camping chair, and follow our build-up here. It'll definitely be a lot more entertaining than watching Twitter get burnt to the ground.
Why are X Summit events a big deal in the camera world? Historically, they've been more than just single product announcements – we typically also get to see new lenses and some teasers for future launches, too.
During Fujifilm's X Summit in June 2021, for example, we saw two new cameras and eight new lenses announced (four for the X-Series, and four for the medium format GFX series). Fuji also revealed that its next generation of X-Trans sensors would include a speedy stacked design – which ultimately turned out to be the one inside flagship Fujifilm X-H2S.
I can't promise that many announcements today, but there's definitely precedent for a few surprises. And buckle up, because that event was an hour long.
There's already an impressively high number of Fuji fans camped out on the X Summit's livestream page. And it seems virtually everyone has a different wishlist for today's announcement.
Among the early comments are hopes for "a new X100 series" (Fujfilm's popular street photography compacts), an "X-Pro4 with that new 40MP sensor please", and the most heavily rumored contender, the "X-T5". No pressure then, Fuji...