The Google Pixel Fold was announced at Google I/O 2023 after it leaked in the days running up to the event. It's an exciting reveal as it's the company's first foldable phone and it will launch later this year on June 27. However, if you want to secure yours ahead of time it was also confirmed that Google Pixel Fold preorders are open right now.
The Google Pixel Fold will cost $1,799 / £1,749 / AU$TBC, so it's a fairly hefty upfront cost but exactly in line with Samsung's own foldable handset, the Galaxy Z Fold 4. Anyone who preorders the Google Pixel Fold, though, will get a Pixel Watch included for free - that's around $399 / £339 / AU$549 in value. A nice little freebie for sure.
We have all the latest news and info you need about preorders for the Google Pixel Fold right here. We'll also add any special preorder deals we see from retailers, carriers or networks when they go live so you can get the best offer on Google's new foldable. That is, if you don't want to buy direct from the Google Store.
If the Pixel Fold is not for you, then you can check out the best Google Pixel 7a preorder deals as the brand-new budget-friendly smartphone is now available to buy. We've also got all the latest on Google Pixel Tablet preorders, too.
Google Pixel Fold preorders live now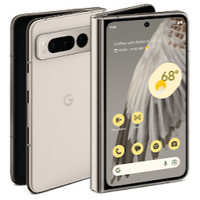 Google Pixel Fold: $1,799 / £1,749 at Google Store
The official Google Store is a great place to start if you're after a Google Pixel Fold preorder as it's available right now and will be delivered on release - June 27. Buy from here and you also get a free Google Pixel Watch (that's $399 / £339 / AU$549 in extra value) plus discounts if you trade in your current device.
Google Pixel Fold: key specs and features
Google Pixel Fold: specs
Price: $1,799 / £1,749 / AU$TBC
Size: 158.7 x 139.7 x 5.8mm
Weight: 283g
Display (Main): 7.6-inch 120Hz OLED
Display (Outer): 5.8-inch OLED
Chipset: Tensor G2
RAM: 12GB
Storage: 256GB / 512GB
Camera: 48MP
The Google Pixel Fold is the latest foldable handset to hit the market, with the aim of combining the best of a phone and a tablet in one of the thinnest foldables on the market.
Let's start with the most important feature: the screen. When the Google Pixel Fold is unfolded you get a 7.6-inch 120Hz OLED display and there's the 5.8-inch OLED on the front.
The biggest concern with any foldable, though, is the screen crease. Google has promised its custom-built hinge is fluid, friction-free and has been tested up to 200,000 times to improve usability and longevity.
Other key features include the same Tensor G2 chip that's in the Pixel 7 Pro, a 48MP main camera and a battery life of up to 24 hours (which increases to 72 hours in low power mode).
Check out our Google Pixel Fold hands-on review for our early thoughts on the new handset.
Should you pre-order the Google Pixel Fold?
Given the high price and niche appeal of foldable phones, it's unlikely that you need to rush out and place a Google Pixel Fold preorder unless you definitely want to get the handset on day one. It's unlikely to sell out and availability should remain strong throughout the year.
However, if you want to get the best early deals, then a preorder could be a smart move. The offer of a free Google Pixel Watch will not be available forever and there's no guarantee it will return at a later date. Plus, if you have an existing phone to trade in, you'll almost certainly get the most value for it now rather than a few months down the line.
Of course, there will definitely be more Google Pixel Fold deals in the future, too. These are more likely to feature straight discounts on the handset, so if you'd rather simply pay less instead of get a few freebies now then holding off may be the better move for you.
Ultimately, whether it's right for you to place a Google Pixel Fold preorder depends on your preferences, circumstances and overall interest in the device. You could also wait and see whether it gets a spot on our best foldable phone buying guide after we have more testing time in the future.