TechRadar Tip Off: 50% off Logitech G19s Gaming Keyboard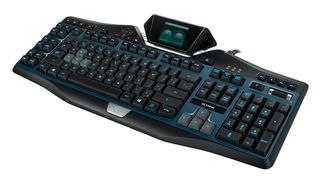 No matter what you hear, PCs aren't dead. Not really anyway. The popularity of the latest consoles, Steam Machines and what have you, can't really replace a good PC.
Which is why you need good PC peripherals. The TechRadar Tip Off has found a bunch of PC related goodies from Logitech but we particularly like the 50% off pricing on the Logitech G19s gaming keyboard - at $99.99, it's a pretty big savings.
Since the G19s is such a great deal, you might as well throw in the $54.99 Logitech Z523 speaker system that comes with a subwoofer to get the best bang for your buck.
Tell me more, tell me more
Logitech has had a long record of making great tech all at an affordable price which is why this is a particularly good deal.
The Logitech G19s is super customizable - right down to various color schemes for up to three different games - and with the keys as well. It's especially great if you're really into macros.
There's even an LCD screen that will let you do other stuff, like watch YouTube videos, when you're waiting for long loading screens.
As for the Z523 speakers, you'll be getting 60 watts of sound - plenty for gaming, movies and music.
Think the Z523 speakers look funny? Well that's because Logitech tried to engineer this set with 360-degree sound tech. Inside, you'll find not only forward-firing drivers but backward-firing drivers as well so the sound gets projected evenly all over the room.
When you're trying to decide on one or both of these great deals keep in mind the whole package is all under $200 (in fact, it's way under and doesn't even hit $170).
Sign up to receive daily breaking news, reviews, opinion, analysis, deals and more from the world of tech.