Modern Warfare 3 best weapons: 6 guns that are currently dominating the meta
The best guns currently available in Modern Warfare 3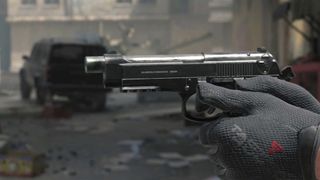 (Image credit: Activision)
Which guns are we using at the moment?
Currently, the TRG team is experimenting with LMGs and Assault Rifles, hoping to work out some builds that excel at long range. The SVA 545 is being used as a bread-and-butter gun, great for leveling up and compering attachments between weapons. For now, and with so many weapons in MW3 currently, there are many contenders for best weapon that need to be considered after the first weekend of play has ended.
The best weapons to use in Modern Warfare 3 essentially boil down to SMGs and Assault Rifles right now. Given the massive selection of guns currently available at launch, a clear meta has only just started to emerge after the first weekend of play. Out of the entire Modern Warfare 3 weapons list, there's some clear winners.
Modern Warfare 3 is currently live in all regions, with a huge selection of Assault Rifles and SMGs on offer, as well as a handful maps and modes to use them in. From what we've played so far, the game is falling a little bit short of being a real contender for our best FPS games list.
Here are our picks for the best weapons in Modern Warfare 3, out of the massive selection available. We've picked six weapons and will go into a little bit of detail on what makes each one worth your time. As new weapons are added, this list is likely to change. Hopefully, once the game has been out for a bit longer, we'll have a clear idea as to what the Modern Warfare 3 meta is, and how you can use it to your advantage.
Modern Warfare 3 best weapons
STRIKER (SMG)
MTZ-556 (Assault Rifle)
MCW (Assault Rifle)
SVA 545 (Assault Rifle)
BAS-B (Battle Rifle)
RENETTI (Handgun)
As you can see from the list above, our Modern Warfare 3 best weapons picks are primarily made up of assault rifles and SMGs. As we spend more time with the game, we'll update this list. For now, we're considering some LMGs and snipers, but it's too early to tell where they'll land exactly.
Striker SMG
Best Striker attachments to use:
Muzzle: VT-7 SPIRITFIRE SUPPRESSOR
Barrel: STRIKER RECON LONG BARREL
Optic: SLATE REFLECTOR
Rear Grip: SAKIN ZX GRIP
Magazine: 20 ROUND MAG
As far as we're concerned, the Striker SMG is one of the best weapons currently available in Modern Warfare 3. It's fast firing, with high handling stats, allowing you to go from sprinting to aiming down sights in an instant. Given just how fast-paced Modern Warfare 3 is, and when factoring in the new Tactical Stance, you'll be able to incorporate the Striker into a variety of play styles.
The Striker has great versatility too, and can be used for mid-range skirmishes when set up correctly. The selection of maps currently available definitely caters to close-range and the occasional midrange engagement, so the Striker is the perfect all-rounder, packing a punch while allowing you to slide and move quickly before firing. For tips on what to pair the Striker with, visit our Modern Warfare 3 best Striker loadout guide.
MCW Assault Rifle
Best Striker attachments to use:
Barrel: Second Line Mammoth Heavy
Sight: Slate Reflector
Rear Grip: RB Talon-X3 Grip
Underbarrel: XRK Edge BW-4 Handstop
Magazine: 40 Round Mag
Now onto Assault Rifles, which are also perfectly viable in Modern Warfare 3. The MCW in particular can really thrive at close and mid-range. It hits a little harder than its counterparts and can be set up in a way to maximize recoil control and damage range.
Whether you use the MCW or the gun below this section depends on what you want out of your Assault Rifle. If you'd rather take things a bit more slowly, and tactically, pick the MCW. While it doesn't quite have the fire rate of other guns in the game, it's a great midpoint between the quickness of an SMG, and the stability of an Assault Rifle. For tips on what to pair it with, visit our MW3 best MCW loadout guide.
MTZ-556 Assault Rifle
Best MTZ-556 attachments to use:
Barrel: MTZ CLINCH PRO BARREL
Laser: CS15 SCARLET MOUNTED LASER
Rear Grip: BRUEN TR-24 ASSAULT GRIP
Magazine: 20 ROUND MAG
Underbarrel: XRK EDGE BW-4 HANDSTOP
The best Assault Rifle in Modern Warfare 3 right now comes down to either the MCW, SVA 545, or the MTZ-556. The latter absolutely dominates in terms of fire rate, making it closer to an SMG when set up correctly. It can still perform at range as well, and whether you choose it comes down to your own personal preference.
When outfitting the MTZ-556 in the Gunsmith, you'll want to keep your fire rate up, while trying to improve handling and stability. Adding a mid-range sight to the gun can really help things, and getting the hang of your Tactical Stance control will open up new uses for the weapon. Ultimately, try out both the Assault Rifles picked in this article to see which one you prefer. There's very little between them. For tips on setting up the MTZ-556, and what to pair it with, visit our Modern Warfare 3 best MTZ-556 loadout guide.
SVA 545 Assault Rifle
Best SVA 545 attachments to use:
Barrel: STV Precision Barrel
Sight: Cronen Mini Dot
Rear Grip: DEMO 650 GRIP
Underbarrel: BRUEN PIVOT VERTICAL GRIP
Muzzle: L4R Flash Hider
Now for yet another Assault Rifle, the SVA 545. This gun is currently emerging as something of a meta weapon, given how many players received the gun early via the Vault Edition Pack. What makes the SVA 545 so great is its accuracy and very negligible recoil. Pair it with a fast-firing pistol like the P890 or the Renetti, and you'll have a loadout that can compete against any player you come up against. For tips on what Perks to use with the SVA 545, visit our Modern Warfare 3 best SVA 545 loadout guide.
BAS-B Battle Rifle
Best attachments rio use with the BAS-B:
Barrel: Bruen VENOM Long Barrel
Sight: Cronen Mini Dot
Magazine: 30 Round Mag
Underbarrel: BRUEN PIVOT VERTICAL GRIP
Muzzle: LOCKSHOT KT85
The BAS-B is for those looking for a bit more precision than your usual run and gun build. It's a Battle Rifle, so offers stability and handling, and can do decent damage at pretty much any range. You'll need to level it up to make it viable, though only to level 10 or so.
When setting up the BAS-B , try to focus on accuracy, recoil control and damage range. Or you could just check out our Modern Warfare 3 best BAS-B loadout for a rock-solid build that you can use.
Renetti Handgun
Now for the humble Renetti. Given how fast-paced Modern Warfare 3 can feel at times, and how quickly you'll burn through ammo on your primary weapon, you'll absolutely need a solid sidearm to use in a pinch. The Renetti is lightning-fast, and feels great to use, allowing for fast movement and sliding.
When setting the Renetti up, prioritize draw speed, while trying not to kick the recoil up too high. The base Renetti should give you a good feel for the weapon, and then you can try to compliment your primary by covering its weak areas.
Those are the best weapons to use in Modern Warfare 3 so far. For more on the game, be sure to check out our look at the new Modern Warfare 3 Cutthroat Mode. Elsewhere, there's everything you need to know about Modern Warfare 3 Zombies.
Get daily insight, inspiration and deals in your inbox
Get the hottest deals available in your inbox plus news, reviews, opinion, analysis and more from the TechRadar team.
Jake is a freelance writer who currently works regularly with TRG. Hailing from the overcast shores of Brighton in the United Kingdom, Jake can be found covering everything from features to guides content around the latest game releases. As seen on NME.com, Eurogamer.net, and VG247.com, Jake specializes in breaking games down into approachable pieces for guides, and providing SEO advice to websites looking to expand their audiences.