Modern Warfare 3 Zombies guide
Zombies comes to the Modern Warfare franchise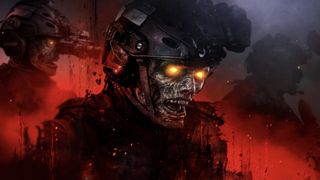 (Image credit: Activision)
Are there Zombies Mode Mastery Camos to earn in MW3?
Call of Duty: Modern Warfare 3 (2023) will feature 12 new Mastery Camos to unlock. Four are from the Zombie mode and can be used on MW3 guns, and then there's four that are brand new Zombies camos for MW2 weapons. You can read more about how you can unlock Mastery Camos here.
Modern Warfare 3 Zombies marks a first for the series, as it's the first time we'll encounter the shambling undead in a Modern Warfare game.
As such, Operation Deadbolt is a slightly different Call of Duty Zombies experience, one with the largest map in the mode's long history. Activision has now launched Modern Warfare 3, including the maps that make up the game's release offering. In fact, it's looking like it could be a very strong entry into the FPS series, one that might just bring back lapsed players.
Here's our Modern Warfare 3 Zombies guide, including a breakdown of Operation Deadbolt, whether or not it can be played in split-screen, and what to expect once you drop into its massive map.
Modern Warfare 3 Zombies guide
Modern Warfare 3 Zombies launched alongside the main game on November 10, 2023. It's part of the main game, available as a specific mode. It's very similar to DMZ, in that you load in, complete contracts and then extract with your spoils.
Modern Warfare 3 Operation Deadbolt
Modern Warfare 3 Zombies is officially called Operation Deadbolt and features Soap and Kate Laswell as they attempt to thwart a world-ending plot from none other than Viktor Zakhaev. After attempting to steal vials of Aetherium. Zakhaev's men inadvertently release it into a city. This causes a full outbreak, which you and your squad will attempt to contain.
Players will take on incursions across multiple areas, each escalating in difficulty. In each area, there are living enemies as well as the undead. Multiple squads will drop in, working alongside each other in PvE combat. The goal is to complete objectives and then extract with all of your surviving team members. These objectives range from simple bounties and escort missions, to horde areas and more.
If you'd like to know more about the story behind Operation Deadbolt, you can check out the trailer embedded above.
Modern Warfare 3 Zombies map size and details
What's most interesting about Modern Warfare 3 Zombies and Operation Deadbolt is that it takes place on the largest Zombies map so far. It's a much more open affair and seems to us to incorporate the same design mentality as DMZ mode from last year's Modern Warfare 2. The mode takes place on Urzikstan, the upcoming Warzone map. Expect multiple ways to enter buildings, and different ways to approach objectives. Given that there will be multiple squads in each match, this makes sense.
Recruit any unlocked Operator for your Strike Team. Each recruited Operator will have their own "On-Soldier" Gear. All Operators you've unlocked from both Modern Warfare II and Modern Warfare III are available, and two Operators — Ripper and Scorch — are unlocked after you complete specific challenges within Zombies.
Each Strike Team Operator can be chosen and comes with five different customizable Equipment Slots. The Gear you find during missions is saved here, and includes Killstreaks, Armor, Gas Masks, and Medical items.
Can you play Modern Warfare 3 Zombies in Split-Screen co-op?
Unfortunately, Modern Warfare 3 Zombies does not feature split-screen co-op at launch. There's been no word as to whether it'll be added in the future, though if Activision announces any changes, we'll be sure to update this page.
So there you have it, everything we know about Modern Warfare 3 Zombies so far. Now that you're done here, why not head on over to our upcoming Games page to see what else is launching in the future, or check out our picks for best PC zombie shooters you can play right now for more undead slaying.
Sign up for Black Friday email alerts!
Get the hottest deals available in your inbox plus news, reviews, opinion, analysis and more from the TechRadar team.
Jake is a freelance writer who currently works regularly with TRG. Hailing from the overcast shores of Brighton in the United Kingdom, Jake can be found covering everything from features to guides content around the latest game releases. As seen on NME.com, Eurogamer.net, and VG247.com, Jake specializes in breaking games down into approachable pieces for guides, and providing SEO advice to websites looking to expand their audiences.