Email marketing is an important part of permission marketing, which means proper targeting of users who have already opted-in to receive such emails. The best email marketing software can make it simple and easy to extend your permission marketing to a targeted audience.
The days of harvesting emails from websites are gone for good, and anyone attempting that faces not just legal consequences but also consumer backlash and brand damage.
All the more reason why when running an online marketing campaign that it's carefully handled, and properly used, to realistically increase the chances of consumer engagement and improved sales conversions.
However, having the right email marketing software can be the difference between a single-digit and double-digit response, so it's important to get that right. It doesn't matter either which type of email client or email provider you use, as you will generally generate and send emails through the email marketing software itself.
Additionally, email marketing by itself is just one part of the marketing process. You'll also want to ensure you have good landing pages, lead generation tools, and any relevant sales enablement tools. This applies whether you're selling your own products/services or running an affiliate marketing campaign.
Here then are the best email marketing service providers in the current market, and while some services may be more costly than others, not that extra benefits such as split-testing can help increase responses enough to make the campaign easily pay for itself.
Constant Contact provides a suite of tools for email marketing purposes. Putting together an email is easily done using drag and drop tools to create visually-rich emails, and contact lists of senders can be imported from Outlook, Salesforce, or by uploading a spreadsheet.
There are also additional features available, such as email automation and scheduling, with surveys, polls, and dynamic signup forms available to provide feedback. You can also manage events and social media from your account.
Aside from customizable templates and image hosting, analytics underline Constant Contact's service, making it easier to measure the effective ROI from campaigns, and seek to improve conversion rates with different approaches.
There are two main plans available, with the Email tier offering most basic features mentioned here for a nominal monthly price. An Email Plus account allows for split testing, dynamic content, and the ability to offer mobile-responsive coupons.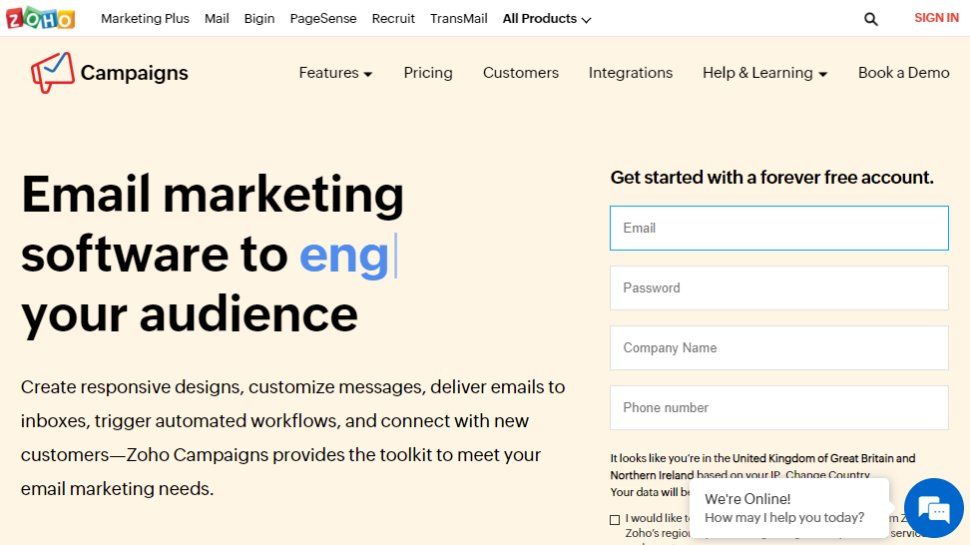 Zoho Campaigns is the email marketing platform from Zoho, a company that already provides a wide range of software, from their office suite to CRM to IT helpdesk.
Zoho Campaigns is part of their sales and marketing suite of services, and specializes - not surprisingly - on email campaigns. As expected, this is a honed permission marketing tool that aims for better communications and conversions.
A key part of it is a wide range of provided newsletter templates which cover everything from seasonal events to Black Friday sales, and all are very visually appealing for both clients and customers alike.
Another main feature is email workflows for personal automation, which means using a simple drag-and-drop interface to set up automated actions and events to make handling large campaigns all the more easier.
On top of all this, though, is a range of great integration options. While Zoho Campaigns integrates work existing Zoho products, not least Zoho CRM, there are also numerous third-party integrations available such as with G Suite, SurveyMonkey, Facebook, YouTube, and Wordpress, for example.
Pricing is relatively inexpensive, but there's also a Forever Free plan that allows you to send up to 12,000 emails a month to up to 2,000 subscribers.
Even if you haven't used email marketing software before, you've more than likely heard of MailChimp (probably sponsoring a podcast or two!). Launched in 2001, it's a veteran and leader in this arena, allowing users to create and send professional marketing emails to a database of customers.
Like many other products, there's a built-in designer that offers a selection of templates which can be edited to your tastes. You can add elements like clickable text, graphics and logos, and there's also the option of designing your own email from scratch if you have the requisite coding skills.
MailChimp does well on the integration front, too, especially for online retailers. You're able to link the system up to services such as Shopify, WooCommerce and Magento to send targeted product campaigns. Once you've unleashed your campaign, you can analyze its performance via the report feature.
The software offers a free tier, which is good for 10,000 emails a month to up to 2,000 contacts, but it includes the MailChimp logo in the footer. Also available are premium business packages starting with the Essential package, which allows a half-million emails to be sent to up to 50,000 contacts. Additional plans increase limits and features.
Vertical Response aims to provide all of the tools you need to ensure your email marketing campaigns succeed. It does this by providing a number of features that include a custom template designer, automation, analytics, and survey options.
The designer is an easy-to-use template editor with drag-and-drop and point-and-click functionality, meaning that it's easy for the most inexperienced person to set up a beautiful looking email template from the start.
On top of this are various automation features, allowing you to use autoresponders and automated emails to respond immediately by email to customers on every part of their journey, or according to different interactions. The result is the ability to save time and money by making more communications available with less set up and management involved.
As expected, there are also analytics, and while it provides the default set of data such as click rates, geolocation, device and browser type, it also gives you the ability to compare campaign performance. This allows you to get a better idea of which features work best with customers.
Along with customer landing pages and heatmaps, this allows you to get a better idea of how customers view and interact with your emails.
The service is remarkable inexpensive considering the range of features and options available. There are also survey options available, allowing you to broaden your communications.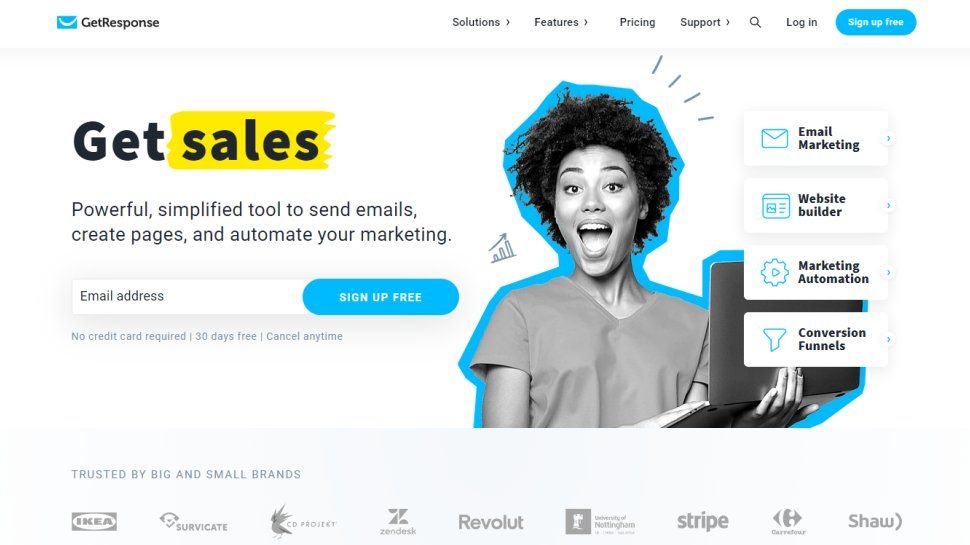 GetResponse is a marketing platform that includes video conferencing as standard. This means that GetResponse could be an ideal solution for marketers and business users in general, covering everything from customer relations management to coaching to sales meetings.
Underlying all this, though, is the marketing platform that provides landing pages, and email marketing, along with a respectable amount of automation, to help ensure that your communications and marketing are working well. So after video conferencing with customers or colleagues, you can follow up automatically with emails for responses and even upsell as required.
If that wasn't enough, there are also a lot of great integrations available with other popular third-party platforms, including SalesForce, Slack, Wordpress, and Facebook, along with a number of ecommerce platforms and payment gateways options such as Magento, Shopify, Etsy, Stripe, and Paypal.
The cheapest paid tier for GetResponse allows for up to 1,000 subscribers, with the price rising according to the number of people you need to reach. However, this tier is primarily for the email marketing features.
To get the video conferencing and webinar features as standard you'll need to sign up for the more expensive Plus plan.
While costs may initially look steep by comparison to other providers, do note that this presumes a single main user and is charged only to that, rather than all users being charged on a monthly basis as some other providers do, making it potentially more price competitive. Additionally, the inclusion of marketing tools makes this a potentially powerful platform and one to look out for.
Also consider these email marketing software providers
ConvertKit is an interesting platform that's more of an integrated solution when it comes to promoting ideas and content, with as much emphasis on providing custom landing pages as an integral part of your website as much as the marketing side of email newsletters and lists. Better still is that there is a perfectly functional free tier available to use.
Sendinblue offers a really extensive digital marketing platform which doesn't just offer email marketing and landing pages but also SMS and chat, all built into a wider CRM that allows for segmentation and direct advertising integrations for social media. If you think it sounds too good to be true there's a free tier available to try out.
ActiveCampaign is another solution that aims to provide an integrated marketing and communications platform with a CRM. Automation plays a key role with this software, as does site tracking, integrated forms, and advanced reporting.
iContact offers more of a dedicated email marketing platform than some of the others above, with more focused features on email design, along with a whole range of A/B testing options for subject line, content, and incentives, allowing you to optimize your campaign on the go. Pricing is more expensive than some of the other plans here, but the split testing option could prove invaluable.