Zoho Campaigns (opens in new tab) is a reliable email marketing software (opens in new tab) platform, and would be a solid choice for businesses of all sizes.
However, we're not really sold that Zoho Campaigns can best its competition, such as Drip and Mailchimp. Also, we're not sure that it is a solid win for the title of best email marketing service.
In this Zoho Campaigns email marketing services review, we take a look at the platform's strengths and weaknesses, in comparison to its closest competitors. By the end, you'll have a full understanding about whether the platform works for your online marketing strategy.
Plans and pricing
Zoho Campaigns offers three subscription plans: the Forever Free plan, the Standard plan, and the Professional plan.
The Forever Free (opens in new tab) plan has limited features that enables you to send 6,000 emails per month to up to 2,000 contacts. It can support an Admin and up to 4 additional users, basic email templates, and signup and popup forms. This plan is an ok starting point for a low volume business just getting a start.
The Standard (opens in new tab) plan is a better service for businesses that only send emails occasionally. With this plan, you can send unlimited emails, but the price is based on the number of contacts. 500 contacts is the starting amount for $4/month, with the option to pay annually at a cost of $3/month- a savings of 25%. This can go up to a maximum of 100k contacts at $92/month. Features include advanced email templates, advanced segmentation, dynamic content, and A/B testing to determine which of two emails is the more effective one.
Finally, at the top is the Professional (opens in new tab) plan which starts at a cost of $6/month for the same 500 contacts, on up to $403/month for 100,000 contacts. It adds features such as autoresponders, drag-and-drop workflow automation and campaign managerial approval.
Features
Zoho Campaigns empowers users to design impressive email campaigns which will engage your customers or clients with personalized content. A Zoho Campaigns subscription has plenty of features that you'd expect in an email marketing provider, however it doesn't offer a high level of innovation.
When starting out with Zoho Campaigns, database software (opens in new tab) management tools enable you to import contacts from third-party platforms such as G-Suite, Eventbrite, Microsoft Excel and Zoho's own ZohoCRM (opens in new tab). Contacts get classified into one of three types: marketing, non-marketing, or unsubscribed so campaigns only get sent to those in the marketing category.
With the goal of ensuring your database is clean and up to date, Zoho campaigns automatically removes duplicate email addresses, as well as those that bounce or whose users have unsubscribed. It also has industry-standard features including list segmentation and custom merge tags that keep your database organized and ensure your emails not only look good but have a personal touch.
The platform's campaign design studio features custom templates and an intuitive drag-and-drop interface, such useful features that make it a snap to design professional-looking email campaigns.
With a new campaign created, automated workflows enable you to interact with customers at just the right moment with the right content. Once initiated, automated workflows translate to every customer's interaction with your business as a personal one.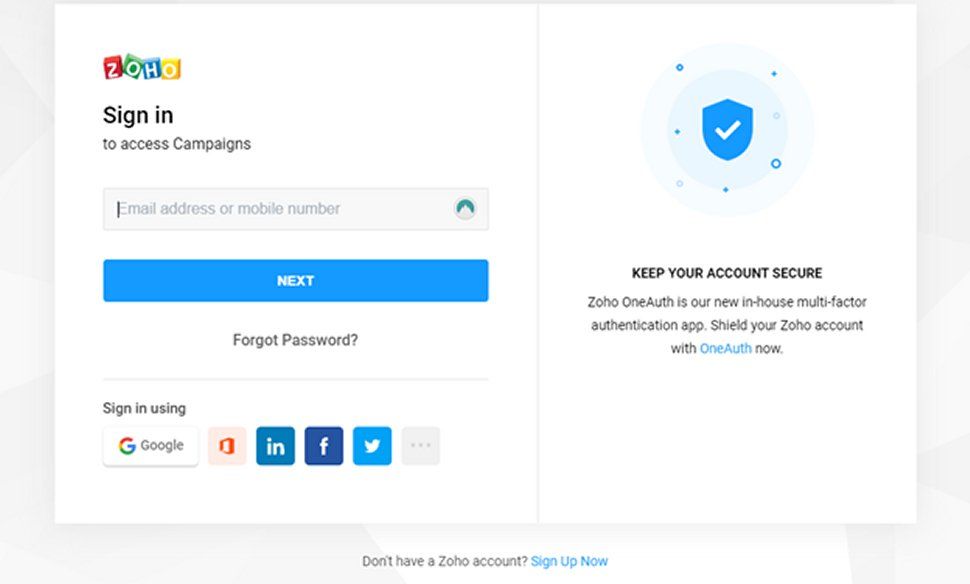 Setup
As a SaaS (opens in new tab), or browser-based platform, it means that with Zoho Campaigns there is no extra software to download or update as it gets hosted in the cloud. Also, you can use Zoho Campaigns from any device using your account credentials including the mobile apps for iOS and Android.
Another useful feature is that you can log into Zoho Campaigns with third-party providers such as Google, Microsoft, LinkedIn, Slack, or Facebook. This makes it easy to securely access your account, from anywhere you may be working from.
Performance
Zoho Campaigns has plenty of tools for optimizing your email marketing strategy.
Automated customer workflows are quite useful, such as to create A/B split testing experiments. This useful technique enables the user to create two versions of an email and then track and analyze the response to which word, image, or call to action delivers the highest level of interaction with your brand.
Additionally, Zoho Campaigns provides advanced analytics and reporting for businesses. We appreciate that the platform's analytics up the game higher than simple statistics on open or bounce rates to include data, for example the browser or device used for opening an email, the country in which the device was located, and the traffic that visited your website after viewing an email.
When combined with A/B split testing, analytics simplify quantifying the success of your digital marketing strategy. Overall, Zoho Campaigns has some of the most powerful analytics and optimization features in this segment.
Security
When it comes to managing the data and privacy of your business' customers, all can agree that security is totally non-negotiable. Therefore, when investing in an email marketing solution, the choice of a highly secure email marketing solution becomes a top priority.
Thankfully Zoho Campaigns' security framework is seriously impressive as it revolves around ten pillars: organizational security, operational security, physical security, incident management, infrastructure security, responsible disclosures, data security, vendor management, identity and access control, and customer security controls. With such a comprehensive approach, we can see how it covers all potential vulnerabilities and concerns.
Of note is the encryption of user data, for both in-transit and at-rest using TLS and 256-bit AES standards. This high level of encryption makes data stored on the platform quite secure. The platform also supports single sign-on and multi-factor authentication, to further secure your accounts, and reassure your customers of the safety of the data.
Support
In case you encounter trouble while using Zoho Campaign's platform, it's really easy to get some assistance. This starts with the help and support center providing several resources for troubleshooting and skills building.
Community forums, frequently asked questions, and blogs also help you find answers to common issues or get support from other Zoho Campaigns users.
Furthermore, webinars, such as "Interactive email marketing to boost your revenue" and live events are regularly held by Zoho Campaigns that allow users to further develop their proficiency with the platform and its features.
For more complicated issues, users can also access customer support via online chat or email. In our testing, we waited an average of about one minute to speak with a customer service representative using the online chat window. Not surprisingly, email response times were longer, with an average of 12–15 hours. A support shortcoming is that we did not find a direct number for a phone call, nor did we find the specific hours and days of support.
The competition
For those looking for a free service, they should also consider MailChimp (opens in new tab) or Sendinblue (opens in new tab) which both have free forever plans. Mailchimp, specifically, provides a great free product with features that exceed those of Zoho Campaigns' free plan.
Zoho's pricing model is unique compared to its competition, making it challenging to make a like-for-like price comparison. Some businesses may prefer competitors such as Drip (opens in new tab) or Mailchimp which have more features and third-party integrations than Zoho Campaigns at a similar price point.
Final verdict
In summary, Zoho Campaigns is a middle-of-the-pack email marketing service. It should clearly be on the shortlist for business leaders that plan on investing in a new digital marketing strategy. However, be mindful that it isn't the top email marketing service.
The platform's biggest advantage are the high-quality analytics and engagement reports. We appreciate the robust data security policy for the encryption of data managed by the provider. In the area of features, Zoho Campaigns is a solid performer, but has few real innovations of note, with an interface that isn't quite as intuitive or appealing in use as some of the competition.
While Zoho Campaigns is a decent solution for some businesses, some more innovation could catapult it to the top of the segment.