Adobe Dreamweaver is one of the best web design software tools out there. The long-established website builder is a popular choice for professionals, in part because it doesn't need a great deal of coding knowledge or experience to get creative. When we tested the tool, we even said it makes coding look easy - as long as you know what you're doing.
You can download Adobe Dreamweaver free on a 7-day free trial or through a Creative Cloud subscription plan. There are a few different plans and discounts, so we're looking at how to download Dreamweaver, what your subscription options are, and how to get started with the Adobe web design app.
Today's best Adobe Dreamweaver deals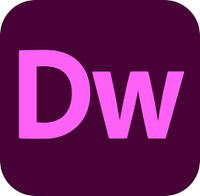 Adobe Dreamweaver is web design software for building sites that catches clients' eyes and convert customers. It's available to download on a 7-day free trial or as part of a Creative Cloud subscription. If you cancel before the trial is up then you won't have to pay anything. However, you can also upgrade to a paid subscription before the trial is up or even after it's over.
How to download Adobe Dreamweaver
Can I download Adobe Dreamweaver for free?
You can download Adobe Dreamweaver free by clicking here.
Adobe offers a 7-day free trial to test out the software. It's worth noting that you'll have to give Adobe your payment details to download the free trial. After the trial ends, you'll automatically begin paying for a subscription. So, if you don't want to commit to the subscription period, don't forget to cancel before the week's trial is over or you could end up having to pay a cancellation fee.
During your trial, you can test all of Dreamweaver's features and work out whether it's a product you'd like to keep using. Once the week is up, there's no way to continue using it for free, so you'd need to choose a paid plan that works for you.
How do I buy Adobe Dreamweaver?
When choosing to buy Adobe Dreamweaver, you'll see a page displaying the different options and subscription plans. There's no option to pay a one-off fee to own the web design software outright, which is the same for most Adobe apps.
You can subscribe to Dreamweaver as a single app, or via a Creative Cloud All Apps subscription. This bundles the software alongside other products like Illustrator and Photoshop, the company's premium photo editor.
If you're likely to use three or more of the apps included in it, the All Apps plan may be the most cost-effective choice for you.
How much does Adobe Dreamweaver cost?
Adobe has a monthly, annual billed monthly, and annual upfront pricing models - and that means paying a different price depending on the package you choose.
Adobe Dreamweaver subscription prices
Monthly: $31.49 / £30.34 / AU$45.99
Annual billed monthly: $20.99 / £19.97 / AU$29.99
Annual upfront: $239.88 / £238.42 / AU$343.07

Adobe Dreamweaver + Creative Cloud All Apps prices
Monthly: $79.49 / £75.85 / AU$114.99
Annual billed monthly: $52.99 / £49.94 / AU$76.99
Annual upfront: $599.88 / £596.33 / AU$871.07

Note: while these prices are correct at the time of writing, prices outside the US fluctuate regularly with the exchange rates. All subscriptions can be canceled with a full refund within the first 14 days.
Are there Adobe Dreamweaver discounts for teachers and students?
Adobe offers Dreamweaver discounts for students and teachers with a Creative Cloud All Apps deal - just make sure you can run Dreamweaver on your student laptop.
Proof of eligibility, such as a school-issued email address or ID card, is required upon registration.
Student-teacher prices
Annual billed monthly: $19.99 / £16.24 / AU$21.99 a month for the first year, $29.99 / £25.28 / AU$43.99 a month afterward.
Annual upfront: $239.88 / £238.42 / AU$343.07
How can I get started with Adobe Dreamweaver?
Dreamweaver is a little more complicated than your standard WordPress-type web design workspace, and can be confusing to newcomers. If this is the case for you, you'll find Adobe's website has a useful selection of tutorials, in both written guide and video format. They're divided into Beginner and Experienced sections, so you can learn the basics first, then move on to the more advanced skills.
Adobe Dreamweaver: Key info you need to know
Adobe Dreamweaver is a web design program that enables you to quickly create and publish websites, with support for HTML, CSS JavaScript, and more. It occupies an odd middle ground in web design, in that professionals often prefer software that gives more control over coding, while beginners prefer simpler options like WordPress. Nevertheless, it's a flexible app with some useful features that make it easy to produce a responsive design for different screen sizes. It works through a mix of visual editing and HTML editing, so doesn't require too much coding expertise. It's available for both macOS and Windows computers.
Adobe Dreamweaver: Android and iOS apps
Though Adobe Dreamweaver does let you design websites fit for phone and tablet screens, the app itself is currently only available for desktop computers.
If you're looking for a web design app for iOS or Android, there are alternatives available. However, since most professional web design is done on desktop, these tend to be a little more simplistic. Wix and Weebly are a couple of examples that offer accessible web creation apps.
Adobe Dreamweaver alternatives
If Dreamweaver isn't the right choice for you, there's a wide variety of alternative web design software available.
Microsoft Visual Studio Code, or VS Code, is popular among developers as it includes a customizable code editor.
Wix, WordPress, and Weebly are great Dreamweaver alternatives for beginners, since they require little to no coding.
For more ideas, we've rounded up the very best Adobe Dreamweaver alternatives.