Download Dimension: How to try Adobe Dimension for free or with Creative Cloud
Find out how to try Adobe Dimension for free or with Creative Cloud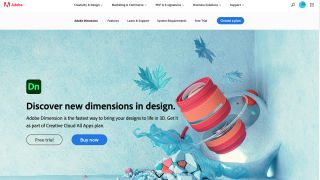 (Image credit: Adobe)
If you're looking for the best 3D modeling software - the design apps that let you get really creative, then Adobe Dimension may meet your artistic needs.
Featuring in-depth model design and tools including virtual photography, Dimension is a popular choice across advertising, brand visualization, packaging design, and more.
The 3D rendering app is available to download free on a 7-day free trial or through one of many Creative Cloud subscription plans.
There are quite a few different download and payment methods. So, if you're wondering how to download Adobe Dimension free or with Creative Cloud, we've got you covered, looking at the different plans and packages and how to get started with Adobe's 3D graphic design software
Today's best Adobe Dimension deals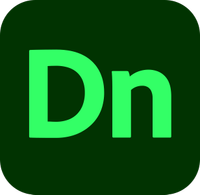 Adobe Dimension lets you bring your designs to life in 3D. You can download the 3D modeling and rendering software free with a 7-day free trial or as part of the Creative Cloud subscription plan. If you cancel before the trial is up then you won't have to pay anything. However, you can also upgrade to a paid subscription before your trial ends or even after it's over.
How to download Adobe Dimension
Can I download Dimension for free?
You can download Adobe Dimension free on a 7-day free trial by clicking here.
You do have to give Adobe your payment details when you sign up for the trial, and when the week ends, a paid subscription will automatically begin. If you don't want to commit to this, make sure to cancel the subscription before the trial is over, or you might end up having to pay a cancellation fee.
During your seven days, you can try out the various aspects of Dimension and decide whether you want to continue using it. There's no way to continue using it for free, so after the trial, you'll have to look at the payment plans available.
How do I buy Adobe Dimension?
When you choose to buy Adobe Dimension, you'll be taken to the page giving you all the options and subscription plans. Like most Adobe creative apps, there's no option to pay a one-off fee to own the software outright.
The modeling app is only available as a standalone app and as part of the Creative Cloud All Apps plan. This packs in a number of top tools, including Photoshop, the company's premium photo editor. You'll also get 100GB cloud storage.
How much is Adobe Dimension?
Adobe Dimension is billed monthly and annually, with different packages to suit the projects you're working and the apps you'll need. Plans may also vary depending on your location.
Adobe Dimension prices
Monthly: $31.49 / £30.34 / AU$45.99
Annual billed monthly: $20.99 / £19.97 / AU$29.99
Annual upfront: $239.88 / £238.42 / AU$343.07
Adobe Dimension + Creative Cloud All Apps prices
Monthly: $79.49 / £75.85 / AU$114.99
Annual billed monthly: $52.99 / £49.94 / AU$76.99
Annual upfront: $599.88 / £596.33 / AU$871.07

Note: while these prices are correct at the time of writing, prices outside the US fluctuate regularly with the exchange rates. All subscriptions can be canceled with a full refund within the first 14 days.
Dimension discounts for teachers and students
Adobe offers a discount scheme for students and teachers for the Creative All Apps package. Pair with the best student laptops for top results.
Adobe asks for proof of eligibility; the easiest way to do this is to use a school-issued email address when you sign up.
Student-teacher prices
Annual billed monthly: $19.99 / £16.24 / AU$21.99 a month for the first year, $29.99 / £25.28 / AU$43.99 a month afterward.
Annual upfront: $239.88 / £238.42 / AU$343.07
How can I get started with Adobe Dimension?
As Adobe Dimension is an in-depth, feature-packed app, it has a steep learning curve. If you're struggling to get started, then the tutorials section on Adobe's website can help you build your skills. Another useful resource is this list of tips for getting started with Dimension, compiled by our sister site, Creative Bloq.
Adobe Dimension: Key info you need to know
A relatively recent addition to Adobe's portfolio, Dimension was launched in 2017. It's a 2D and 3D modeling and rendering app, but unlike some other comparable programs, models aren't actually created in Dimension. You import models from other software and use this to render them in various environments and add graphic designs. Despite this limitation, it has incredibly flexible features that enable packaging visualization and virtual photography. Be aware that it's a desktop-only app, available for macOS and Windows computers.
Adobe Dimension: Android and iOS apps
There is no Adobe Dimension app for mobile devices, and since it's quite complex, it's unlikely that they're planning to develop one any time soon. However, Adobe does offer various mobile apps, including Adobe Fresco, an excellent digital art & drawing tool.
Adobe Dimension alternatives
If you decide that Dimension isn't the right software choice for you, there are plenty of alternatives available.
Blender is a popular choice. Where Dimension focuses on rendering, Blender covers the entire process: modeling, rendering, video editing, and everything in between. Plus, it's open-source software, so it's available for free.
Autodesk 3DS Max is another option for professional use. Its deep functionality, including 3D character controls, make it a popular choice for game designers. It's priced for enterprises, however, so there's a premium price-tag for the premium tool.
Are you a pro? Subscribe to our newsletter
Sign up to the TechRadar Pro newsletter to get all the top news, opinion, features and guidance your business needs to succeed!
Kieron Moore is a freelance writer based in Manchester, England. He contributes to Future sites including TechRadar and Creative Bloq, focusing on subjects including creative software, video editing, and streaming services. This work draws on his experience as an independent filmmaker and an independent TV watcher.