De'Longhi vs Breville: which brand makes the best coffee makers?
We pit De'Longhi and Breville against each other to see which is best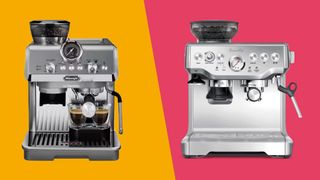 (Image credit: Future)
In the world of coffee makers, two brands consistently stand out – De'Longhi and Breville. Both have established themselves as leading players in the at-home coffee maker market, each offering a blend of style, functionality, and performance.
In the battle of the best coffee makers, these two brands have become the go-to choices for coffee aficionados and casual drinkers alike. De'Longhi, with its Italian heritage, brings a century-old legacy of craftsmanship and design, while Australia's Breville has been a household name since 1932 and is renowned for innovation and quality.
But which brand actually makes the superior machine?
In this versus guide, we pit De'Longhi and Breville against each other, from price to performance, to help you decide which best suits your needs and budget. So if you've been wondering if you should buy a De'Longhi coffee machine, or you want to know if Breville makers are the best money can buy, read on.
Note: In the UK, Breville machines are sold under the brand name Sage.
De'Longhi vs Breville: Price
When it comes to price, De'Longhi tends to offer a more budget-friendly range of coffee makers, although the prices vary depending on which category you're interested in. De'Longhi sells automatic espresso machines, manual espresso machines, drip coffee makers, Nespresso machines, and more.
The cheapest way to get a De'Longhi machine is by buying either a standalone, manual espresso machine – the Stilosa Espresso Machine costs just $119 for a 15-bar machine, for example – or via its Nespresso machine range. Which Nespresso machine should you buy? The Nespresso Inissia costs $156 for budget-consumers, or you can spend up to $649 for a Nespresso Gran Lattissima, if you have the money.
De'Longhi's all-in-one Coffee & Espresso Makers, such as the COM530M, start at $300, while its drip coffee machines, such as the TrueBrew Drip Coffee Maker CAM51025MB, and CAM51015B retail for between $400-$500.
Its Dedica range of manual espresso machines, including the Dedica Arte, cost between $300 and $400. Meanwhile, its La Specialista collection, one of De'Longhi's most well-known ranges, will set you back as relatively little as $750 for the La Specialista Arte range and up to $1,300 for the La Specialista Maestro.
The most expensive way to buy De'Longhi is via its automatic espresso machine range. Prices for these, including the PrimaDonna and Eletta models, range from $1,700-$2,500.
Breville, on the other hand, targets the mid to high-end market. The same Nespresso Inissia is sold via Breville for $170. Its at-home espresso machines start at $300 for the Breville Bambino up to $2,800 for the Breville's Oracle Touch. However, the majority of Breville espresso machines sit around the $600-$800 mark.
With De'Longhi, you get a reliable machine that offers basic to advanced brewing options, depending on the model. With Breville, you're typically investing in a machine that offers greater customizability.
The winner of this head-to-head will largely depend on your budget, but given it sells a wider range of products at a broader number of price points, De'Longhi takes this category.
De'Longhi vs Breville: Design and features
Design-wise, Breville machines like the Barista Express are sleek, and modern, and often feature stainless steel finishes. They come with intuitive control panels and, in the case of the Oracle Touch, the Barista Touch and Barista Touch Impress, offer touchscreen LCD displays, making them not only aesthetically pleasing but also user-friendly.
De'Longhi machines, such as the Dedica and the Magnifica, offer a more classic Italian design, often featuring a combination of stainless steel and plastic. They're generally more compact, making them suitable for smaller kitchen spaces.
When it comes to features, Breville machines, as a rule, offer a much wider range of features and customization options, even on the cheaper models. The $500 Barista Bambino Plus, for example, lets you select the extraction temperature as well as alter the texture of your milk foam. While the Barista Touch offers adjustments for grind size, milk texture and temperature, water temperature, and comes with pre-programmed drink modes meaning you can switch between the optimal settings for a latte or a cappuccino at the touch of the screen.
De'Longhi's range tends to offer fewer customization options across the board, but it depends on the machine you choose. One of its cheaper models, the $380 Dedica Deluxe, gives you minimal control over the individual elements of espresso, yet the La Specialista Prestigio, by comparison, comes with grind, pressure, and temperature controls plus smart tamping. It also features a dual heating system for faster brewing and steaming.
With Breville machines, you get a much more consistent, professional look and barista-style experience across the board. All Breville machines are made to stand out and make a statement – mainly that you take coffee-making seriously.
By contrast, with De'Longhi you get what you pay for and the design and features vary wildly across the range. De'Longhi machines are seemingly designed for smaller spaces but you sacrifice features and appearance, in some instances, for this compact size and lower price point.
If design and features are your priority, Breville is the brand to go for. If you're looking for a compact, classic design with user-friendly features, De'Longhi is a good choice. That said, the Breville collection is far more visually appealing and offers a lot so it takes the crown for this category.
De'Longhi vs Breville: Performance and taste
Performance is a critical factor when choosing a coffee maker, and both brands have earned strong reputations in this area. Yet their individual performances, again, come down to their price and features, meaning Breville takes this category.
With their temperature, grind, and pressure customizations, Breville machines can either make amazing, or terrible coffee – but the responsibility (or fault) lies with you rather than the machine itself. When you get the settings just right, the espressos that are possible with Breville machines rival those you get from coffee shops.
They're rich, full-bodied, and have the perfect crema that sits on the top. That's before the range of customizable milk texture and temperature settings, giving you barista-level control over your latte or cappuccino. When you get the settings wrong, Breville coffees are still decent but could leave you feeling disappointed, given how expensive these machines are.
By comparison, De'Longhi machines don't quite offer the same nuanced flavors that Breville's adjustments allow for. However, they still offer a robust flavor, especially in higher-end models like the La Specialista, and do so in a much more fool-proof, and consistent way.
In the long term, you'll likely have more success and better-tasting coffee on a more regular basis with De'Longhi machines but you'll miss out on getting that hit of perfect espresso you get from the extra Breville effort. So Breville takes this category because when it works, it really works.
Winner: Breville, but not by much
De'Longhi vs Breville: Care and maintenance
When it comes to cleaning and maintaining your coffee maker, both De'Longhi and Breville have their own pros and cons.
De'Longhi machines are designed to be simpler and more user-friendly across the board and this extends to how easy they are to clean and take care of. De'Longhi models feature removable water tanks and drip trays and come with descaling alerts. These are great for helping maintain the lifespan of your machine and keep coffee tasting its best and De'Longhi makes this process straightforward by giving clear instructions and dedicated descaling solutions.
In particular, De'Longhi's more budget-friendly options, like the EC155, have fewer intricate parts and settings, which means there are fewer components that require cleaning and potential repair. The brand's focus on creating compact machines also means you can easily access most parts without having to disassemble the entire machine. However, it's worth noting that some users have reported De'Longhi's customer service is not as responsive as they'd like, especially when it comes to troubleshooting issues related to maintenance.
Breville's feature-rich machines come with more parts and components to maintain and clean, as well as a higher risk of things going wrong. The built-in grinders on its high-end bean-to-cup machines may make the process of coffee making more convenient, but they're so precise that you have to be careful when cleaning to not knock something out of line. Breville machines also feature more stainless steel, which is easier to wipe down but can show water spots and fingerprints more easily.
Breville is good at providing detailed maintenance guides, though, both in its manuals and website, and it. sells a range of cleaning products specifically designed for Breville machines, from descaling solutions to cleaning tablets. Their higher-end models often come with cleaning alerts and even automated cleaning cycles, making the maintenance process more straightforward for those who invest in these pricier machines. Many users also have reported that Breville's customer service is excellent when it comes to troubleshooting issues.
While both brands have their merits, De'Longhi edges slightly into the lead in this category because its machines are generally simpler, with fewer components to clean and maintain, making them more accessible for the average user.
De'Longhi vs Breville: Which is right for you?
If you're a beginner when it comes to brewing coffee at home, or you're someone who values simplicity and ease of use, De'Longhi will be the better choice for you. Its machines are generally more straightforward, with fewer bells and whistles. They're also usually more compact, making them a good fit for smaller kitchens, and they're more accessible due to the wider range of price options, all without compromising too much on the quality of the coffee produced.
Alternatively, Breville is the better choice if you're more experienced with coffee making, or you want more control over the process. Their machines come with a variety of settings and features, from built-in grinders to temperature controls, allowing you to customize your coffee to your liking. This also makes them highly versatile, potentially increasing who they'll appeal to. While Breville machines are more expensive, they're worth the investment.
In summary, your choice in the De'Longhi vs Breville battle will hinge on your specific needs and what you're willing to compromise on. If you want a machine that's easy to use, easy to maintain, and easier on the wallet, go for De'Longhi. If you're looking for a machine that offers more control, and features and are willing to invest time and money into your coffee-making experience, Breville is the brand for you.
Both brands are reliable and produce great coffee, so you can't go wrong either way.
Get daily insight, inspiration and deals in your inbox
Get the hottest deals available in your inbox plus news, reviews, opinion, analysis and more from the TechRadar team.
Victoria Woollaston is a freelance science and technology journalist with more than a decade's experience writing for Wired UK, Alphr, Expert Reviews, TechRadar, Shortlist and the Sunday Times. She has a keen interest in next-generation technology and its potential to revolutionise how we live and work.