Apple Watch Series 8 vs Samsung Galaxy Watch 5: Which smartwatch is best?
The two reigning smartwatch dynasties clash head-on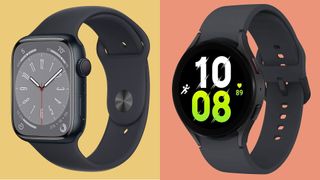 (Image credit: Andrew Williams)
The Apple Watch Series 8 and Samsung Galaxy Watch 5 are two of the best smartwatches around at the moment. They aren't pure fitness specialists like the Garmin Forerunner 265, and neither are imposingly pricey enough to be off-putting.
Which is better? The Samsung Galaxy Watch 5 line seems a better deal for the raw hardware you get for your money. But the Apple Watch Series 8 is a more complete-feeling watch, and offers more avenues for exploration beyond the preinstalled software.
However, before we dig deeper there's one important part to note: your watch of choice will likely depend on your phone of choice. You need an iPhone to set up an Apple Watch and the Samsung Galaxy Watch 5 does not support iPhones, creating an unusually black-and-white situation here. While you can use Samsung watches with pretty much any smartphone, they really shine when paired with Samsung Galaxy models.
Whether you're thinking of switching from one side of the aisle to the other, or you're ready to upgrade and not sure what watch and phone to buy, we've got you covered. We're now going to break down this comparison into key elements including design, smart features, fitness tracking and battery life. Let's get started.
Samsung Galaxy Watch 5 vs Apple Watch Series 8: Price and availability
The Apple Watch Series 8 is significantly more expensive than the Samsung Galaxy Watch 5. It costs $399 / £419 / AU$629 for the 41mm model, $429 / £449 / AU$679 for the 45mm one. Prices can go a lot higher too is you want a stainless steel casing or a lavish strap.
You'll pay $279 / £269 / AU$499 for the 40mm Galaxy Watch 5, and $369 / £289 / AU$549 for the 44mm one. That's a price disparity of up to $120 / £160, comparing like-for-like.
Apple does provide a cheaper alternative in the Watch SE, which costs $249-279 / £249-299 / AU$399-479 depending on size — much closer to the Samsung Galaxy Watch 5 than the full Series 8.
Higher up in each range you can buy the $799/£849 AU$1299 Apple Watch Ultra and $449 / £429 / AU$799 Samsung Galaxy Watch 5 Pro. But they are really entirely separate watches, and I won't dive into them in full here.
Winner: Samsung Galaxy Watch 5
Samsung Galaxy Watch 5 vs Apple Watch Series 8: Design and display
The Apple Watch Series 8 and Samsung Galaxy Watch 5 have different styles, but both offer a choice of a smaller version, or a larger one. In the Samsung line-up, their faces are 40mm and 44mm wide, while the Apple's Watch Series 8 is either 41mm or 45mm. However, when referring to Apple Watch sizes, you're referring to the height of the case, rather than the largest point. The Apple Watch Series 8's larger model is not 45mm wide, but instead around 38mm.
Things are a bit simpler over in Samsung town, because the Galaxy Watch 5 face is round. Apple Watches are, and always have, been "squircle" rectangles with rounded corners.
Which looks better? The Apple Watch is certainly more iconic, and has smaller bezels. They're impressively tiny in the Series 8. The basic Apple Watch uses "Ion-X" chemically strengthened glass on its front, aluminium for its casing, and there's glass over the heart rate monitor on the back.
Samsung, on the other hand, uses aluminium for the Galaxy Watch 5 casing and Sapphire crystal for its screen, which is stronger than the Apple Watch's glass. Tech testing legend JerryRigEverything even tested the Galaxy Watch 5 against the top-tier Apple Watch Ultra, and found the Samsung less susceptible to scratches. That is mighty impressive, considering how affordable the standard Galaxy Watch 5 is. However, their water resistance is matched at 5ATM/50M. This is good enough for normal surface-level swimming pool swimming but not for diving, because that 50M rating does not factor in the additional pressure of movement: Apple says you "shouldn't use models other than Apple Watch Ultra for diving, water skiing, or other activities involving submersion below shallow depth or high-velocity water."
The Apple Watch Series 8 and Samsung Galaxy Watch 5 both have OLED screens, and both are capable of up to 1000-nit brightness, making them clear on a sunny day. Apple has a slight edge for sharpness, with 326ppi pixel density to Samsung's 321ppi, but that is not an immediately obvious difference.
When they're both in our hands, we find the Apple Watch Series 8 screen more impressive because of a factor already mentioned, its small screen bezels and slight curve. Samsung's screen has a big black border, making careful choice of your watch face a good idea if you want to keep things looking stylish.
Neither of these watches relies entirely on the touchscreen for operation. The Apple Watch has a rotating crown on the side, the Galaxy Watch 5 has a touch-sensitive ring around the screen, letting you treat it like a virtual rotating bezel. Back in the day some Samsung watches, such as the Galaxy Watch 4 Classic, had actual rotating bezels, but the Galaxy Watch 5 is a perhaps less dynamic and more homogeneous design than some of the previous generations. It's rumoured, however, the design will make a return with the Samsung Galaxy Watch 6.
Winner: Apple Watch Series 8
Samsung Galaxy Watch 5 vs Apple Watch Series 8: Features
These two watches represent the two titans of the smartwatch game. The Samsung Galaxy Watch 5 is a Wear OS watch, meaning it runs Google's smartwatch software. If you've not been following the smartwatch scene for a while, Samsung switched from its own Tizen software to Wear OS in 2021 with the Galaxy Watch 4.
Apple's Watch Series 8 uses watchOS, which is a wearables operating system wholly unique to Apple.
Which is better? They each provide many of the same core features. You can use either watch for wireless payments, they can make calls using on-board mics and speakers, there's access to a digital assistant — a pair in Samsung's case — and they can store music using their internal memory.
However, the experience of actually using this pair is very different. Apple has the significantly stronger app ecosystem, and although fans had initially hoped Samsung's renewed involvement in Wear OS would refresh develop interest in the platform and see a new wave of app releases, it hasn't really happened. Samsung did bring over some of the core software it used in its Tizen watches, most notably the Samsung Galaxy Fit fitness suite, but Apple Fitness+ and Apple Health on its iPhone and Apple TV devices integrate seamlessly with the Apple Watch. You can even see your watch stats on your phone, iPad or TV while doing workouts.
Keen on exploring the limits of what smartwatch apps can do? You should pick an Apple Watch, every time, as the App Store is simply too well stocked compared to Google's Play Store for Wear OS.
Winner: Apple Watch Series 8
Samsung Galaxy Watch 5 vs Apple Watch Series 8: Health and fitness tracking
The Samsung Galaxy Watch 5 and Apple Watch Series 8 have a similarly broad array of health and fitness sensors: each has an optical heart rate sensor, an altimeter, full GPS, and a temperature sensor. However, each have their own toys not shared by the other: the Samsung Galaxy Watch 5, for example, has a body composition feature just like the best smart scales that calculates your body fat and muscle percentages using bioelectric impedance analysis, or BIA. TechRadar's Fitness Editor has found success with the Galaxy Watch 5 body composition sensor.
Apple's new feature for the Watch Series 8 is a clever temperature sensor. The watch uses its sensor to estimate ovulation times, but to do so accurately it needs the wearer's basal temperature, not just their skin temperature. Basal temperature is your lowest resting body temp, typically recorded when you first wake up using an oral thermometer. However, you don't have to stick your Apple Watch in your mouth: instead, Apple uses a skin sensor and an ambient temperature sensor, plus a bit of algorithmic help, to work out what your basal temperature is likely to be.
The sport modes of both watches are excellent too. While the Samsung Galaxy Watch 5 uses Samsung Fit app by default, you can use others too, including Google Fit, Strava and Runkeeper.
Apple's Watch Series 8 has access to those last two as well, and this generation also got a big upgrade to the baked-in fitness software thanks to watchOS 9 and watchOS 10. As a knock-on effect of the launch of the Apple Watch Ultra, the Series 8 offers custom workouts, making it much more suitable as a hardcore exercise tracking watch.
However, neither of these watches lets you load up GPX route files for actual mid-hike or trail run navigation. The Apple Watch Series 8 does have a Backtrack breadcrumb trail feature to let you help you find your way back if you get lost, and this is missing in the Galaxy Watch 5. However, the Galaxy Watch 5 Pro does have a similar feature, called Track Back.
Of the two we tend to find the Apple Watch Series 8's heart rate tracking more accurate, although either will do the job well enough for all but the most picky stat-hound.
Winner: Samsung Galaxy Watch 5
Samsung Galaxy Watch 5 vs Apple Watch Series 8: Battery life
You should not come to either of these watch series if you can't live with a watch you'll need to charge every day, or every other day. Garmin, Huawei and Realme make watches that last a couple of weeks between charge. They are arguably not full-on smartwatches like these two series, but that's the deal you have to strike in this area of tech.
The weakest model here is the 40mm Galaxy Watch 5. We find it only scrapes its way to one day of use, if you track 30 minutes of exercise in a day. There's just no battery buffer here. You'll see better results with the 44mm version, but we think Samsung's estimate of up to 50 hours is a bit optimistic for most people's real-world use.
However, there's still a solid chance it will outlast an Apple Watch Series 8. Apple claims its usual 18-hour stamina for both sizes of the watch, which we think is on the conservative side for the lighter Apple Watch user. None of these watches has great stamina, then, but the smaller Galaxy Watch 5 is an outlier. And not in a positive sense.
Charging times are pretty much equal across models here, with a full charge taking around 75 minutes.
Samsung Galaxy Watch 5 vs Apple Watch Series 8: Verdict
The Samsung Galaxy Watch 5 has two very important things in its favour. It's a lot cheaper than the Apple Watch Series 8 and it's the only one of these two you can actually use if you're an Android user, rather than an iPhone owner. An Apple Watch requires one of the best iPhones, while Samsung's Galaxy Watch 5 smartwatches won't work with one.
Forgetting cost and compatibility, the Apple Watch Series 8 feels like the more complete watch. It has a much broader range of smartwatch skills thanks to its far superior third-party app support. Such smarts make these watches last such a short time between charges, so you might as well embrace them.
That said, the Samsung Galaxy Watch 5 does seem like quite a hot deal in some respects, especially given it uses expensive Sapphire Crystal for its display covering. The bottom line is that each one has their strengths and weaknesses, but the one you choose will be largely dependent on whether you want to be tied to a Samsung phone or an Apple one.
Sign up for Black Friday email alerts!
Get the hottest deals available in your inbox plus news, reviews, opinion, analysis and more from the TechRadar team.
Andrew is a freelance journalist and has been writing and editing for some of the UK's top tech and lifestyle publications including TrustedReviews, Stuff, T3, TechRadar, Lifehacker and others.