Black Friday PS4 deals have now passed, but there are still offers available now if you're looking for a late discount.
Black Friday 2022 took place on November 25 in 2022 and saw fantastic discounts on PS4 games, PS4 accessories and PS4 headsets. And while we didn't see many discounts the console itself, there were some great PS4 bundles up for grabs.
While most of these deals have now dried up, there are a handful that are still available right now that you can check out below.
BEST BLACK FRIDAY PS4 DEALS in the US
PS4 consoles and bundles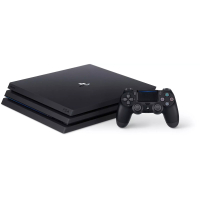 PS4 Pro Black (1TB): Was $400 now $299.99 at GameStop
Save $100 - This is a great price for a PS4; while not massively cheap many PS4 Pros have increased in price since Sony discontinued them. So it's essential to make the most of any reasonably priced PS4 Pro and get the deal while it's hot.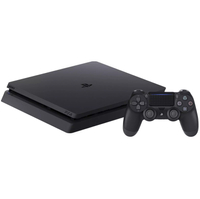 PS4 Slim Black (1TB): Was $290 now $239.99 at GameStop
Save $50 - While not on sale, this price for a PS4 Slim is a great deal. Due to the lack of product, PS4s can skyrocket in price, so to get a console for half the price of what it was initially is a brilliant buy.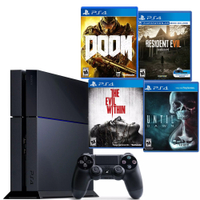 PS4 horror game bundle: Was $325.96 now $299.99 at GameStop
Save $25.97 - This is one of the best PS4 bundles available to buy for horror fans. This bundle is for you if you are starting completely fresh with no games to play.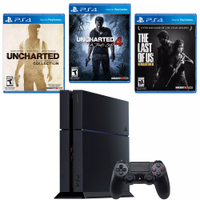 PS4 Naughty Dog bundle: Was $336 now $299.99 at GameStop
Save $35.97 - A great deal for a console that is currently in short supply. Finding a PS4 for less than its original price seems almost impossible. So to get a discount on a PS4 and a selection of excellent adventure survival games is an absolute find.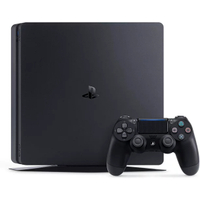 PS4 Slim Black (1TB): $337.98 at Walmart
As PS4s sell out so quickly, it's essential to have multiple retail sources for the console. Luckily Walmart has provided a fair deal for the PS4 Slim. While not jaw-dropping, this is a good shout if you really want to get your hands on the console.
PS4 games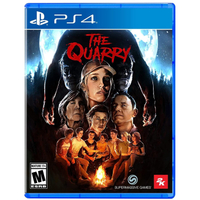 The Quarry: was $60 now $19.98 at Amazon
Save $40 - Are you a fan of old-school slasher movies? Then it's likely that The Quarry could appeal to you. Seeing that this deal is better than half price, we think it's worth considering.
PS4 controllers and accessories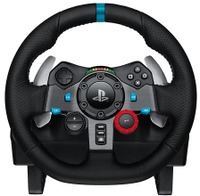 Logitech G29 racing wheel: Was $399 now $199 at Amazon
Save 50% - The Logitech G29 is a fully featured racing wheel with a 900-degree rotation, customizable pedals and a fantastic overall look and feel. It's perfect for racing fans who primarily play on PS5, PS4, or PC.
PS4 headsets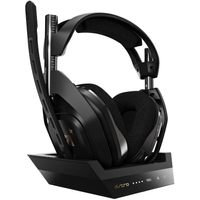 ASTRO Gaming A50 Wireless Gaming Headset: Was $300 now $249.99 at Amazon
Save $50 - This is the lowest the ASTRO gaming headset has been. While the price is still pretty high if you can splash out, it's well worth it for the peerless audio and comfort.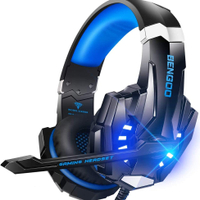 BENGOO gaming headset: Was $50 now $25.99 at Amazon
Save 48% - This is a great headset for your PS4 or PC. Its noise-canceling over-the-ear coverage is brilliant for immersive gameplay, so seeing such a great headset on sale is great. This headset, in particular, doesn't appear to shift in price, so this may be the best deal you'll see for a while.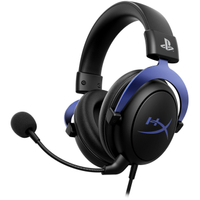 HyperX Cloud Wired Stereo Gaming Headset: Was $60 now $39.99 at Best Buy
Save $20 - While only a minor saving on the surface this deal takes the HyperX Cloud Wired model down to under $50, which is good value for money as far as budget headsets go.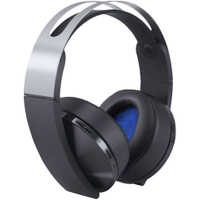 Sony Playstation Platinum Wireless Headset: Was $239 now $199.50 at Amazon
Save 17% - This is the lowest price we've seen for Platinum Wireless in a year. However, like most PlayStation accessories, it has gradually increased in price since the PS4 Pro was discontinued in 2020.
BEST BLACK FRIDAY PS4 DEALS in the UK
PS4 games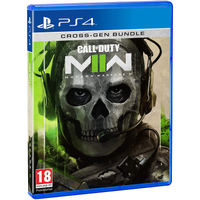 Call of Duty: Modern Warfare 2 | Was £70 now £56.99 at Amazon
Save £13 - This is an amazing price on the newest Call of Duty game which was released less than a month ago. What's more, it's the Cross-Gen bundle version, so you'll be able to play it on PS5 should you upgrade your console in the near future, too.
Black Friday might be over for another year, but we're still seeing some live deals if you're planning on doing a spot of late shopping. Check the deals above to see which discounts you can still take advantage of.
Black Friday PS4 deals: our predictions
When did the best Black Friday PS4 deals start in 2022?
Black Friday PS4 deals officially began on November 25, but that's only one side of the story. In reality, we saw the deals begin earlier in the week, as a lot of the offers were rolled out on Monday and Tuesday.
Black Friday PS4 deals: our buying tips
Shop around
Be sure to shop around. Different retailers often offer different sales and exclusive deals on given products. Don't make your own life harder – play the field and see what's on offer. This is also vital if you want to buy the console itself, as stock is an issue.
Consider alternatives
When it comes to PS5 vs PS4, the main question you should ask is what games you want to play. If you're looking for a console with a huge library of excellent games and you're not fussed about the newest tech, then a PS4 is a great option. And, for the moment, many new games are being released on both the PS4 and PS5, so you aren't missing out on the biggest titles. However, that will not always be the case, so if keeping up with the latest games is most important to you, you should strongly consider focusing on buying a PS5.
If not Playstation, then what? There is always the Nintendo Switch OLED if you want that edge on quality. Whereas the Xbox Series X just saw a power-saving update added. This could be a welcomed feature with energy prices the way they are now.