The best Android apps of 2023
The best Android apps for your phone, both free and paid for
Our favorite Android apps for making music, listening to music, finding podcasts and everything else to do with audio.
Stats.fm for Spotify
Why you can trust TechRadar We spend hours testing every product or service we review, so you can be sure you're buying the best. Find out more about how we test.
Free + IAP
If you use Spotify then you're probably familiar with Spotify Wrapped – the stat-filled feature that tells you about your year in listening. But what if you want access to those sorts of stats all year round? That's where Stats.fm for Spotify comes in.
With this, you can see the tracks, albums and artists that you listen to most. You can see these over the last month, six months, or lifetime, along with things like the genres you listen to most, how many times you've listened to your favorite songs, and what percentage of the music you listen to is, for example, energetic or danceable.
The data is attractively presented too, if not quite as fancy as Spotify Wrapped, so it's a great companion to your Spotify subscription, and really something that Spotify should offer natively.
Much of the content is free too, but for an affordable one-time IAP you can get rid of adverts and unlock the full feature set.
Wisdom
Free
Wisdom is an audio app that allows you to host your own talks on topics of your choice – adding tags and a title so that people can see at a glance what to expect.
Then, during your talk listeners can jump in as guests, allowing you to have one-on-one conversations with them, while the rest listen. A timer counts down for each guest ensuring that they don't outstay their welcome, and then the next person in line can take their place.
That brings us to the other half of Wisdom – listening to other peoples' talks. When you launch the app you'll instantly be brought into one as a listener, but with a swipe you can move on to a different one until you find one of interest.
Many of the people holding talks are experts on the subjects they're discussing too, though the ability to host talks is open to everyone.
You can also follow people who you find interesting, and if you go to their profile page, you'll be able to type out questions to them, and they can send you voice replies.
So there's a lot here and it works well, but we're highlighting Wisdom as much for its potential as anything, because while it's functionally a great app, it doesn't appear to have enough of a user base to really fulfill its potential yet. Still, there always seems to be at least a handful of talks happening, and you could always add to them.
Wondery
Free + $4.99/£4.99 monthly or $34.99/£34.99 yearly subscription
Wondery is a podcast app, but rather than just serving up the same podcasts as every other app it has exclusive content.
The included podcasts cover a range of genres, such as true crime, history, business, and more, including some with daily episodes. And there's a whole lot of content to get stuck into – there are over 40 seasons of its Business Wars podcast, for example.
The majority of the content on Wondery is free to access, but there's also a Wondery+ subscription which for $4.99 per month or $34.99 per year will get rid of adverts and unlock some additional content, plus early access to shows.
Wondery probably won't replace your main podcast app, but if you just can't get enough audio content then it could make for a great companion to it.
Spotify Kids
$14.99/£14.99 per month
Spotify Kids, as the name suggests, is Spotify, but for kids. It's a similar idea to YouTube Kids, in that it's a way to give children access to the service while keeping them safe from unsuitable content.
It therefore doesn't have the full library of songs that you'd find in the main Spotify app, but what it does have is handpicked as being suitable for kids.
Spotify Kids also includes playlists designed for children, a more colorful, kid-friendly interface, and the ability to download songs for offline listening.
You can also customize the age range, so that your child only has access to songs suitable for those up to six, or gets access to music suitable for ages up to 12.
To use Spotify Kids you do need a Spotify Premium Family subscription, and each child you add will take up one of the family slots (of which there are six), but if you don't already have Spotify Premium Family then you can get a one-month free trial.
Audio Manager
$0.99 / £0.89
We've all been there: you've finally fallen asleep only to be woken up by a drunken text or call from a friend in the middle of the night, but with Audio Manager that need never happen again.
Sure, you can stop it happening already by manually muting your phone when you go to bed, and many phones have limited scheduling options for Do Not Disturb mode, but Audio Manager lets you schedule specific audio settings for specific times and days. So you can lower the volume or mute your phone overnight, for example. You might perhaps also want it to automatically switch to vibrate during working hours.
And it's not just days and times that you can set; you can also change the settings based on location, so that for example you could have your phone automatically mute when you enter your office, and turn the sound up full when you leave.
You can also have multiple routines set at once, so if there are any days, times or places where you consistently want your phone's sound settings a particular way, Audio Manager can make sure that happens.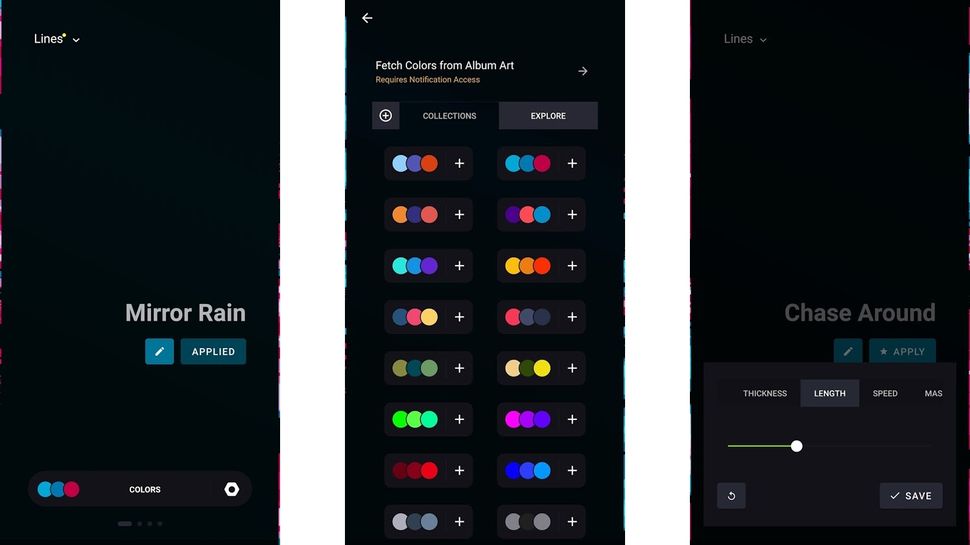 Muviz Edge
Free + various IAPs
Muviz Edge adds visuals to your music by displaying a music visualizer around the edges of your phone's screen while music is playing.
It works with streamed or local content from any app and you can customize the visuals, choosing from a number of patterns, and adjusting the colors, speed, and more. You can even get Muviz Edge to automatically match the colors of the album art for whatever you're currently listening to.
It's a bit limited in that a visualizer along the edge of your screen can only do so much – no matter how you tweak it all we're really talking about is colored lines moving around the screen edge, but it still looks good.
It also requires IAPs to unlock some of the patterns and certain other features, but there's enough here for free that it's worth downloading even if you're not prepared to shell out for all the extras.
Volume Panel Pro
$0.99 / £0.59
Volume Panel Pro is a replacement for your smartphone's standard volume controls. Hit the volume key on your phone and you'll see this instead, which in many cases will be an upgrade.
The Android app can display volumes for calls, media and alarms all in one go, so you don't need to dig into menus to change individual settings. You can also choose which side of the phone screen to display the volume controls on and how far from the top, change the colors of both the panel and the sliders, choose which volume gets altered by default, choose how long the volume panel stays visible after you hit a volume key, and more.
It's not a game-changing feature, but it's a well thought out and customizable improvement on most standard Android volume controls, and it's easily worth the low asking price.
Pocket Casts
Free + $1.19 / £0.99 monthly subscription
We've covered Pocket Casts before, but it's worth highlighting again because it's now free. That doesn't mean you'll be bombarded with adverts or have your data sold; this Android app is truly free with no strings attached.
Those who want more or want to support the developers can subscribe to the new Pocket Casts Plus service (for $1.19 / £0.99 per month or $11.99 / £9.99 per year), which unlocks extras like desktop players, additional themes and the ability to upload and play non-podcast files on Pocket Casts.
But for everyone else, it's the same app that so many have known and loved for years, complete with a slick interface and all sorts of handy tools, such as a volume boost for speech, the ability to change the playback speed and trim silence, Chromecast support, and a whole lot more.
The developers promise that the free version won't be neglected either – this is still their core product and will continue to get updated and have new free features added. So if you've not already tried Pocket Casts there's never been a better time.
TaoMix 2
Free + various IAP
TaoMix 2 is an ambient noise Android app designed to drown out the outside world and help you relax, sleep or focus.
There are lots of sounds to choose from, such as birds chirping, rain, waves, wind, a fireplace, a thunderstorm and many more. But you're not limited to one sound – you can build a soundscape by selecting several at once.
Each of these sounds appears as a circle on your screen and there's another circle which can be made to move around the screen, and which makes each sound more prominent when it overlaps with them, so the soundscapes vary over time based on the movements of this circle.
You can save any soundscape you make to easily return to it later and you can set a timer, so the soundscape will automatically turn off after a set period of time. You can even record your own sounds.
The core app is free, but to get the most out of TaoMix 2 you'll want to invest in some of the sound packs to bulk up the available selection. These start at £0.69/US$0.99.
Sign up to receive daily breaking news, reviews, opinion, analysis, deals and more from the world of tech.
James is a freelance phones, tablets and wearables writer and sub-editor at TechRadar. He has a love for everything 'smart', from watches to lights, and can often be found arguing with AI assistants or drowning in the latest apps. James also contributes to 3G.co.uk, 4G.co.uk and 5G.co.uk and has written for T3, Digital Camera World, Clarity Media and others, with work on the web, in print and on TV.