If outright excitement is your thing, then maybe the Audeze Euclid aren't for you. If you want about as realistic a rendition of the music you love as possible, though, you need to hear these in-ear monitors at the first opportunity
Pros
+

Balanced, engaging and all-around accomplished sound

+

Surprisingly comfortable

+

Impressive specification
Cons
-

Unblinkingly expensive

-

Wireless connectivity is unsophisticated

-

Could conceivably sound heftier
Why you can trust TechRadar We spend hours testing every product or service we review, so you can be sure you're buying the best. Find out more about how we test.
Audeze Euclid: One-minute review
The Audeze Euclid show how this company isn't about to let the obvious physical constraints of in-ear monitors prevent it from deploying its favorite technology. The Euclid feature 18mm planar magnetic drivers, the performance of which is bolstered by bespoke waveguides and an extraordinarily involved array of magnets.
The result is a pair of wired earbuds that are more comfortable than they might seem, given their relative bulk. Earbuds that are built and finished to the sort of standard the lofty price-tag demands. Earbuds that are supplied with balanced and unbalanced cables for their audiophile audience, as well as a connecting cable that includes a Bluetooth 5.0 receiver with aptX HD compatibility so that they're a legit option whether you're looking for the best wired headphones or best wireless earbuds.
More importantly, though, the Audeze Euclid are a thrillingly informative and engaging listen. They seem to enjoy every genre of music, and although they're no fans of low-res content or sub-par sources, they're not the most judgemental in-ear monitors around. And most importantly of all, given the right stuff to work with the Audeze Euclid are a fanatically detailed and explicit listen, but with an emphasis on engagement and entertainment just as strongly as on analysis.
Some listeners will hanker after more out-and-out punch from the low frequencies, but those who enjoy a realistic and uncolored description of music will find a huge amount to enjoy here.
Audeze Euclid review: Price & release date
Originally officially released in 2021
Real release was more like June 2022
Price: $1,299 / £1,249 / AU$1,999
While there have been delays in getting the Audeze Euclid out and in more hands, the wait has clearly been worth it, based on what we've talked about so far.
The question will be whether the price is worth it for you – we'll talk more about their value proposition later, but obviously we're talking about serious money for serious in-ear monitors here. They're in-line with the likes of the mighty Sennheiser IE900 or Westone Mach 70.
If you've got the money and the ear for it, you can certainly hear the difference in super-high-end stuff compared to the rest, but obviously earbuds at this price are at a rarified level.
Audeze Euclid review: Specs
Swipe to scroll horizontally
| | |
| --- | --- |
| Drivers | 18mm planar magnetic |
| Active noise cancellation | No |
| Battery life | N/A (8 hours with Bluetooth adapter) |
| Weight | 7.5g per earbud |
| Connectivity | 3.5mm unbalanced cable with 6.3mm adapter; 4.4mm balanced cable; option Bluetooth 5.0 adapter with aptX |
| Frequency range | 10Hz‑50kHz |
| Waterproofing | Not rated |
| Other features | N/A |
Audeze Euclid review: Features
18mm ultra-thin planar magnetic transducer
Fazor waveguides
Fluxor magnets
As we'll discuss at greater length in the 'design' section later, the Audeze Euclid are – by prevailing standards – quite a large product. The reason for this, though, is simple: Audeze swears by planar magnetic driver technology, and it's not about to alter course simply because people like earbuds to be as small as is realistically possible.
So each Euclid earbud is home to an 18mm planar magnetic transducer – and this type of speaker is, let's not forget, roughly twice the size of the common dynamic driver alternative that's fitted to virtually every alternative design among the best earbuds out there. This ultra-thin transducer features a voice-coil to take care of the actual business of 'producing sound', while Audeze's patented 'Fazor' waveguide minimizes any phasing and/or distortion you might ordinarily expect to be introduced in a closed-back in-ear design like this. Distortion is further reduced by 'Fluxor' magnets, which also improve sensitivity and maintain as even a frequency balance as possible. This is, fundamentally, what Audeze always does in its larger headphones – just on a much smaller scale.
And really, what further features does a premium in-ear monitor require, beyond the three connector types in the box – an unbalance cable with 3.5mm and 6.3mm connectors, and a balanced cable with 4.4mm connector? Exactly. That's why the Euclid doesn't have any.
Though there is one notable option: you can get a wireless adapter cable, which costs extra, but replaces the other cables to add regular Bluetooth and aptX connections, with eight hours of battery life.
Audeze Euclid review: Sound quality
Extraordinary levels of detail and organisation
Full-scale and vaultingly dynamic
Ultra-realistic low end won't be to everyone's taste
Don't tell me you've spent a comfortable four figures on some high end, specialist in-ear monitors in order to plug them straight into the headphone socket on your laptop or smartphone. Of course you haven't. Of course you understand that a product like this requires an appropriate headphone amplifier or one of the best portable DACs (if you're not using them wirelessly) and some digital audio files of suitably chunky size too. Anything else would be madness and, more importantly, a waste of money.
With big, information-rich files of Everything She Wants by Wham! and Metronomic Underground by Stereolab playing, the immediate impression the Euclid create is one of utter faithfulness and perhaps slight detachment. But you don't have to listen very long to realise the first assumption is correct and the second just isn't. What might initially seem like 'detachment' quite quickly proves to be 'thrilling precision and realism'.
They're certainly convincing when it comes to the full frequency range. Audeze is claiming low-frequency extension down to a subterranean 10kHz – and while that seems optimistic, the bass the Euclid generate is swift, fully detailed and pitilessly controlled. Some listeners may have been primed to expect more outright 'punch' than these earbuds can generate, but if the trade-off for all that momentum, and all that light and shade, in the Euclid's bass sound is a slight lack of ultimate weight then I for one am here for it.
The opposite end of the frequency range is cut from the same cloth. It's controlled, it's rapid in the same way a bullet train is rapid, and its tonality is utterly convincing. Treble reproduction fairly shines, and attacks with crisp precision, but nothing about it ever gets hard or edgy – even if you like to listen at significant volume. Detail levels, again, are sky-high.
But it's in the mid-range that the Euclid stop being 'really impressive' and start to stake their claim as the best earbuds around. The mid-range is so spacious, so lavishly detailed and textured, and so straight-ahead eloquent that every vocalist that comes into contact with it sounds immediate and articulate. Detail levels are such that even the most transient occurrences are given appropriate prominence, and the balance the Audeze strike between 'muscular' and 'delicate' has to be heard to be properly appreciated.
The complete frequency range is evenly represented, with no convexity or concavity anywhere in the sweep from top to bottom. Low-level dynamic prowess is a given thanks to those prodigious detail levels, and the broader dynamics of 'quiet/LOUD' are handled with assurance too – big changes in attack are given complete expression. The Euclid handle rhythms with absolute confidence, and are sure-footed where even the most awkward tempos are concerned. And everything that occurs in a recording occurs on a big, well-defined and appreciably three-dimensional soundstage – so even when the going gets complex or a mix gets dense, each individual strand has the elbow-room to make itself heard.
So yes, you can buy punchier, heftier earbuds than the Audeze Euclid, and you don't have to spend anything like this much money to do so. But if it's fidelity you're interested in, accuracy and the sort of insight into recordings that can make even stuff you've heard a thousand times sound clean and fresh, with nothing added and nothing taken away, these are at the top of the game.
Sound quality score: 4.5/5
Audeze review: Design
Nine pairs of eartips in three different materials
MMCX connections for cables
3.5mm and 4.4mm cables included
It's no easy trick to make a product that's small, light and unobtrusive seem like a premium product, even if – like the Euclid – it's not quite as small (or light, or unobtrusive) as is the norm. But Audeze deserves credit for the design of these in-ear monitors. They don't automatically look like they cost comfortably over a grand in any currency you care to mention, but they definitely look upmarket. Which I guess is as much as you can realistically ask for.
The precision-milled, smoothly finished and organically shaped aluminum housings feel as good as they look. The bright, shiny company logo that sits on the slice on carbon-fiber capping each earbud catches the light. One could almost call the look 'sophisticated'. Each earbud weighs 7.5g (excluding the cable), which is on the heavy side but not ruinously so. And even though they're a little more bulbous than is ideal, they sit comfortably enough in the ear in the classic 'twist-to-lock' fashion - the cables are then routed up and behind the ear.
As far as cables go, Audeze has supplied a few. Each is attached using click/click MMCX connectors at each earbud – one is terminated in a 3.5mm single-ended plug (with 6.3mm adapter), another is a 4.4mm balanced alternative for use with more expensive headphone amps, digital audio players or what-have-you.
Optional is a cable with an in-line Bluetooth receiver that joins the two earbuds together – charging is via micro-USB (old-school), battery life is around eight hours (if you're not cranking up the volume) and connectivity is via Bluetooth 5.0 with aptX HD codec compatibility. International pricing on this cable is elusive, but it's about £130 in the UK.
The package also includes nine pairs of eartips. There are 'S', 'M' and 'L' versions in Comply foam, Audeze silicone and SpinFit silicone – so if you can't get a fit you're happy with, while at the same time avoiding aggravating any latent skin conditions, then I doubt you ever will.
Audeze Euclid review: Value
Premium materials and feel
Uncompromising engineering for uncompromising sound
But it's a lot of money for not much stuff
'Value' is in the eye (and the ear) of the beholder, of course – but if you measure value by the amount of physical stuff your money buys, the Audeze Euclid might be found wanting. The flexibility of having a Bluetooth adapter is welcome, but that's an optional extra, of course.
If, however, you determine value by the amount of pleasure your outlay equates to, then you could conceivably consider these in-ear monitors as a bit of a bargain.
Should I buy the Audeze Euclid?
Swipe to scroll horizontally
| Section | Notes | Score |
| --- | --- | --- |
| Features | Excellent tech and engineering, and useful connection options. | 4/5 |
| Sound quality | Eye-opening levels of insight and detail, and a wonderful range. Some may prefer more punch. | 4.5/5 |
| Design | Premium materials, lots of comfortable fit options. | 5/5 |
| Value | They're a lot of money, but you can hear where it's going. | 4/5 |
Buy them if...
You listen to uncompressed audio files
Some earbuds will tolerate low-resolution digital audio files from Spotify's free tier etc – the Audeze Euclid are not made for this. If you want to hear every drop of detail in higher-quality music, that's what you get here.
You want the most revealing, natural sound
These are more about delivering a neutral balance that's incredibly natural more than adding some bounce and energy to music – there's nothing wrong with that, just be aware.
You have grown-up ears
These earbuds are undeniably on the large side, so you may find them too big to be comfortable if you're blessed with ears that are on the petite side.
Don't buy them if...
You think your smartphone is 'good enough'
Your smartphone is not good enough, nor is your laptop without the help of a DAC or amp. The Euclid are not at all coy about letting you know this is the case.
You want to see where your money has gone
They're nicely made and nicely finished from quite tactile materials, but no one is going to look at your earbuds and assume you've spent a lot of money.
You're after wireless elegance
Even when you add Bluetooth using the adapter, but you've seen neater wireless earbuds solutions than this. Almost all of them, in fact.
Audeze Euclid review: Also consider
Swipe to scroll horizontally
| | Audeze Euclid | Sennheiser IE 900 | Westone Mach 70 |
| --- | --- | --- | --- |
| Price | $1,299 / £1,249 / AU$1,999 | $999 / £1,199 / AU$1,999 | $1,399 / £1,399 / AU$1,399 |
| Drivers | 18mm planar magnetic | 10mm dynamic driver | 7x balanced armature drivers |
| Active noise cancellation | No | No | No |
| Quoted battery life | N/A (8 hours with Bluetooth adapter) | N/A | N/A |
| Weight | 7.5g per earbud | 4g per earbud | Not listed |
| Connectivity | 3.5mm unbalanced cable with 6.3mm adapter; 4.4mm balanced cable; option Bluetooth 5.0 adapter with aptX | 3.5mm unbalanced cable; 4.4mm balanced cable; 2.5mm balanced cable | 3.5mm |
| Frequency range | 10Hz‑50kHz | 5Hz-48kHz | 5Hz-22kHz |
| Waterproofing | Not rated | Not rated | Not rated |
| Other features | N/A | N/A | N/A |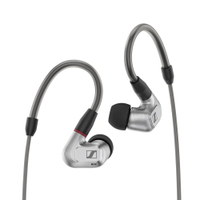 Sennheiser IE 900
A little less affordable than the Audeze (although still plenty pricey enough) and not quite as dogmatic in specification – but the Sennheiser IE900 want for nothing where performance is concerned. Here's our full Sennheiser IE 900 review.
How I tested the Audeze Euclid
Tested with an iFi headphone amp for wired connection
Tested with an aptX HD-compatible phone for wireless option
Reviewed by a hi-fi expert with 20 years of experience
For our review, the Audeze Euclid were attached to a MacBook Pro via an iFi xDSD Gryphon headphone amplifier using its 4.4mm socket, and also to a Nothing Phone (1) using the Bluetooth adapter with its integrated 24-bit DAC.
The smartphone has aptX HD compatibility we used with the Bluetooth adapter, and the laptop is running Colibri software to get around Apple's refusal to believe anyone wants to listen to properly high-resolution audio.
I've been testing high-end audio gear for two decades, and I was previously the editor of What Hi-Fi?, where I got to use all kinds of headphones like this (and beyond).
First reviewed: June 2023
Simon Lucas is a senior editorial professional with deep experience of print/digital publishing and the consumer electronics landscape. Based in Brighton, Simon worked at TechRadar's sister site What HiFi? for a number of years, as both a features editor and a digital editor, before embarking on a career in freelance consultancy, content creation, and journalism for some of the biggest brands and publications in the world.
With enormous expertise in all things home entertainment, Simon reviews everything from turntables to soundbars for TechRadar, and also likes to dip his toes into longform features and buying guides. His bylines include GQ, The Guardian, Hi-Fi+, Metro, The Observer, Pocket Lint, Shortlist, Stuff T3, Tom's Guide, Trusted Reviews, and more.