Update: Six unknown Apple Watch models have just been listed on the Eurasian Economic Commission's certification site, suggesting that the Apple Watch 4 is almost here.
The Apple Watch 4 release date could be less than three months away, and it's said to sport a new look compared to previous Apple Watch look.
That's good news because while the Apple Watch 3 is the best wearable Apple has built, and tops our best smartwatch list, it's not perfect three years into the design.
Apple Watch 4 rumors including a larger screen, bigger battery, and the chance of an official sleep tracking app, given all of Apple's digital health initiatives.
Below we've put together all of the leaks, rumors and speculation about the Apple Watch 4 we've seen so far, plus a list of things we'd like to see Apple implement in its next generation wearable.
Cut to the chase
What is it? The next generation Apple smartwatch
When is it out? Possibly September 2018 alongside new iPhones
What will it cost? Probably upwards of £329 / $329 / AU$459
Apple Watch 4 release date and price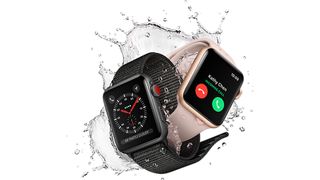 Apple Watch 4 could launch at the next iPhone event – likely in early September – now that we're seeing hints in Apple's iOS 12 developer beta. Its software references four new Apple Watch models (likely two sizes and LTE/non-LTE models).
There's also evidence for its imminent arrival in the form of an EEC (Eurasian Economic Commission) listing for six unknown Apple Watch models. These are probably the Apple Watch 4 (especially as they're said to be running watchOS 5), and we wouldn't expect them to appear on the EEC until close to launch.
An Apple Watch 4 release date in September makes a lot of sense. Apple announced the third iteration of its smartwatch on September 12, 2017 (it came out September 22), and the Apple Watch 2 was released a year earlier in September 2016.
Of course, Apple isn't guaranteed to give us annual Apple Watch hardware updates. Remember, there was a 17-month gap between the original Apple Watch and the Apple Watch 2.
There's no word on the Apple Watch Series 4's price, but it's likely to be around the same as the Apple Watch 3 currently is, meaning a starting price of around £329 / $329 / AU$459 for the smaller 38mm version.
That said, the Apple Watch 3 actually had a lower launch price than the Apple Watch 2, so with all the extra tech likely to be found in the Apple Watch 4 the price could equally increase or decrease a little.
Bear in mind that the price we've mentioned above is just the starting cost. If you choose the larger 42mm band or opt for LTE connectivity, the Apple Watch 3 gets more expensive, as does choosing a pricier case or strap material. All of that is likely to remain true for the Apple Watch 4.
Apple Watch 4 design and display
A trusted analyst that has previous history of predicting Apple products suggests the Apple Watch 4 is set to undergo a big design overhaul, and now we've heard the same from a trusted Apple source too.
So far every generation of the Apple Watch has come in either 38mm or 42mm screen sizes, but KGI analyst Ming-Chi Kuo says he believes the Apple Watch 4 will have a 15% larger display.
Kuo also reported in July 2018 that the screen will have a 1.57-inch screen while the larger variant will be 1.78 inches. The Apple Watch 3 comes with either a 1.31-inch or 1.54-inch display.
A concept artist also put together the below diagram to show how the added screen dimensions may look on the final product.
Here Watch developers, I added screen dimensions in mm and pixels.38mm Series 4 is 38% more screen area42mm Series 4 is 35% more screen area pic.twitter.com/oLd6G8rqceJuly 11, 2018
A similar story about the screen comes from a source that believes the Apple Watch 4 will have an edge-to-edge display, which would be larger than the one on the Apple Watch 3. It also claims you'll be able to keep using your existing bands, so we expect the body of the watch to be very similar to the Apple Watch 3.
The Watch 3 has a lot of bezel space around the outside of the display, so we're expecting the company has slimmed this down to fit in the extra screen real estate.
That said, Kuo's first report does suggest the company will be including a larger battery inside the Apple Watch 4 that will likely mean the body of the watch will have to be at least a touch bigger to squeeze in the larger cell.
Kuo also notes that the design of the Apple Watch 4 is set to be "more trendy", but exactly what the analyst means by this isn't particularly clear yet so we'll have to wait for picture leaks to know more about the look.
Before Kuo's comments, we had seen a patent for a self-adjusting watch strap. This would involve a mechanism that expands and contracts the strap as needed, so that the fit remains comfortable and not too loose at all times, which could also help ensure the sensors on the watch get accurate readings.
It's unlikely to happen on the Apple Watch 4, but we've also seen an Apple patent for a circular smartwatch screen.
And back in 2016 we saw another patent filed by the company for a round smartwatch, so we may see that circular design on some future generations of the wearable.
Apple Watch 4 features and spec
One leak suggests Apple will use faster, more versatile circuit boards for its antenna. That's again according to analyst Ming-Chi Kuo who speculates it'll mean a more stable LTE signal and better heat and moisture resistance.
Rumors for watchOS 5 (learn more about that below) originally suggested the upgrades to the OS will be using the LTE signal much more regularly, so it makes sense if the company plans to update it to a faster antenna.
However, WWDC 2018 (where watchOS 5 was unveiled) didn't show off any new features to do with connectivity, so it may be we have to wait until the Apple Watch 4 to hear about that.
One change that we can predict is the chipset, with a new Apple S4 one likely to be included, though we don't yet know how much difference that will make.
As for new features on the Apple Watch 4, it looks like you may able to unlock your watch by just looking at it. Apple patents show that the Apple Watch 4 may bring a Face ID camera to make the wearable more secure.
That'd mean you'd just be able to look at your watch to unlock it and avoid having to enter an annoying PIN number to be able to use certain functionalities. Additionally, it would make it a whole lot easier to make quick FaceTime calls from your wrist
Apple Watch 4 fitness
One report from late in 2017 suggests the Watch 4 could get an upgraded heart rate tracker that could embrace EKG technology for the first time.
EKGs, also known as ECGs or electrocardiograms, are more advanced than a standard heart rate monitor and provide more in depth information, by using currents of electricity to analyze your heart's behavior.
The rumor comes from Bloomberg (who spoke to people familiar with Apple Watch 4 plans) but the site also spoke to a cardiologist at the University of California who said the feature isn't intended for those who don't experience heart-related issues.
The cardiologist went as far to say if you're a "healthy person", "there's no reason to follow ECG" activity.
There's also an older patent for a wearable that can measure your respiration rate, which could well be a feature on the Apple Watch 4, but considering we've yet to see any further leaks about the feature it may be something included on a future wearable like the Watch 5.
You can expect the return of fitness features we've seen on the Apple Watch 3 including the top-end heart rate monitor and GPS technology as well as the ability to track your swimming with the waterproof design.
Apple Watch 4 OS and battery
It's almost guaranteed the Apple Watch 4 will run the newly announced watchOS 5 software, which is going to feature upgrades to fitness features, the Siri watch face and much more. You can learn all about the new watchOS 5 features right here.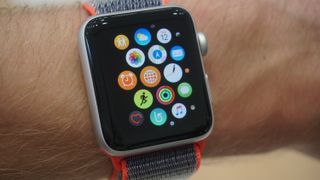 One report has said the new software will bring something called StreamKit, which would allow for a Spotify app on Apple Watch. That would be a big deal for those who don't use Apple Music - but we didn't hear about that at WWDC during the watchOS 5 reveal.
It may be StreamKit is coming later - perhaps alongside the Apple Watch 4 - or we may have to wait until watchOS 6 to hear about it.
StreamKit is rumored to be a framework that's set up behind the scenes to allow cellular versions of the Apple Watch to receive push notifications from apps. That would mean you'd be able to get Facebook or Twitter messages directly to your wrist, and it's another step toward having a fully functioning phone replacement.
Another report (from 9To5Mac) found a suggestion in some watchOS 4.3.1 beta code that the company may be ready to allow for third-party watch faces in the next version of the Watch software.
If that's the case, it means lots more developers will be able to make watch faces for the Apple Watch and hopefully there will be far more innovation and experimentation than what we've seen in the past. That said, it wasn't announced during WWDC so this is yet to be confirmed.
What we want to see
While exact details about the Apple Watch 4 remain a mystery for now, the things we want from it aren't enigmatic at all. In fact, they're right underneath these words.
1. Android compatibility
We know this is hugely unlikely to happen, but wouldn't it be great? It would also help the Apple Watch match Android Wear in one of the few areas where it doesn't already, since Android Wear offers limited compatibility with iOS devices.
It's understandable that Apple would want to keep its Watch working only with other Apple devices, since doing so keeps people in its ecosystem – you're not going to switch to an Android phone if you already have an Apple Watch.
But that could also put off anyone who doesn't want to make a long-term commitment to Apple, and it completely rules out anyone who currently uses an Android phone from having one of the best smartwatches on the market.
2. Even better battery life
The Apple Watch 3 actually has quite good battery life, at least by smartwatch standards, easily lasting at least two days if you don't use LTE.
But that still leaves plenty of room for improvement. Many fitness trackers last around a week or longer and of course a conventional watch will go for years.
It's not realistic to expect the Apple Watch 4 to do the same, but any gains would be appreciated and help make it feel like less of a downgrade from your analog watch in that area.
Improvements could also make sleep tracking more viable, since currently you're likely to plug your Watch in overnight.
3. More fitness features
The Apple Watch has become more and more a health and fitness device over the years and that's now one of its main selling points, but there's still room for improvement here.
Much of this will be handled by apps and software updates, but we'd like to see more health and fitness skills from the actual Apple Watch 4 hardware too, such as sensors that can track your respiration rate and blood oxygen levels.
4. Better Siri
One of our few complaints in our Apple Watch 3 review was about the patchiness of Siri. When it works it's great, but sometimes commands won't be heard or interpreted properly and that sort of thing can put people off using it at all, since when it does fail you'd usually be quicker doing the thing by hand.
So we'd like Siri on the Apple Watch 4 to work better. That's probably largely a software or connectivity hurdle, which could mean any improvements will reach older models too.
Another option would be for Apple to improve the microphone so Siri can hear us better, but that's not really the main issue we faced on the Apple Watch 3.
5. Improved performance
Apple upgraded the chipset in the Apple Watch 3 but it's still not quite as speedy as we'd like, especially when it comes to loading apps, which often isn't instantaneous.
Much of the time the Apple Watch's whole purpose is to be a faster, simpler alternative to getting out your phone, but if you're waiting for apps to load it's arguably not.
So we hope the chipset in the Apple Watch 4 – likely to be called the Apple S4 – will offer the sort of smooth performance we get with an iPhone 8 or iPhone X.
6. A circular option
On the scale of things that are going to happen this ranks way above Android compatibility but below most other things.
Apple seems happy with the design of the Watch and hasn't substantially changed it in the various versions it's launched so far, so we don't expect a redesign any time soon, let alone a completely different screen shape.
But having a circle as an option would be nice. Conventional watches often have a circular face, as do many Android Wear ones, so to appeal to more buyers it would make some sense to offer the choice.
The issue is it would mean reworking the interface a bit, which Apple probably doesn't want to do.
7. Heart rate insights
The heart rate monitor in the Apple Watch 3 is fairly impressive, as it can keep a record of things like your heart rate ranges when working out, your heart rate variability and your daily resting heart rate, as well as your beats per minute, but it doesn't do much with the information.
It would be good if the Apple Watch 4 – or a software update on previous models – added insights into what these stats actually mean and how you can affect them, because that would turn some graphs into genuinely usable information.
Given WatchOS 4 already brings the ability to poke you to be more active at times that are helpful to you, using this heart rate data to help you get fitter (by suggesting slightly longer walks, or congratulating you on lowering your resting heart rate with reasons it's happened) would be excellent.
Check out our Apple Watch 3 review below: