As Dewey from Malcom in the Middle would say, "The future is now, old man!"
That truly is the case now that our homes are automated and hacking threats are more dangerous than ever. But who cares about that? It's the holidays! Crack open a cold can of eggnog and start looking forward to the gift that keeps on giving. Yes, we're talking about smart home devices. If you're looking to boost the intelligence of your house or apartment, you can do so with any one of the products we've managed to gather for this guide.
Whatever renovation you're trying to make, you can count on us to help you make it. That's right, we've spotted everything from smart remotes to smart locks and even light bulbs. Your house isn't going to know what hit it by the time we're done with this list. Of course, that being the case, you're also going to need better LTE service by the end of it, to account for all of these shifts in smartphone uses. What, you didn't think smart home devices were data-free, did you?
Luckily, by the end of this article, it won't matter. Because, surely, we're going to convince you that Boost Mobile and its $50 Unlimited Gigs plan is a pairing you can't go wrong with when it comes to configuring a smart home. Like Nest and August, Boost Mobile wants to make your devices smarter too. That's why you'll find a wide selection of phones compatible with the carrier too. Nevertheless, without further ado, let's make your home smarter.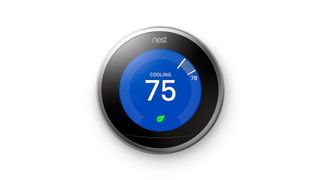 1. Nest Learning Thermostat
Where: Amazon
How much: $248.95
For the person who's always either too cold or too hot at any given moment, the Nest Thermostat is the clear-cut solution. Compatible with Google Home and Amazon Alexa, you can simply tell your smart home device what temperature you want your heat or air conditioning to be, at your own convenience. The Nest Learning Thermostat is a luxury, yes, but aren't all smart home devices?
2. August Smart Lock
Where: Amazon
How much: $149.00
The August Smart Lock might seem like a safety hazard to some, but smart home enthusiasts can't live without one. Here's a device that attaches to your door and claims to be the end-all be-all for old-school deadbolts. In fact, it attaches to your deadbolt and allows for keyless access to your home using none other than your smartphone. You can even send temporary keys to your friends or family so that they can get into your house if need be.
3. Logitech Harmony Elite Remote
Where: Amazon
How much: $279.00
When we say this is the best remote you'll ever buy for your TV, we mean it. It's so good that it itself is considered a smart device, despite being a universal remote. Against all odds, the Logitech Harmony Elite is compatible with Alexa and allows for connectivity with up to 15 home entertainment devices at a time. Best of all, you can also buy the next item on our list and control it with the Logitech Harmony Elite remote. Doesn't that make you want to keep reading?
4. Philips Hue Smart Bulb Starter Kit
Where: Amazon
How much: $49.99
If you really want your smart home to shine, you're going to need a set of smart bulbs to go in it. There are many different smart lights on the market, but Philips' Hue smart bulbs are our first pick. They're relatively inexpensive to start, at $49.99 for the beginner kit. But compatibility is where these bad boys truly leave an impression. The Philips Hue smart bulbs can be used with not only Alexa, but Apple Homekit and Google Assistant as well.
5. Unlimited talk, text and data – no annual service contracts
Where: Boost Mobile
How much: $50/month
As we happened to gloss over before, you're going to need a better smartphone plan if you want the optimal smart home experience. For that, we can't speak highly enough about Boost Mobile. Seriously, this company will save your life. With $50 unlimited data, talk & text plan, you'll never have to worry about overages again. And if it's speed that concerns you, take solace in the fact that Boost Mobile leverages the super fast and reliable Sprint network for LTE and more.
Sponsored by Boost Mobile