The Crown season 6: everything we know so far about the hit Netflix show's return
News
Contributions from
published
The Crown season 6 will give Netflix's controversial drama series to a royally fitting conclusion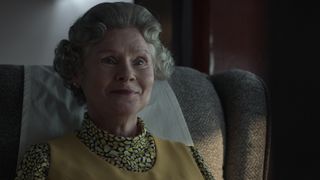 (Image credit: Netflix)
The Crown season 6: key information
- Final season in the hit Netflix show's run
- No release date announced
- Trailer yet to be revealed
- Key cast members set to return
- Will focus on events taking place in the late 1990s and early 2000s
- Set to dramatize Princess Diana's death in August 1997
- Potential spin-off movies and TV specials have apparently been discussed
The Crown season 6 is set to be the final installment in Netflix's award-winning monarchical drama.
After a controversial fifth season, the series' final entry looks set to address more momentous moments in history before it bows out. It's the first season since the passing of Queen Elizabeth II, too. Alongside a potential tribute to the UK's longest-reigning monarch, The Crown's next entry will also chronicle the death of Diana, the beginning of Kate Middleton and Prince William's romance, and the marriage of Prince Charles and Camilla Parker Bowles amongst other things.
That's a lot of ground for showrunner Peter Morgan to cover and, after originally saying the show would end after five seasons, The Crown's return to depict these events in dramatic fashion means it'll surely be as contentious as its predecessor.
There's plenty more regality to enjoy while we wait for one of the best Netflix shows to return. First, you'll want to check out one of, or all, of these seven regal dramas that are styled like The Crown. Once you've watched those offerings on the world's best streaming services, our guide on everything about The Crown season 6 (i.e. this article) will fill you in on what we know about the series' last installment. That includes plot specifics, release date rumors, cast details, and more.
Full spoilers follow for The Crown's first five seasons, with a particular emphasis on its fifth outing.
The Crown season 6 release date speculation
The Crown season 6 doesn't have an official release date, though its launch is apparently imminent. According to Deadline, after temporarily suspending filming following the passing of the Queen, Netflix announced that the show will "premiere this Fall". For UK audiences, that's Autumn 2023. For Australian viewers, that's Spring 2023.
Apart from its second season, The Crown is famous for dropping in November. So, if we were to speculate, an early to mid-November release has great potential. We're less than two months from November 1 (at the time of writing), too, so hopefully Netflix will reveal a proper launch date in the coming weeks if we're right in our assertions.
It's possible that Netflix is gearing up for a big tease, too. On September 4, the streaming giant too to X (formerly Twitter) to reveal a major event that'll be part of the final season. This, then, could mark the beginning of Netflix's promotional push for The Crown season 6:
After six seasons, seven years and three casts, The Crown comes to an end later this year. Here's a hint at what's to come in our final season. pic.twitter.com/l6ilhYYA0CSeptember 4, 2023
The Crown season 6 cast
Potential spoilers for The Crown season 6 up ahead.
Here are the main cast members set to return from season 5, or make their debuts in Netflix's fictional dramatization of the British royal family:
Imelda Staunton as Queen Elizabeth II
Jonathan Pryce as Prince Phillip
Dominic West as Prince Charles
Elizabeth Debicki as Princess Diana
Olivia Williams as Camilla Parker Bowles
Lesley Manville as Princess Margaret
Khalid Abdalla as Dodi Fayed
Salim Daw as Mohamed Al-Fayed
Bertie Carvel as Tony Blair
Lydia Leonard as Cherie Blair
Marcia Warren as Queen Elizabeth/The Queen Mother
Andrew Havill as Robert Fellowes
Claudia Harrison as Princess Anne
James Murray as Prince Andrew
Sam Woolf as Prince Edward
Ed McVey as Prince William
Meg Bellamy as Kate Middleton
Luther Ford as Prince Harry
Richard Rycroft as George Carey, the Archbishop of Canterbury
As well as the aforementioned group, we'll see younger versions of Elizabeth II, Princess Margaret, Prince William, and Prince Harry. They'll be played by Viola Prettejohn, Beau Gadsdon, Rufus Kampa, and Will Powell.
Per a report from UK newspaper The Sun, there'll also be cameo appearances from Claire Foy and Olivia Colman. This duo played Queen Elizabeth II at various stages of her life in previous seasons. It's possible, then, that they could return for a flashback scene or two each, especially if The Crown ends up paying tribute to the late monarch in its final episode.
The Crown season 6 story
When it comes to The Crown season 6, there's quite a lot to talk about, albeit not in an official capacity. That said, we're no longer in full speculation mode as Netflix has very kindly been dropping first-look images alongside some tidbits on the final season.
Fair warning, there are major spoilers incoming for The Crown season 5. If you're not caught up just yet, it may be best you return once you have.
As the late Queen Elizabeth II said: "History was not made by those who did nothing." And, when it comes to the British monarchy, there's a plethora of events that The Crown has to cover. When it comes to the series' timeline, though, don't expect season 6 to contain anything from the past few years. As executive producer Suzanne Mackie told the Press Association (via UK newspaper The Daily Express) in 2020: "I doubt we'll ever go as far into the present day."
So, where will season 6 pick up? The Crown season 5 concluded in early 1997, with Diana receiving an invite from businessman Mohamed Al Fayed. The Crown season 6 will continue to cover the period following season 5's focus on Prince Charles and Diana's divorce. Not only that, it'll controversially cover events surrounding Diana's death, which is sure to ruffle feathers within the royal family and Diana's fanbase, depending on how it's adapted for Netflix's TV drama.
But where will the sixth season end? As the tweet in our release date section teased, Netflix's successful series could wrap up with the wedding of Prince Charles and Camilla Parker Bowles. Or, at the very least, depict events surrounding the big day, which took place in April 2005. Other notable events taking place between 1997 and 2005 include Diana's death, Prince Edward's marriage to Sophie Wessex, and the deaths of Princess Margaret and the Queen Mother.
Then there's he election of Tony Blair and New Labour in 1997, and the former Prime Minister's time in office, which encompassed some of the 21st century's biggest historical moments, such as the September 11 attacks and the start of the second Iraq War.
Here's your first look at Prince William (Ed McVey) and Kate Middleton (Meg Bellamy) from the sixth and final season of The Crown, coming in 2023. pic.twitter.com/bayfaKeRr4April 27, 2023
In April, Netflix also shared the first look at young Prince William and Kate Middleton. Their romance began at the University of St Andrews, where they met while studying in 2001. Speaking on an episode of The Crown: The Official Podcast, creator Peter Morgan said: "In season 6, the arrival of William and Kate and Harry just blows the doors off… You want to see them. It happened in the read through. You could just see everyone was looking up and looking at each other across the room. And every time William spoke, it was like, 'oh my God, this is just riveting.'"
The Crown season 6 won't just focus on the elder members of the royal family, then. We'll start to see a changing of a guard happening as the family's younger members, including Prince Harry, start to take center stage. How will this all be factored into season 6's 10-episode run? We're unsure, but viewers who have enjoyed what the previous five installments have offered will find plenty to chat about once it airs.
The Crown season 6 trailer: is there one?
A heartfelt congratulations to the cast and crew of The Crown Season 5. Six Emmy nominations including Best Drama Series, and Outstanding Supporting Actress In A Drama Series for Elizabeth Debicki. pic.twitter.com/C7BD1oee8xJuly 12, 2023
No, there's no trailer for The Crown season 6 yet. Referring back to our release date section, a November launch has always (season 2 aside) been preceded by an October trailer reveal. We'll be sure to update this section once one is released.
Where to watch The Crown's first five seasons
Netflix is home to a variety of megahit original shows, of which The Crown stands is one. The Crown seasons 1 through 5 are exclusively available to stream on the streaming titan right now, with the sixth season doing likewise whenever it arrives.
What does the future hold for The Crown?
The Crown's season 6 marks the end of the series, it'll come as no surprise that there won't be anymore seasons of the main show. However, there's been speculation that The Crown could continue as a series of spin-off films. Although currently unconfirmed by Netflix, an unnamed source told The Sun that there's been talk of movies and a series of specials that may address different stories set across the breadth of the British monarchy's rich history.
If Netflix wants to capitalize on the massive success it's enjoyed with the Meghan Markle-fronted Suits TV show, and/or its exclusive deal with Markle and Prince Harry's production company, it could look to retell the duo's divisive and public exit from the royal family. Of course, given Netflix's close ties to the power couple, it would have to be done in a tasteful manner that the pair would be happy to sign off on.
As we mentioned, there's plenty more history that Netflix could pull from, but we'll be here all day if we start listing more ideas. For now, The Crown season 6 is coming soon. And, as season 5 secured a place in our best TV shows of 2022, its successor could nestle its way into our list for 2023.
For more Netflix coverage, read our guides on the best Netflix movies, best Netflix documentaries, everything we know about Stranger Things season 5, and what's the latest on The Lincoln Lawyer season 3.
Sign up to receive daily breaking news, reviews, opinion, analysis, deals and more from the world of tech.
Grace is a freelance writer for TechRadar, with past work at sites like GamesRadar, Metro and The Loadout.