Can't wait for Napoleon? Watch these 5 great historical dramas on Netflix, Max and more
From Cleopatra to the Cold War, here's what to stream before Joaquin Phoenix's turn as the French general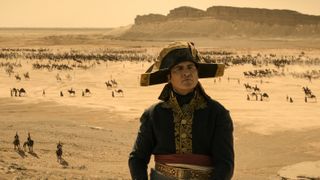 (Image credit: Apple)
2023 has been another stellar year for filmmaking; we're still not done yet. Ridley Scott's epic historical drama Napoleon is about to land in movie theaters before making its way to Apple TV Plus (with an epic four-hour cut!) at an undetermined later date.
Headlined by Joaquin Phoenix, the story will recount the birth of the French Revolution that was supported by the military commander Napoleon Bonaparte. It will also see Vanessa Kirby play Empress Joséphine in what early reviewers call a "scene-stealing" role. Excitement is naturally sky high, as a result.
If you won't catch it in theaters, there's plenty to keep you busy while you wait for it come to streaming – here are five great historical dramas available on Netflix, Max and other streaming services.
The Revenant
Runtime: 156 minutes
Director: Alejandro González Iñárritu
Age rating: R
Where to watch: Netflix (US), Netflix/Disney Plus/Prime Video (UK), Disney Plus/Prime Video (Aus)
Leonardo DiCaprio finally got his Oscar in 2015's The Revenant, which tells the real-life experience of Hugh Glass, a frontiersman on a fur trading expedition in the 1820s who is forced to fight for survival after being mauled by a bear and left for dead. With a sublime supporting cast of Tom Hardy, Domnhall Gleeson and Will Poulter, the western action drama immerses itself in the wilderness like few others, offering some gorgeous cinematography that doubles Canada for Montana and South Dakota.
Darkest Hour
Runtime: 125 minutes
Director: Joe Wright
Age rating: PG-13
Where to watch: Netflix (US), Netflix (UK), Foxtel (Aus)
Gary Oldman puts in a transformational performance as Winston Churchill upon one of the most troubled periods of World War II. Taking place duirng a four-week period in 1930, the narrative follows the newly appointed British Prime Minister as he must decide whether to negotiate with Hitler or stand opposed to the dictator. A performance so magnificent and lauded that he beat out the likes of Daniel Day-Lewis, Denzel Washington and Daniel Kaluuya to take home Best Actor in a Leading Role at the 2017 Oscars.
Cleopatra
Runtime: 251 minutes
Director: Joseph L. Mankiewicz
Age rating: G
Where to watch: Max (US), rent or buy (UK), Disney Plus (Aus)
No, not the terrible Netflix documentary. This is the four-time Oscar-winning classic from 1963 starring Elizabeth Taylor, which proves to be such an interesting time capsule of Hollywood at the time, namely the extravagance of it all. Chronicling the struggles of the young Egyptian queen and her Roman suitors in Mark Antony (Richard Burton) and Julius Caesar (Rex Harrison), this remarkable four-hour period piece had no expense spared. At $31 million (over $300 million in today's money!), Cleopatra was the most expensive movie ever made when production had wrapped, almost going as far as to bankrupt the studio. Now watch it in all its glory on Max.
Operation Mincemeat
Runtime: 128 minutes
Director: John Madden
Age rating: PG-13
Where to watch: Fubo TV/Vix (US), Sky/NOW (UK), Prime Video/Binge/Foxtel (Aus)
Colin Firth? In a period piece? I'm shocked, shocked I say! Based upon the book by Ben Macintyre, Operation Mincemeat is a suspenseful drama about how British Intelligence – which included James Bond creator Ian Fleming – fooled the Nazis with an elaborate (borderline hare-brained) counter-information scheme to change the course of the War. The miraculous true story now adapted for the big screen is entertaining, well crafted and occasionally offers some dry humor that shines through the dark tale, thanks to its leads in Firth and Succession's Matthew Macfadyen.
Bridge of Spies
Runtime: 141 minutes
Director: Steven Spielberg
Age rating: PG-13
Where to watch: Paramount Plus (US), rent or buy (UK), Foxtel (Aus)
Tom Hank's principled lawyer James B. Donovon may have been the poster child for Bridge of Spies, but it was Mark Rylance's subtle performance as Rudolf Abel that took the movie to the next level – claiming a surprise (but deserved) Oscar win for Best Supporting Actor. This character study is a fascinating cat-and-mouse thriller about negotiations between the US and the Soviet Union for the exchange of a Russian spy for a captured American pilot during the Cold War. Spielberg is on fine form from the the get-go here (with help from the Coen brothers in the writing department too), making this one of the director's most underrated films to date.
You might also like
Get daily insight, inspiration and deals in your inbox
Get the hottest deals available in your inbox plus news, reviews, opinion, analysis and more from the TechRadar team.
Matt is a full-time freelance journalist who specializes in arts, culture and tech – be that movies, TV, video games, or otherwise. He's also turned his hand to everything from mattresses to motorbikes as a journalist. Prior to this, Matt headed up the games and entertainment section at T3.com, alongside being published across TechRadar, IGN, Tom's Guide, Fandom, NME, and more. In his spare time, Matt is an avid cinema-goer, keen runner and average golfer (at best). You can follow him @MattPoskitt64.