Vodafone SIM only deals are likely going to be one of the first options you look into. As one of the four main networks, Vodafone is well placed with great coverage and speeds - but is it the best option for you?
Sitting somewhere in the middle of the market, offering one of the more feature-filled SIM offerings but not the most expensive, Vodafone SIM only deals are all about overall value.
Through its reward scheme VeryMe, Vodafone SIM plans can reward you with free coffees, gig tickets, competitions, discounts on products and more. This is a feature few other SIM only deals provide, only popping up wit O2, Voxi and a few others.
But where Vodafone really succeeds is in its coverage. As one of the four main providers, you're getting one of the best overall 4G and 5G coverage maps, plus some very solid speeds in all parts of the country.
So it has benefits, good coverage and generally affordable pricing, but where is the best place to buy Vodafone SIM only deals? The cheapest prices, especially on the brand's unlimited data SIM only deals actually come from 3rd party retailers.
If you use the price comparison chart above, you'll be able to track down the best and cheapest plans from Vodafone in the UK right now. And if you want to know more about Vodafone, read on.
What is the best Vodafone SIM only deal?
Right now, the best Vodafone SIM only deal comes from the 3rd party retailer Mobiles.co.uk. They can offer you a 60GB of data plan for just £16 a month.
On top of that, you'll get £30 in automatic cashback, taking the cost down even further than it already is!
Why go for Vodafone SIM only deals?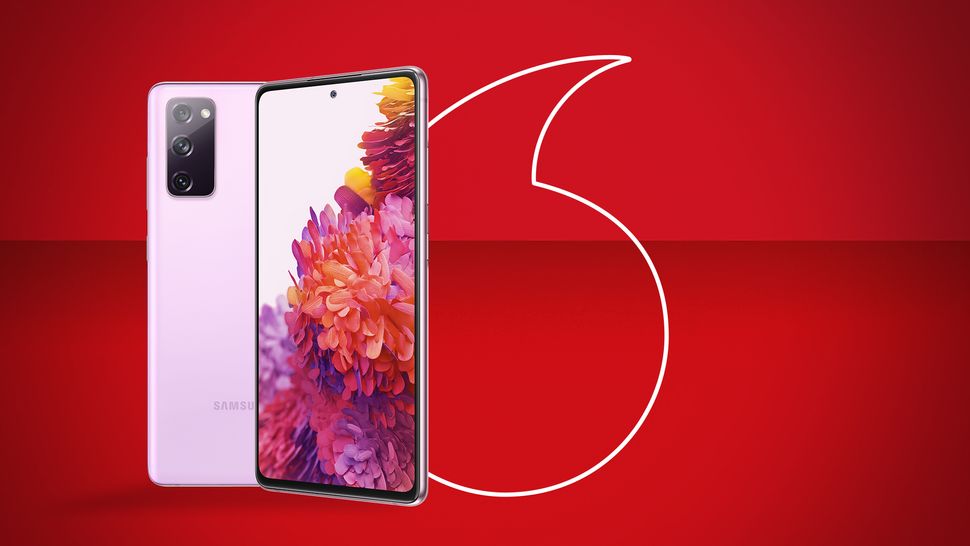 Is Vodafone a good mobile network?
Vodafone is consistently rated one of the best networks in the UK, often sitting just behind the number 1 spot of EE. This comes down to a couple of factors.
Firstly, Vodafone has great UK coverage and speeds, both for 4G and 5G. And unlike EE, it is a more affordable option for most SIM plans and phone contracts.
On top of that, Vodafone's VeryMe service helps it to stand out, giving you a host of free gifts, competitions and more each month.
What benefits does Vodafone offer with its SIMs?
There are a few benefits to signing up to Vodafone. As we said above, it has great coverage and speeds but Vodafone's VeryMe is the feature that stands out the most.
This is part of the Vodafone app and gives customers the opportunity to sign up to exclusive competitions, get free coffees and snacks, discounts on products, gig tickets and plenty more.
Looking past that, many of Vodafone's benefits are similar to other networks. There are no extra costs for roaming in a host of countries, data limits and security benefits.
As for 5G, Vodafone is in the slightly unique position of offering 5G connections in a host of European countries outside of the UK - perfect for when you go travelling.
Are Vodafone SIM only deals cheaper than going for a contract?
There's no easy yes or no answer to this question... it's more of a "it can be".
If you've just come to the end of your contract, but are perfectly happy with your current mobile, then grabbing a free SIM from Vodafone is definitely cheaper than starting a fresh mobile phone contract deal.
However, Vodafone does sometimes turn up the odd great SIM only offer, so if you pair a low-cost SIM only on Vodafone with a pricey handset purchase you could well still come out on top. We'd always recommend doing the maths though, and calculating the total cost of the two year phone contract deals - you'll be surprised how much some of them come out at!
How to choose the right Vodafone SIM
What contract length should I get?
There are three types of SIM only contracts on Vodafone; 12 months, 18 months and 24 months.
There isn't a huge difference in the value between these three options so it is more of a question of whether you want to secure a good price for longer or have the ability to escape earlier, 1 year down the line.
How much phone data do I need?
There is no easy way to answer this and it will very much depend on what kind of activities you use your phone for. The easiest way to know is to compare how much data you were previously using on your old contract. If this is your first phone plan, here's an easy guide:
- 500Mb-1GB
The minimum amount of data you'll be finding, this is very much for those who rarely use data functions on their phone, or are always connected to the Wi-Fi.
Streaming will be pretty much of the cards as well as intensive games. Maps, Google searches and general low usage will be fine though.

- 1GB-10GB
Stepping up in data caps, this is where most people will find themselves. Between 1GB and 10GB allows for a decent amount of activity in the month. You'll be able to use plenty of social media, game and do the occasional bit of streaming.

-10-50GB
Anything in this gap will be great for the more intensive phone users out there. If you like to play games while you're out and about, watch HD Netflix or have to use your phone heavily, you'll find success here.

-50-100GB
There is a lot of great Vodafone SIMs in this region. Anything between 50GB and 100GB will see you rarely use up all of your data, even when you're streaming in UHD and downloading apps on the go.
Just be careful if you plan to use your phone as a hotspot as this can drain your battery very fast.

- 100GB-unlimited

Should I get unlimited calls and texts?
This is now almost a redundant question (we forgive you), as most Vodafone SIMO deals automatically come with unlimited minutes and texts included in the plan.
There are a few that will offer either 500 or 1000 minutes, which can shave a quid or two off your monthly payment, but for the most part it's something you don't need to worry about.
Switching to a Vodafone SIM
Can I keep my old number?
Yes you can! If you're changing over from another network such as EE or O2, you can simply use the new text to switch system to change your phone while keeping your number.

You simply need to ask your old network for a PAC code, this can be done by texting PAC to 65075. They will reply within a minute with a code that is valid for 30 days.
You then simply give this code to the network you're switching to. If you don't want to keep your number, you text STAC to 75075. This means you completely cancel your account and your new supplier can set you up with a new number.

Finally, if you're on Vodafone or one of Vodafone's MVNOs (Voxi, Lebara, Virgin and a few others), you can get in touch with the brand you're switching to, they will sort the rest for you.
Is my phone unlocked - can I use a new SIM in it?
Pop a friend's SIM card (from another network) into your phone. If you immediately get on their network, then you're in luck - your phone is unlocked and you can go ahead and buy your new SIM card.
If their SIM is not recognized, it means your handset is locked (which is generally the case if you've purchased it direct from the network) - but unlocking it isn't difficult.
Three ships all its handsets unlocked from the outset, but the other networks require at least some effort, and usually some cash, from you (see below).
And Apple iPhones are generally locked completely to the network they were originally sold with. So again be prepared to pay to unlock before you move to Vodafone.
O2 You can now unlock any O2 phone for free if you're on a pay monthly contract or PAYG.
Three Three phones are all unlocked as soon as they come out of the box. So you can put an EE SIM card in any Three mobile you like without charge and hassle.
EE If your EE phone is locked, you will have to pay the network £8.99 if you're in contract, but it's free if you're out of your EE contract. Any iPhone from EE will automatically become unlocked after 18 months. Unlocking PAYG EE phones is free if bought directly from the network, otherwise it's £8.99.
What SIM card size do I need?
Luckily, this isn't really something you have to worry about anymore. Most SIM cards now come in a multipack system. You are able to quite easily break the SIM down to the size for your phone.
This means that no matter what SIM size you need, your Vodafone SIM will be able to fit into it. If you want to know more, we have a complete guide on SIM card sizes.
Vodafone MVNO SIM only deals:
If you haven't found a Vodafone SIM that suits what you're looking for, the other option is to consider one of the many MVNOs that use Vodafone's signals, networks and connections.
While there is loads of these, the main ones are Virgin, Voxi, Lebara, TalkMobile and Asda. These are quite varied in what they offer with some using 1-month rolling contracts, others focusing on getting you the most data for the lowest price.