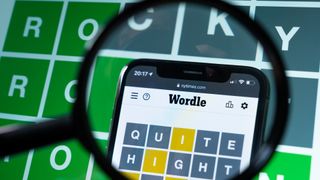 (Image credit: Shutterstock / DVKi)
Wordle is the smash-hit puzzle phenomenon that challenges you to find a hidden five-letter word in six guesses. The twists are that you can only play once each day, and that everyone gets the same answer - giving it a real competitive element and keeping dedicated Wordlers coming back each day for more, or searching for Wordle hints online.
Wordle was created by developer Josh Wardle during lockdown in 2020 and launched in mid 2021, but it wasn't until the end of that year that it went viral. By January 2022 more than 2 million people were playing each day and it was no surprise when the New York Times bought Wordle for a "six-figure sum" in February of that year. It continues to be hosted on the NYT Games site and app today, and can be played for free. Wordlers can also sign up for a free account that enables them to record their stats and play across multiple devices.
Wordle's immense popularity led to a huge amount of online discourse, with linguists and mathematicians weighing in on what the best Wordle start words and strategies are. It also spawned a slew of Wordle alternatives, including the still-popular Quordle, which itself was bought by Merriam-Webster dictionary in early 2023.