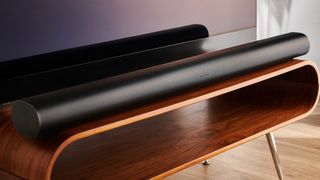 (Image credit: Future)
A soundbar is a long, thin speaker designed to sit just in front of or below your television, to provide much bigger, clearer and more immersive sound than a TV alone can manage. Today's flat and thin TVs don't have much space for powerful speakers, so their sound is often thin and unsatisfying. Adding a soundbar can just make people's voices clearer – or it can create a home theater experience.
Soundbars come in different sizes, with different levels of features, aimed at different budgets. You can get small ones suitable for TVs of 32 inches that just add louder, clearer sound, for example. You can get mid-sized ones that start from being cheap and simple, but will range up to options with virtual surround sound. And you can get big soundbars suitable for TVs of 55 inches and up that deliver a huge audio upgrade, usually with Dolby Atmos 3D sound.
Pretty much all soundbars either connect over HDMI ARC to a compatible HDMI port on your TV, or over an optical digital connection. HDMI ARC means you can control them from your TV's remote with no extra steps, so is usually the preferred option – and it's the only way to get Dolby Atmos. Some soundbars come with subwoofers for better bass, or even rear speakers to deliver a true surround-sound experience.