It's been more than three years since Fujifilm introduced the X-Pro2 (pictured above), and in that time the company has fired out a stream of smashers across its full camera portfolio.
From the minuscule X-T30 mirrorless model and the X100F compact through to its GFX medium-format monsters, the X-Pro2 has been around to witness all of their arrivals. And while we're pretty confident it will eventually see an X-Pro2 successor itself, quite when that will happen has been anyone's guess.
Recent rumblings, however, suggest we won't have much longer to wait. Trusty camera-leaking website Nokishita states that a camera with the product code 'FF190002' has been registered by the company with regards to its Bluetooth capabilities. Nokishita notes the similarity between this product code and those of the existing X-T3 (FF180003) and X-T30 (FF180006).
We don't know a great deal about it right now, save for the fact that it has Bluetooth 4.2, something Fujifilm has incorporated into recent models like the X-T30 and X-T3.
Much has changed since the launch of the X-Pro2, and while the company has issued a handful of firmware updates to keep it relevant over its lifetime – adding 4K video, boosting the autofocus system and so on – these can only do so much to keep the model current.
But what else do we expect?
Fujifilm X-Pro3: New sensor and processor
The X-Pro2 uses the previous-generation 24MP X-Trans CMOS III sensor and older X-Processor Pro engine, rather than the 26.1MP sensor and X-Processor 4 engine we've seen inside more recent models.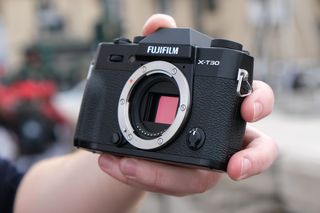 It seems almost certain that the X-Pro3 would also be the lucky recipient of these, putting it on the same level as the X-T3.
Fujifilm X-Pro3: New viewfinder
The X-Pro2 also uses the older 2.36 million-dot panel inside its hybrid optical/electronic viewfinder, in contrast to the 3.69 million-dot panel on newer models.
Given that the X-Pro2 is aimed at a similar audience as the X-T line, it doesn't make much sense that the X-Pro3 would end up being worse off here – so we reckon the 3.69million panel will end up making the cut here too.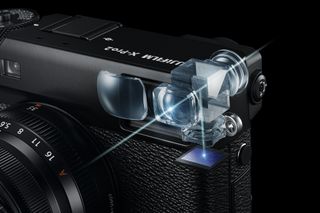 After all, Fujifilm now has a 5.67 million-dot panel inside the viewfinder of its GFX 100 model, and no doubt this will slowly make its way to the X-series range at some point too – particularly as Panasonic has started to include this same resolution viewfinder inside its most recent S1R and S1 models.
Fujifilm X-Pro3: Design and controls
It's likely Fujifilm will retain the same X-Pro form for the body as before, rather than adopt the more SLR-like body of the X-T series, although we hope the company revises its awkward shutter speed/ISO dial.
While it's great to have the option to change both settings through a physical control rather than through the menus, the way the ISO needs to be adjusted, together with the tiny window through which the current setting is viewed, is just plain awkward.
Fujifilm X-Pro3: LCD screen
Much like Leica's M-series rangefinders and Q models, and Ricoh's GR line, the X-Pro family has always shunned tilting LCD screens in favour of one fixed in place. It might not be as flexible – particularly next to the three-way-tilt fun you can have with the X-T3's display – but our money is on Fujifilm keeping the same design for the new model.
The monitor itself might be different – more recent cameras from other corners have larger 3.2-inch displays with 2.1 million dots, next to the X-Pro2's 3-inch panel that offers a still-respectable 1.62 million dots – but it's just one factor that helps to justify having both the X-Pro and X-T lines in Fujifilm's stable.
It could also be argued that the purist drawn to the X-Pro line over the X-T models is arguably more concerned with having something that's more solid, streamlined and compact, rather than a camera that tries to offer everything at once.
Fujifilm X-Pro3: In-body image stabilization (IBIS)
One thing we don't expect the X-Pro3 to sport is in-body image stabilisation.
Currently, the only camera in the X-series to have this is the X-H1, a much larger and more expensive model, as does the new medium-format GFX 100.
Including such a system on a more junior camera is likely to have an impact on its overall size – and given that a number of X-series lenses already sport optical image stabilisation, we reckon Fujifilm will stick with this to keep the camera as compact as possible.