There are a few things we love about the Yvolution Yes electric scooter, including its nostalgic retro design, snappy throttle, and fairly affordable price tag. Unfortunately, Yvolution focused too much on its looks rather than its performance, with its inferior battery, tires that have limited traction, and brakes that are inadequate for downhills.
Pros
+

Unique retro design

+

Snappy start that doesn't require you to kick

+

Quiet motor

+

Spacious floating deck

+

Easy folding
Cons
-

Battery drains when off

-

Short range

-

Tires do not have good grippage

-

Brakes barely work when going downhill
Why you can trust TechRadar We spend hours testing every product or service we review, so you can be sure you're buying the best. Find out more about how we test.
Yvolution Yes: One-minute review
The Yvolution Yes has many of the makings of one of the best electric scooters. Its retro design feels like a breath of fresh air in the electric scooter market (and also reminds this reviewer of her childhood bicycle in the late 80s). It's got an easy folding mechanism that adds to its convenience. It has a quiet motor and a snappy throttle that doesn't need a kickstart to set off. It has a nice, spacious deck. And, best of all, it's decently-priced – not cheap, but not expensive either.
Sadly, Yvolution may have gotten too wrapped up in designing it to actually pay more attention to its performance. For a commuter e-scooter, it has a very limited range of 15.5 miles and a battery that drains even when it's turned off. And, for a green vehicle that touts itself a safe ride, its tires don't have a lot of traction and its brakes barely work when going downhill.
One might say that at its price point, you can't expect the best performance. But, we're inclined to disagree as we have ridden similarly-priced and some of the cheapest electric scooters that deliver a longer range and a far superior braking system.
That isn't to say that the Yvolution Yes doesn't have its place in the world. It actually makes for the best electric scooter for students, especially for riding around the campus. However, we'd recommend it more to riders who live in areas with quieter, smoother, and flatter streets than city commuters who deal with inclines, rougher roads, and a whole lot of car and foot traffic.
Yvolution Yes: Price and availability
How much does it cost? $599 (about £495)
Where is it available? Available now
Where can you get it? Available in the US and the UK
Yvolution Yes: SPECS
Motor: 300W
Top speed: 15.5mph (25kmh)
Range: 15.5 miles (25km)
Braking system: Electronic handlebar brake + rear foot brake
Weight: 34.2lbs (15.5kg)
Max load capacity: 220lbs (100kg)
The Yvolution Yes sits nicely in the lower mid-range, which makes it an affordable option at just $599 (about £495). It is, of course, not the cheapest we've seen or tested, being $100 / £100 or more than what we would consider a budget e-scooter. However, it is more affordable than most of the top models on the market.
On the other hand, you do have more powerful propositions if you're willing to spend a couple more hundred bucks/quid. The NIU KQi3 Pro is only $799 / £699 / AU$1,279 and boasts a higher top speed, a longer range, and much superior shock absorption, thanks to its fat tires. The TurboAnt V8 also sits at the same price point at $799 (about £707, AU$1253) while offering an impressive 50-mile range thanks to its dual batteries, bigger tires, and a 20mph top speed.
Still, if you are on a tight budget, the Yvolution Yes is a great option that's available to US and UK riders. Sadly, it isn't available in Australia at the time of writing.
Yvolution Yes: Assembly
Easy, beginner-level assembly
Comes pre-charged
In many ways, the Yvolution Yes is made for novice riders. Setting it up, for example, is incredibly easy. You don't have to attach the brake cables or screw in the handlebar. All you need to do is screw in the hand grips or handles, which are marked left or right so you know which one goes where, and secure them in place with the provided screws and hex wrench to keep them from turning loose during use.
The throttle and brake levers are already attached, but they are fitted loosely so that you can slide them both over the hand grip screws to keep them out of sight. Be sure to do so and tighten them in place.
That's it, really. The Yvolution Yes comes charged out of the box so you can use it right after assembly. If you're hoping to use it for your work or school commute, however, we would charge it until full just in case.
Yvolution Yes: Design
Nostalgic retro design with old-school kickstand
Spacious floating desk with a lot of grippage
Squishy hand grips to reduce vibrations
The one thing that sets the Yvolution Yes apart from other electric scooters on the market is its retro design. Not only does it come in aquamarine, rose, night sky (as well as black and white) colorways, but it delivers a touch of nostalgia with its round headlight (not to be confused with a ring light), maple wooden deck, handles made to look like they're made of wood, and a drop kickstand you typically see on vintage bikes. It's a fresh take in the sea of rugged-looking, mostly black e-scooter models we're seeing right now.
It's not all looks, however. It's got a mostly sturdy build, its parts firmly secured in place so you don't feel like you're riding on a rickety piece of vehicle. Its deck, despite not having a lot of ground clearance, is wide and spacious with a sandpaper-like top for grip, and the compact dashboard is decently bright. And, the stem feels robust yet sleek.
There are also five lights on the Yvolution Yes to keep you safe and visible at night: a headlight, two side lights, and two rear lights, which flash when you're braking.
The handles feel squishy, made of some sort of cork-like material with anti-vibration. They have less grip and take some getting used to but are very effective at minimizing vibrations during rides so you can have a more comfortable experience
The handles feel squishy, made of a cork-like material with anti-vibration construction. They have less grip and take some getting used to but are very effective at minimizing vibrations during rides so you can have a more comfortable experience.
The plastic bell seems flimsy, however, and it sits next to the throttle, which means you have to take your finger off the throttle to ring it. If you're on cruise control, that's fine. If you're not, it feels inconvenient.
You know what else is inconvenient here is the old-school drop kickstand. You have to use a bit more force and do some finagling to prop the electric scooter up.
Yvolution Yes: Features
Easy folding mechanism
Intuitive dash with a single-button control
While most electric scooters come with a folding mechanism, there are only a handful of them that actually make the folding process easy for users. Another thing that the Yvolution Yes has going for it is that it's one of those models that boast an easy-to-use, yet secure, folding lever.
The folding mechanism here is three step process – you need to press the red button to unlatch, fold down the lever, and push on the back bumping to lock the stem in place. However, it takes very little force to do so, making the process pretty much effortless.
The button is easy to push while the latch isn't too tight to pull down. Unfolding is just as simple: you simply push down on the back bumper to unlock, swing the stem in place until you hear an audible click, and push the lever back up.
The dashboard is also simple and intuitive to use, using just a single button for power, changing riding modes, toggling between mph and kph, and turning the headlight on/off. Speaking of riding modes, there are three here: walking, which tops at 3.7mph (6kmh), mid speed, which tops at 11.2mph (18kmh), and max speed, which maxes at 15.5mph (25kmh).
Yvolution Yes: Performance
Quiet motor, snappy start, decent shock absorption
Ineffective brakes when going downhill
Short battery life
Performance isn't exactly the Yvolution Yes' strongest suit. The motor is pretty quiet while the throttle and acceleration are snappy. You don't even need to kick to start riding as the throttle works without assistance and is very responsive. It also has decent shock absorption, thanks largely to its floating maple wooden deck that boasts Yvolution's Flexxpress technology that absorbs bumps and shocks.
Sadly, that's where the good stuff ends. The tires don't have enough traction on that to maintain a stable ride. On rougher or wet roads, the front tire on the Yvolution Yes can suddenly slip or slightly turn the wrong way, which can be dangerous if you're not an experienced rider, which is why it's very important to keep both your hands on the handles so you can adjust immediately if it happens.
The e-scooter's brakes, which consist of an electronic handlebar brake and rear foot brake, work fine on flat roads. However, neither are effective when you're going downhill. When going down a 15-degree steep hill, you'll still find yourself moving even when you're pressing down on those brakes hard. We do not recommend going downhill on this model at fast speeds, as these brakes won't do much to save your life.
The front brake is also a little dicey to control. Instead of a traditional brake lever, you're getting something that's similar to its throttle. Not only is it harder to control, but you also have to press deep for it to work.
Yvolution doesn't specify the Yes' hill grade rating, but there's nothing here to write about anyway. On a 15-degree incline, we've only gotten to about 6 to 7mph on its fastest riding mode, and that's with a light, under-125-pound rider. Obviously, it does much worse on a 25-degree incline. If you live on a hill, like we do, be prepared to walk or carry it home.
The battery isn't much better, either. Not only is it limited to a 15.5-mile (25km) range, which means that if you're using it for your daily work commutes, you might have to charge it every night or every other night, but it also tends to drain even when the electric scooter is on standby or turned off.
Should I buy the Yvolution Yes?
Buy it if...
You want a stylish electric scooter
The Yvolution Yes boasts a fun, retro design and comes in five different colorways, setting it apart from everything else.
You're looking for an affordable model with a snappy startup
At just $599 / about £495, it's an affordable e-scooter that doesn't require a kickstart to get going. In some ways, it's a great option for beginners.
Don't buy it if...
You want something with a very effective braking system and a powerful motor
The Yvolution Yes' brakes aren't effective enough for downhills and its motor isn't powerful enough for uphills. It's best for riders who live in flatter areas.
You hate charging constantly
With a battery life of just 15.5 miles (25 kilometers) and a battery that drains even when it's turned off, it requires constant charging. It's best for users with short daily commutes.
Also consider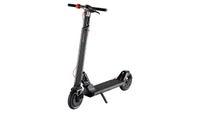 TurboAnt V8 Dual-Battery
It's a robust and powerful scooter with enough battery life, since it has two, to provide up to 50 miles (25 kilometers) of range. And, it gives a decently smooth ride as well.
Read our full TurboAnt V8 Dual-Battery review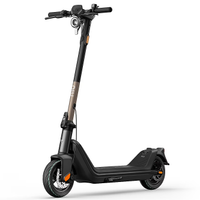 NIU KQi3 Pro
The NIU KQi3 Pro blew us away at first ride with its impressive shock absorption (due to those fat tires), spacious deck, and powerful performance.
Read our full NIU KQi3 Pro review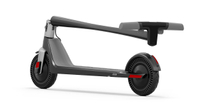 Unagi Model One E500
There's a lot to love about the Unagi Model One E500. This gorgeous electric scooter is every commuter's dream, being sleek, attractive, lightweight, and a heck of a smooth ride.
Read our full Unagi Model One E500 review
Yvolution Yes: Report card
Swipe to scroll horizontally
| | | |
| --- | --- | --- |
| Value | It's not exactly a budget model, but the Yvolution Yes does sit at an affordable price range. | 4 / 5 |
| Assembly | There's not a lot of assembly required here. Simply attach the handles and secure the throttle and the brake. | 5 / 5 |
| Design | It's got a very appealing retro design and comes in five different colorways. It also boasts a mostly robust build. | 3.5 / 5 |
| Features | There aren't a lot of extra features here, but we appreciate its easy folding mechanism and intuitive dashboard. | 3.5 / 5 |
| Performance | It boasts a snappy throttle and a quiet motor, but its brakes, tires, and battery could be a lot better. | 3 / 5 |
| Total | While affordable, attractive, and easy to use, there are also many vital things that Yvolution could have done better. | 3.5 / 5 |
First reviewed January 2023
How we test
We pride ourselves on our independence and our rigorous review-testing process, offering up long-term attention to the products we review and making sure our reviews are updated and maintained - regardless of when a device was released, if you can still buy it, it's on our radar.
Yvolution Yes: Design
Yvolution Yes: Design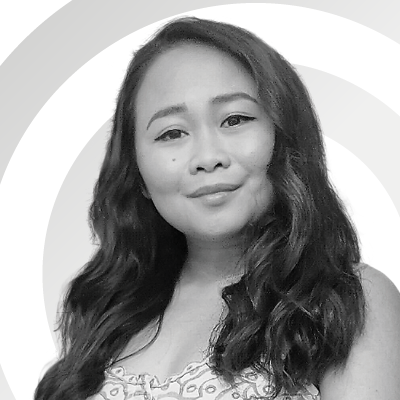 Computing Reviews and Buying Guides Editor
Michelle Rae Uy is the Computing Reviews and Buying Guides Editor here at TechRadar. She's a Los Angeles-based tech, travel and lifestyle writer covering a wide range of topics, from computing to the latest in green commutes to the best hiking trails. She's an ambivert who enjoys communing with nature and traveling for months at a time just as much as watching movies and playing sim games at home. That also means that she has a lot more avenues to explore in terms of understanding how tech can improve the different aspects of our lives.