Sony clearly anticipates that its XF85 UHD TV series will be a bestseller, and is ranging accordingly. The model will be available in 43-inch (KD-43XF8505), 49-inch (KD-49XF8505), 55-inch (KD-55XF8505), 65-inch (KD-65XF8505), 75-inch (KD-75XF8505) and even 85-inch (KD-85XF8505) screen sizes.
Currently, the US is only getting the 65-inch and 75-inch iterations, where it will be known as the X850F.
Unlike its cheaper stablemate, the Sony Bravia XF80, there's no obvious compromise on specification.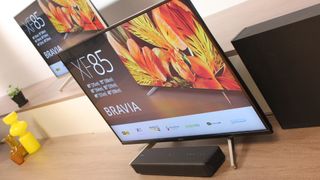 Design and performance
For starters, this is a 100Hz panel, which has beneficial implications for motion handling, and the prospect of a 43-inch 100Hz 4K panel should be a mouth-watering one for sports fans.
The Bravia XF85 also incorporates Sony's X1 image processor with object-based HDR remastering. We've seen in the past that Sony has a real talent for up-peaking SDR content to give a faux HDR look, so its inclusion here bodes well for all content sources.
Obviously, we won't know just how well the Sony Bravia XF85 handles the peak luminance of native HDR content until we get a sample in for testing, but our expectation is for an improvement over last year's mid-range 4K models.
Further image refinement comes courtesy of 4K X-Reality Pro, Sony's image enhancement algorithm, and Super Bit Mapping 4K HDR processing.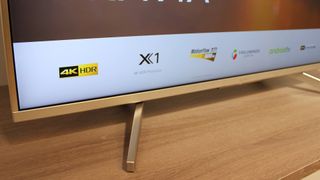 The design itself is suitably swish. The set features a narrow aluminum frame, and a new anti-wobble stand.
What we have are two widely spaced (somewhat oversized) legs, which promise better stability - useful if you have little 'uns wandering the house; it's more of a planted look. This enhanced stability becomes increasingly important on larger sets.
The Sony Bravia XF85 is available in both black and silver finishes, at least for the four smaller screen sizes, but the two largest screens come in black only.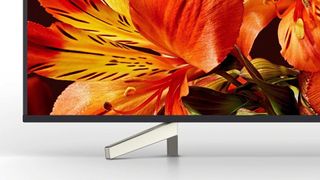 Connections include four HDMI inputs, all of which are HDCP 2.2 compliant, and a trio of USBs (including one USB 3.0 for recording content to an external hard drive). The set also supports Bluetooth headphone pairing.
Like all of Sony's 4K UHD offerings, the TV is built upon the Android TV OS. This has Chromecast built-in, which enables a growing number of apps to cast directly to the screen. It's a handy way of sharing images or videos.
Sony also promises hands-free control via smart speaker platforms, such as Amazon Echo (UK only) and Google Home (UK, France and Germany).
The 2160p TV is compatible with HDR10 and HLG (Hybrid Log-Gamma) broadcast HDR. But as it lacks the Extreme iteration of the X1 imaging chip, there's no prospect of a Dolby Vision upgrade.
Still, the native 100Hz panel warrants a MotionFlow XR 800Hz rating, which implies that it offers superior motion interpolation, useful if you want to maximize detail during fast-moving sports. This could well be the telly to shortlist if you're buying in anticipation of the upcoming FIFA World Cup.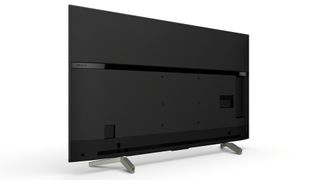 Early verdict
With the benefits of a fast 100Hz panel and a generous helping of image wizardry (object-based HDR remastering, the X1 processor and 4K super bit-mapping), the XF85 potentially offers plenty of visual bang for your buck.
Competition will be stiff, particularly from Philips and LG, but this could be the 4K midfielder to watch. Pricing has yet to be announced. It'll hit high streets this spring.