The SimpliSafe SimpliCam is an easy to set up indoor camera with some useful in-app settings. Pair it with the SimpliSafe app – Android and iPhone compatible – and you can get 24/7 HD video monitoring, with intruder and motion alerts sent straight to your computer, smartphone or tablet. I tried it out over the course of the month and was pleased with how well it captures movement and audio in a room at home. While it doesn't give you a 360-degree view of your room, the camera does have a 120-degree field of vision. This delivers a wide, clear view with minimal distortion. While I didn't like the idea of being "watched" at home with an indoor camera, there's a useful privacy setting that enables you to turn off the camera when you're at home. You then just have to remember to turn it back on again when you want to restart monitoring.
Pros
+

Quick and easy to set up

+

Useful motion detection

+

Reassuring two-way talk
Cons
-

Not wireless

-

Monthly subscription plan needed for optimum use

-

120-degree field of view won't capture entire room
Why you can trust TechRadar We spend hours testing every product or service we review, so you can be sure you're buying the best. Find out more about how we test.
One-minute review
Originally founded in the US in 2006, SimpliSafe sells a range of home security products that are designed to be easy to install and easy to use. These include indoor and outdoor cameras, video doorbells and smart locks that are all available to buy online. The SimpliSafe SimpliCam indoor security camera is just one of the intuitive products in its growing lineup.
SimpliSafe offers homeowners a professional monitoring home security service alongside its systems, "with no long-term contracts and at affordable prices". Relatively new in the UK, the company has recently undergone a brand refresh, so I was keen to try out one of its latest products in my own home.
I tried out the SimpliCam indoor camera, to see how well it performed and how precisely it alerted me to any potential intruder or disturbance. I wanted to see how easy it was to use and install, and whether it could offer peace of mind when I was away from home. I'm not overly keen on the idea of having an indoor security camera in my home, but I did want to see whether the SimpliCam was as straightforward to use as other indoor cameras that I've tried in the past, such as the Ring Indoor Cam and Y-Cam.
Keep scrolling to find out how the SimpliSafe SimpliCam got on in our home then, head to our best home security cameras guide for more comparisons.
SimpliCam SimpliSafe review price & availability
List price: $99/£69
Available in US & UK
It isn't the cheapest indoor security camera you can buy online, but the SimpliSafe SimpliCam is reasonably priced for a stylishly designed indoor camera with smart functionality. It's sold both in the US and UK.
You'll need to sign up to a SimpliSafe plan to make full use of the recording functionality and for enhanced monitoring – although you can opt in or opt out at any time. Terms and conditions and prices for these plans vary in the US and UK, depending on which plan you choose. This is because emergency responses work differently in both countries.
When installing the camera in the US, you should expect to pay $9.99 per month for instant access for up to three days of recording and storage, with you able to add up to five cameras to the plan. A standard plan costs around $17.99 per month, which provides help from professional monitoring agents. The highest plan with 24/7 monitoring and police dispatch costs around $27.99 per month.
If installing this camera in the UK, you can expect to pay around £4.99 per month for a standard recording plan that includes unlimited recording, 30 days of storage and up to 10 cameras. A more comprehensive professional monitoring plan with camera recording, guard response and police response costs £24.99 per month.
The specs of our SimpliSafe SimpliCam review unit
Price: $99 / £69
Subscription plan required: Yes
WiFi set up: Yes
Viewing range: 120-degree field of vision
Live HD video and audio alerts: Yes
Optional recording plan: From £4.99 per m / $9.99 per m
These specs are the same for US and UK SimpliSafe SimpliCam models.
SimpliCam SimpliSafe review design
Internal microphone
Privacy shutter
High-power infrared LED cut filter
In terms of aesthetics, the SimpliSafe comes neatly presented and simply styled in a navy and orange box. Inside the box you'll find the camera, cord and set of basic instructions. Finished in black, the camera is minimally styled, and the base on which you can stand it up comes attached as part of the design.
I've owned indoor cameras in a white finish, but I believe this black design is more discreetly hidden in a room; although the blue light that indicates the unit is powered on is quite bright. The camera arrives with a stand; there aren't any screws in the box for mounting the camera onto the wall, but this is something that could no doubt be easily done with your own tools, should you wish.
Setting up the camera was straightforward. I simply removed the cap protecting the tip of the micro-USB cord, and slid it through the stand. You'll have to use your own plug to set it up since one isn't included in the box.
The camera was already attached to its base, so I just needed to find a decent position with flat surface for it to stand – with a plug nearby. The fact that it isn't wireless does limit where you can position the camera, although on the plus side you won't have to fiddle around recharging it when it runs out of power. I ended up lacing it on a sideboard, opposite the back door.
I moved it around the house a bit, trying it on a bookcase and on top of the mantlepiece, too, which all seemed to work well in terms of stability and getting a good view of the rooms in my home.
SimpliSafe SimpliCam review performance
Live feed and recording of video and audio
Wi-Fi Connection (2.4GHz)
Two-way talk and night vision
The camera doesn't have an "on" switch, so I received an alert that said, 'Your camera is ready for set up. You'll find all the instructions to get you started in the Simplisafe App', as soon as I plugged it in.
Once I'd downloaded the SimpliSafe app on my iPhone (it's both Android and iPhone compatible), I had to connect to my home Wi-Fi, get the camera to scan a QR code on my phone, and sign up with my email address to create an account. After going through the password verifying process, I could set up fingerprint and face recognition to quickly and securely log in.
There's a choice of security plans you'll need to sign up for to make use of unlimited recording and video storage (outlined above). I chose the entry-level plan that offers unlimited recording and 30 days of storage. Up to 10 cameras can be added to this plan, which would work well if you wanted to use it as part of a whole home security system. For those wanting to make use of voice assistants such as Alexa, you'll need to sign up to the Pro Premium professional monitoring plan.
Within the app, you can instantly access live HD video footage from your camera, whether you're home or away. The camera won't follow an intruder around the room, so you're somewhat limited when it comes to being able to view the entire room. However, it does give you a 120-degree diagonal field of view, which I think works well to showcase half the room – or, for instance, if you've targeted an area such as a back door to keep a watch on.
With motion detection, the camera will pick up any movement or noise in the room and send an alert to your smart device. It comes with built-in motion detection algorithms that are calibrated to detect the unique heat signature of humans, so you won't receive unnecessary alerts – should a book fall off the shelf or a pen drops onto the floor, for example.
After adjusting it to focus on the back door, I could start to monitor any comings and goings. I used it over a month-long period to capture any action. When the camera detects motion or audio, it will send an alert to your smart device and also start recording a short clip that you can then view in a timeline on the app. These can be downloaded or shared, if desired, too.
Once set up, alerts came through to my phone when anyone walked passed the camera or entered the room. A useful feature in the app is the privacy shutter, which allows you to open and close the camera shutter remotely. This meant I could turn it off when we were at home, avoiding alerts pinging to me every time someone walked past. The only downside of using this button is that you'll need to remember to turn it back on afterwards. The app also pushed out alerts when my internet connection was poor, so I could adjust it accordingly.
I tested the effectiveness of the alerts when I was out of the house, too. I asked a family member to walk past the camera and I timed how long it took for me to receive an alert on my phone. Of course, you need a good phone signal to receive an alert, but I was suitably impressed at how quickly the alert came through. I could then go into the app and view the video recording and access live footage. I could also press the record button to start live recording myself.
In terms of picture quality, the HD footage is clear enough to see what's going on. As mentioned, there is a button to record live footage, but I'd also have welcomed a button to capture stills. If I wanted to capture a picture or the room, I had to manually screen-grab a shot instead.
The app is basic in design and it's easy to press watch live to view real-time footage. However, I did take some time to work out what the control icons in the app do. The clock icon took me to a timeline of previously recorded motion footage, for example. Videos captured at night when light levels were low are shot in black and white. Although relatively clear, they obviously aren't as clear as the shots captured in daylight.
I could use the mute button to switch the sound coming from the live feed off or on. Above that is the microphone control for two-way talk – this meant I could simply press it to make use of the camera's built-in microphone to speak to anyone on the other end, shout at an intruder, or say a reassuring hi to the dog.
Should you buy the SimpliSafe SimpliCam home security camera?
Swipe to scroll horizontally
SimpliSafe SimpliCam home security camera

| Attributes | Notes | Rating |
| --- | --- | --- |
| Price | Not the cheapest, but not the most expensive camera you can buy either | 4.5/5 |
| Design | Looks premium and neat on the shelf, but would benefit from wall-mounting screws in the box and a plug | 4.5/5 |
| Performance | Lots of useful features for recording and communicating | 4.5/5 |
Buy it if...
You want a security camera that's quick to set up
As home security cameras go, this is one of the quickest to set up indoor cameras I've tried. I was ready to start recording within five minutes.
You want a design that's discreet and reliable
Aside from the blue light on the camera to let you know it's connected, the black finish of the SimpliCam looks stylish and premium. Its motion sensors are configured for human heat detection to ensure you don't get lots of false alerts, either.
You have a pet and want to reassure them with your voice
As well as being an excellent indoor security camera, this camera's two-way-talk works well for pet owners. Simply log into the app to check in on your pet and press the microphone feature to tell the dog you'll be home soon.
Don't buy it if...
You need to be able to see your entire room
If you have an awkward-shaped room or want to be able to see all around your room, you may want to invest in a camera with a 360-viewing angle instead.
You're on a tight budget
The SimpliCam is an excellent buy, but you can find cheaper designs starting from $30 / £25. You'll also need to factor in the cost of subscription plans to make use of unlimited recording and storage, so bear this in mind before you buy.
SimpliSafe SimpliCam review: also consider
Swipe to scroll horizontally
| Header Cell - Column 0 | SimpliSafe SimpliCam | Ring Indoor Cam | Blink Mini |
| --- | --- | --- | --- |
| Price | $99/£69 | £39.99 /$currently unavailable | £29.99 / $currently unavailable |
| Live View | Yes | Yes | Yes |
| Motion alerts | Yes | Yes | Yes |
| Dimensions | 11 x 6.4 x 5cm | 4.6 x 46 x 8cm | 5 x 4.8 x 3.5cm |
| WiFi Connectivity | Supports 2.4 Ghz | Supports 2.4 Ghz | Supports 2.4 Ghz |
| Subscription plans | From $9.99 / £4.99 per m | From $4.30 / £3.49 per m | From $3 / £2.50 per m |
| Row 6 - Cell 0 | Row 6 - Cell 1 | Row 6 - Cell 2 | Row 6 - Cell 3 |
If you want a indoor security camera but want to shop around before you buy, here are a couple more options to consider...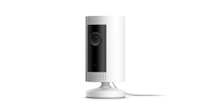 Ring Indoor Cam
Two-way talk, 1080HD video and built-in microphone and speakers are a standard part of the Ring Indoor Cam's offering. If features a wide viewing angle of 140 degrees, to give you a great picture of your room while you're away from home.
Read our full Ring Indoor Cam review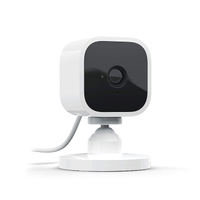 Blink Mini
This indoor security camera is a great budget buy, and you can find it online from as little as $36 / £29.99. While it does come with a free 30-day cloud storage trial, you'll need to opt for a subscription plan if you want to continue.
Read our full Blink Mini review
How I tested the SimpliSafe SimpliCam home security camera
I used the SimpliSafe SimpliCam in my home for one month
I used it at all times of the day to see how well it performed
I set up the SimpliCam indoor home security camera in my UK home and trialled it over the course of a month. I placed it in different areas of the room – up high and low – to see how clearly it could capture different areas.
I also monitored how speedily and successfully it sent alerts to my smartphone when it detected human motion both day and night, when I was out of the house (over 4G) and also when at home (over the Wi-Fi).
Read more about how we test
First reviewed February 2023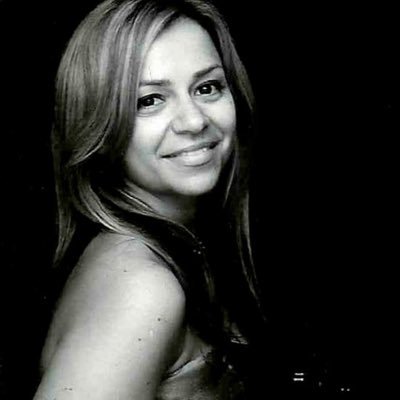 Emily is a lifestyle journalist who writes for a range of publications including TechRadar, Livingetc, Wired, Ideal Home and GQ. She writes about interior design and smart home, gardens, wellbeing, food and fitness and has tested everything from food processors to paddleboards, and bee hives to the best beds. When she's not typing away at her computer, she can be found tending to her Dorset-garden, trying the latest water sport at the beach or acting as chauffeur to her two young kids.