Obsbot Meet 4K: Two-minute review
Unlike the newer 4K webcams that hit the shelves in the last few months, the Obsbot Meet 4K keeps things svelte. And, by svelte, I mean that it's even smaller and lighter than a GoPro – weighing only 2.54oz (72g) and just 56 X 44 X 32mm (2.2 X 1.73 X 1.26in) in size. It's pretty impressive, therefore, that it's capable of capturing 3840 x 2160 videos.
It also feels luxurious to the touch, thanks in part to its matte finish and rounded edges, yet solid and robust as well. So even if you haven't heard of the name Obsbot before, you can trust that this isn't some low-quality webcam that emerged from obscurity during the pandemic.
Taking a more minimalist design, there aren't a lot of physical controls here, but there is one useful button you'll be behooved to know – the status button, located conveniently at the top, which functions as the sleep button, the Auto Framing button, and the virtual background button. It'll let you access these features without having to open the supporting app.
A light indicator that clues you in on the webcam's status or which feature is turned on is present on one of the top front corners while a female tripod thread is on hand at the bottom so you can mount it on a tripod or a gimbal. And there's a privacy cover included – though it's tiny and not built-in, so be conscientious about keeping it safe, lest you risk losing it.
While its design is compelling enough to capture anyone's attention, it's really its list of physical and internal features that will get you hooked. Don't get me wrong; it delivers picture quality that's great, but it's its treasure trove of features, many of which you won't find on even the most feature-rich webcams, that take centerstage here, which I am absolutely fine with. More than absolutely fine, in fact.
So, whether you're looking for a webcam for Mac or for Windows, you're going to want to check it out before you make your choice.
As a plug and play device, there's really no initial setup before use. The Obsbot Meek 4K is also well-crafted so it won't cause you any headaches, whether you're a webcam newbie or an experienced user. During my testing, it worked as soon as I plugged it in, with no firmware or compatibility issues whatsoever.
But Obsbot takes "easy" to the next level here. One of my favorite features is its ability to magnetically snap on to its included mount. It has a magnetic bottom for landscape mode as well as a magnetic side for portrait mode. Obsbot then combines that with its brilliantly smooth auto-orientation feature as well, allowing it to rotate its footage based on the webcam's physical orientation.
We now live in a time when chatbots can write their own novels and weave hi-res images, so devices without the auto-rotate capability should be left in the past where they belong.
The portrait mode isn't always going to be of use. If you're using a third-party video conferencing software, for example, the image will still be in landscape mode. It's just your actual footage that's in portrait, which can be a bit of an eyesore for other people on the call. However, this mode is useful when you're streaming on or creating content for social media platforms like TikTok and Instagram, both of which are portrait orientation-friendly.
Another great feature is the Obsbot Webcam app, which has many settings on offer to let you hone in your footage and even make creative exposures (making it dimmer to set a specific mood, changing your field of view, setting a focus lock). The app isn't going to be as extensive as say, the Razer Synapse app – you aren't able to change your ISO, shutter speed, and aperture settings, and the noise reduction toggle doesn't seem to do much. But there's still a lot of customization options – turn the Auto Framing off, for example, and you can change your frame, select your field of view, and digitally pan the camera.
Speaking of Auto Framing, the feature is incredibly intuitive and very good at following its subject around and keeping them in frame. I found it to be very smooth with its transitions as well, which means you can count on it to not annoy your viewers or the other people in your video call with jittery footage, even when you're moving around too much.
It is, however, a little disappointing that the auto focus struggles to keep up sometimes. In fact, I found the autofocusing here to be one of the webcam's weaknesses. It's not that it's bad or jittery, as it does adjust very smoothly. But, it is a little slow, even more so in darker scenes.
The Obsbot Meet 4K's picture quality is, naturally, pretty sharp and detailed, thanks to its 3840 x 2160 resolution. Even with Google Meet's cap of 720p, you'll come out looking better than if you were using a lower-res webcam. However, due in part to its 1/2.8-inch Sony sensor (that's pretty big compared to what's on the Elgato Facecam Pro or the Razer Kiyo Pro Ultra), the dynamic range isn't very wide here, resulting in loss of detail, especially in bright highlights.
There's also something about the webcam's processing, I've noticed, that creates unnatural and unflattering pixels in situations where there's uneven lighting. During my tests, for example, I turned on my Govee Glide Hexa in one corner of my room and kept the other corner unlit, and the area between them started looking glitchy in my footage, as if the webcam could not decide how to properly expose it.
The good news is that it performs much better with even lighting and, much to my surprise, offers excellent noise handling. There weren't a lot of noticeable chromatic and luminance noise, even during really dark scenes, and there wasn't exaggerated smoothing either. That's something I appreciate a lot, especially because I have a south-facing apartment and small windows, which means I don't get a lot of natural lighting. And, its auto-exposure works really well, managing to adjust in a way where I was still very visible when I turned off all the lights and there was barely any light to work with.
Because it still tops out at 30fps when you're shooting in 4K, you'll experience a lot of ghosting here. There is the anti-flicker setting on the app that you can toggle – you have your choice of 50Hz and 60Hz – to reduce it, but sadly, the difference is minimal. Forget about the HDR feature; it gives you a slightly wider dynamic range, but it's not really true HDR so it doesn't help with getting detail back in dark shadows and bright highlights.
Those don't really matter to most people, however, even your thousands of TikTok and YouTube viewers, so I wouldn't necessarily call those deal-breakers. I don't mind them either; it's not like I'm looking at how good my footage looks when I'm on a video call with colleagues or jumping on a briefing with a brand.
The one thing that kind of bugs me, though, is that because the Obsbot Meet 4K is so small, it tends to get very hot – even within the first few minutes of use. That hasn't throttled its performance so far, but I just worry about its longevity if it's constantly on the verge of overheating. The first two to three hours of my time are usually spent on video calls, which means that the webcam is running hot for that long every day.
It's a tad concerning, but I'll make sure to update this review if something negative does happen in the coming months.
Obsbot Meet 4K: Price & availability
How much does it cost? $199 / £178 / AU$289
When is it available? Available now
Where can you get it? Available in the US, UK, and Australia
The Obsbot Meet 4K, readily available in the US, UK and Canada, isn't a cheap webcam with its $199 / £178 / AU$289 price of entry. However, it's brimming with innovative features, many of which are unique to it – its ability to magnetically snap to its included mount, for example, makes it incredibly easy to manage and is something we haven't seen before. So, you're getting great value for your money.
There are other 4K webcams out there that might deliver a more elevated picture quality with a wider dynamic range, a bigger aperture, a bigger sensor, and more. The Razer Kiyo Pro Ultra and the Insta360 Link are great examples. However, they also cost a bit more, so if you want to keep it under $100/£100/AU$300, this is your best bet.
Obsbot Meet 4K: Specs
Swipe to scroll horizontally
| | |
| --- | --- |
| Supported resolutions: | 4K @ 30fps / 1080p @ 60/30/24/20/15fps |
| Sensor: | Sony 1/2.8" sensor |
| Lens: | Not specified |
| Focus range: | Not specified |
| Aperture: | f/2.2 |
| Focal length: | Not specified |
Should you buy the Obsbot Meet 4K?
Swipe to scroll horizontally
| | | |
| --- | --- | --- |
| Value | It doesn't come cheap, but its treasure trove of features make it an excellent value for your money. | 4 / 5 |
| Design | It's tiny, svelte and luxurious-feeling. It also magnetically snaps to its mount easily and has auto portrait and landscape modes. | 5 / 5 |
| Performance | It struggles with uneven lighting conditions, and its autofocus isn't as snappy. But, it delivers great picture quality and impressive AI features. | 4 / 5 |
| Avarage rating | Row 3 - Cell 1 | 4 / 5 |
Buy it if...
You want a 4K webcam that's rich in features
One of the best things about the Obsbot Meet 4K is that it's rich in features, and some of them you won't find in other webcams in its class. You're getting a lot of bang for your buck.
You need something small and portable for your laptop
It's not just laptop- and travel-friendly; it's made for remote workers and digital nomads who are back to gallivanting around the world now that the pandemic is over.
You don't want to spend a lot but have a flexible budget
It's not cheap, but it is more affordable than other 4K webcams like Razer's, Corsair's, and Insta360's offerings.
Don't buy it if...
You want to keep it below $100/£100
The Obsbot Meet 4K isn't super expensive, but it's not what I would call budget-friendly either. If you're looking for something below $100/£100, look elsewhere.
You need crisp, very clean footage with a wide dynamic range
Its dynamic range isn't very wide so you'll lose a lot of detail in shadows and highlights. While its noise handling is pretty impressive, there's still a lot of artefacts here, especially when you're dealing with uneven lighting.
You want fast autofocusing
Sadly, its autofocusing is not the most responsive. It struggles to keep up with the Auto Framing feature and during low-light situations.
Obsbot Meet 4K: Also consider
Swipe to scroll horizontally
| | Obsbot Meet 4K | Razer Kiyo Pro Ultra | Elgato Facecam Pro |
| --- | --- | --- | --- |
| Price: | $199 / £178 / AU$289 | $299.99 / £299.99 / AU$499.95 | $299 / £299 |
| Supported resolutions: | 4K @ 30fps / 1080p @ 60/30/24/20/15fps | 4K 30FPS / 1440P 30FPS / 1080p @ 60/30/24FPS / 720P @ 60/30 FPS | 2160p60, 2160p30, 1080p60, 1080p30, 720p60, 720p30 |
| Sensor: | Sony 1/2.8" sensor | 1/1.2" Sony Starvis CMOS | 1/1.8" Sony Starvis CMOS sensor |
| Lens: | Not specified | Not specified | Elgato Premium AF lens |
| Focus range: | Not specified | about 5 in - ∞ | 4 in - ∞ |
| Aperture: | f/2.2 | f/1.7 | f/2.0 |
| Focal length: | Not specified | 8.5mm | 21mm |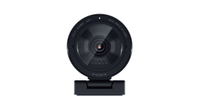 Razer Kiyo Pro Ultra
The Razer Kiyo Pro Ultra's autofocus is smooth as butter while its low-light performance is better than anything else we've seen and it's packed with useful extras.
Read our full Razer Kiyo Pro Ultra review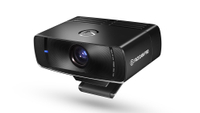 Elgato Facecam Pro
The Elgato Facecam Pro delivers an impressive dynamic range and great noise handling. Its Elgato Premium AF lens offers fast and on-point auto-focusing in well-lit situations while the new Camera Hub gives you a slew of tools for creative exposures.
Read our full Elgato Facecam Pro review
How I tested the Obsbot Meet 4K
I tested the webcam for a week
I used it for work and personal calls in different lighting conditions
I paid special attention to the quality of its footage and to its special features
I used the Obsbot Meet 4K as my work and personal webcam for a week, using it during work video calls, product briefings, and personal calls with friends. Because it's got a lot of features, I tested those as well to make sure that they work and deliver as promised.
I also used the Obsbot app to really examine footage, especially in different lighting conditions, to check not just its overall picture quality, but things like noise handling, dynamic range, autofocus, and exposure compensation as well.
I've been reviewing webcams for TechRadar for a few months now. However, prior to this, I tested and reviewed a lot of DSLRs and mirrorless cameras, giving me extensive experience in cameras. I'm also a film and digital photographer.
First reviewed March 2023