The Nvidia GeForce GTX 1660 Super is a superstar in the entry-level graphics card market. Not only does it overcome the original GTX 1660, it all but matches the GTX 1660 Ti, making that more expensive card almost irrelevant in comparison.
Pros
+

Affordable

+

Excellent performance
Cons
-

No RT cores

-

Limited ports
Why you can trust TechRadar We spend hours testing every product or service we review, so you can be sure you're buying the best. Find out more about how we test.
Nvidia GeForce GTX 1660 Super: two minute review
The Nvidia GeForce GTX 1660 Super is a fantastic card for budget gamers. It builds on the GeForce GTX 1660 to take the power up a notch, yet, it offers that boost in performance while still staying in the budget range for graphics card that makes a card like this so attractive. Essentially, you don't have to spend much more for that extra bit of performance.
Finding that sweet spot of solid 1080p gaming for a reasonable price is not the easiest task for budget gamers. Most of the GPUs available these days are just too pricey. That's where the Nvidia GeForce GTX 1660 Super comes in.
With its improved speed and video memory compared to the original 1660, it's the perfect card for anyone building or taking their budget gaming PC to the next level, since the GTX 1660 Super stands somewhere between the GTX 1660 and GTX 1660 Ti in terms of performance and price.
As such, it's a welcome part of the Nvidia Turing line up, and considering what it offers in terms of overall value, it is still one of the best graphics cards for anyone on a tight hardware budget.
If you're on the market for the best graphics card for 1080p gaming, you're going to want the Nvidia GeForce GTX 1660 Super. The original GTX 1660 was already one of the best cheap graphics cards out there for budget builders, and Nvidia basically made it better in every single way. The Nvidia Super series has been kind of hit and miss – with the RTX 2080 being a notable flop – but we can't recommend the GTX 1660 Super enough.
At the end of the day, 1080p is the most popular resolution for PC gaming, and graphics cards in this price range are where most people will end up spending their money. And even after the release of the AMD Radeon RX 5500, Nvidia still dominates this part of the landscape, and it's not hard to see why.
Nvidia GeForce GTX 1660 Super: price and availability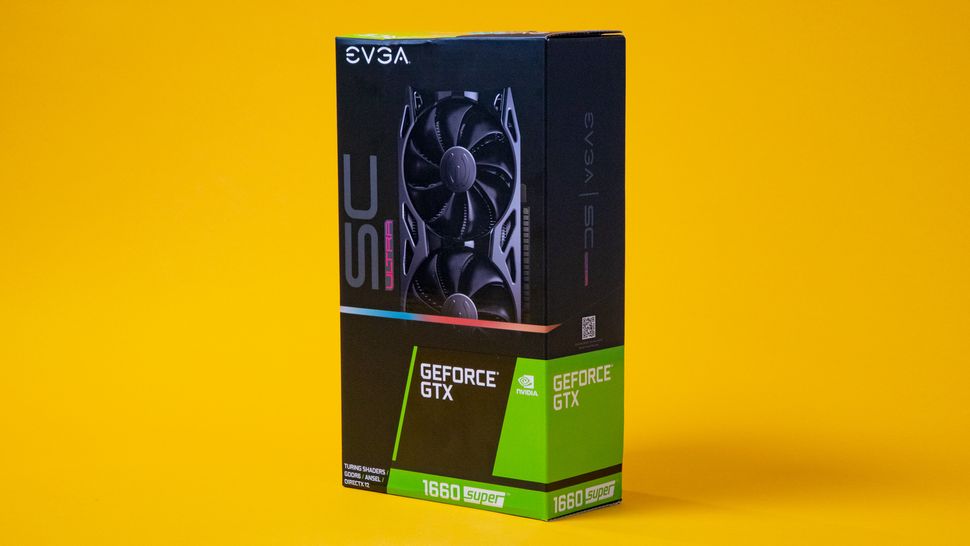 How much is it? MSRP listed at $229 (about £180, AU$330)
When is it out? It was released in October 2019
Where can you get it? You can buy it from retailers in the US, UK, and Australia
The Nvidia GeForce GTX 1660 Super is available today, starting at $229 (about £180, AU$330). This puts the GTX 1660 Super above the original GTX 1660 by just $10 (about £8, AU$15). But, with the faster GDDR6 memory, you're getting a significant boost in performance for that slight price increase.
Plus, at this price point it kind of pushes the Nvidia GeForce GTX 1660 Ti out of relevance. You can get similar performance with the GTX 1660 Super, but for $50 (about £40, AU$70) less. A few months ago, we would have recommended the GTX 1660 Ti without even giving it a second thought, but with the GTX 1660 Super, that card doesn't really have a reason to exist anymore.
Nvidia GeForce GTX 1660 Super: features and chipset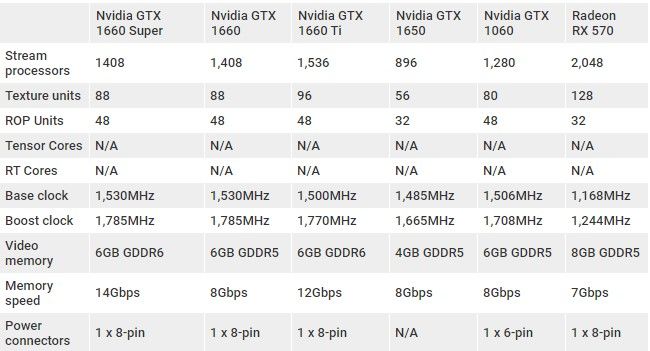 Nvidia Turing architecture
Nearly double the memory speed of the GTX 1660
No Ray Tracing or Tensor cores
The Nvidia GeForce GTX 1660 Super is based on the same TU116 GPU as both the GTX 1660 and the GTX 1660 Ti, but has the same 1,408 CUDA cores as the original 1660. The big difference over the original graphics card is the bump up to GDDR6 video memory, resulting in a boost in memory speed from 8Gbps to 14Gbps – that's just as fast as the VRAM in the massively powerful RTX 2080 Ti.
This bump up to GDDR6 goes a long way to bridging the gap between the GTX 1660 and the GTX 1660 Ti, but it doesn't quite go all the way.
And, it's also important to note that this GPU doesn't have the RT and Tensor cores that the RTX 20-series of Turing graphics cards have. This means that while you can technically enable ray tracing, it's going to turn whatever game you try to enable it on into a slideshow – more so than it does on any other graphics card. During our testing, we accidentally left ray tracing on in Metro Exodus, and even the menu was nigh-unusable (to find out why, check out our "What is Ray Tracing" primer on the subject).
Nvidia GeForce GTX 1660 Super key specs
GPU: Nvidia TU116
Streaming multiprocessors: 22 (Turing)
CUDA Cores: 1,408
Tensor cores: N/A
Ray tracing cores: N/A
Power Draw (TGP): 125W
Boost clock: 1,785MHz
VRAM: 6GB GDDR6
Memory Speed: 14Gbps
Interface: PCIe 3.0 x16
Power connector: 1 x 8-pin
But, really, at the end of the day you can't expect a graphics card in this weight class to compete with graphics cards that cost twice as much. The GTX 1660 doesn't have RT cores, nor does the GTX 1660 Ti, so it only makes sense for the GTX 1660 Super to be limited here. That honestly makes it all the more impressive that it's still among the best Nvidia GeForce graphics cards you can buy.
One thing you should be aware of is that the ports are a bit limited on the GeForce GTX 1660 Super. We tested the EVGA GTX 1660 Super SC Ultra, and it's limited to DVI, HDMI and DisplayPort. This isn't exactly a graphics card that you're going to run 10 displays off of, but we would have liked to see Nvidia drop the DVI port and add in either a second HDMI or maybe even a USB-C port.
Finally, if you do pick this graphics card up, you will need external power to make it run, in this case an 8-pin PCIe power connector. This means that the GTX 1660 Super does draw 127.4W alone in the most taxing situations, so you should make sure you have at least a 500W power supply.
Nvidia GeForce GTX 1660 Super: performance
Image 1 of 6
Outstanding 1080p Performance
Can't quite do 1440p gameplay
Makes GTX 1660 Ti completely irrelevant
Frankly, the Nvidia GeForce GTX 1660 Super is one hell of a graphics card, especially compared to its counterparts. In Time Spy, the GTX 1660 Super was about 5% slower than the GTX 1660 Ti that costs significantly more, and was a whopping 14% faster than the GTX 1660 that it essentially replaces. In Fire Strike, the difference was even more narrow – its just 2% slower than the GTX 1660 Ti.
These performance wins continued over into gaming, too. In Metro Exodus at 1080p, the Nvidia GeForce GTX 1660 Super averaged 41 frames per second (fps), compared to the 38 scored by the vanilla GTX 1660 and the 44 scored by the 1660 Ti. That might look like a marginal performance difference, but it still matters.
Image 1 of 7
In the less strenuous Middle Earth: Shadow of War, the GTX 1660 Super absolutely dominated, getting an average of 79 fps at 1080p with Ultra quality settings. We feel like this title is more representative of your average AAA game, so you can expect some killer performance in most of the games you throw at it. Games like Metro are few and far between, after all.
Even at 1440p, the GTX 1660 Super can handle some heat, but some cracks do start to show. The graphics card does manage to get a respectable 54fps in Middle Earth: Shadow of War, but it absolutely fell apart in Metro: Exodus, only managing to scrape by with 32 fps. That is technically playable, but it's a bit low for playing games on PC, where 60fps is the name of the game. Though, you can lower some settings to get a more comfortable experience.
The GTX 1660 Super is basically everything we could have asked it to be in terms of performance. It bridges the gap between the GTX 1660 and GTX 1660 Super beautifully. In fact, just looking at the raw performance numbers it kind of makes the GTX 1660 Ti obsolete. We're not sure that's what Nvidia was going for here, but that's 100% what happened.
Should I buy an Nvidia GeForce GTX 1660 Super?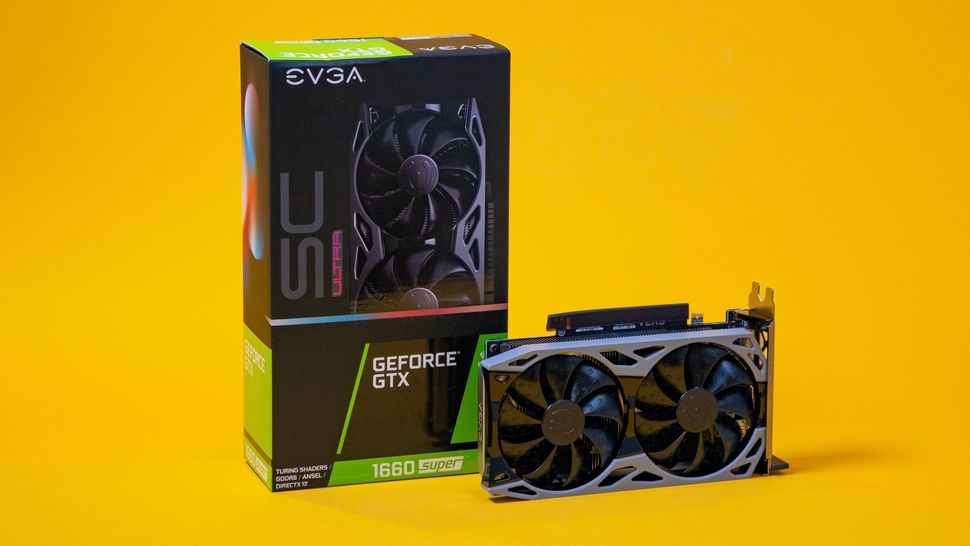 Buy it if...
You want 1080p gaming at 60 fps
This is the best 1080p graphics card going for the price.
You don't want to upgrade too much hardware
The power draw on the GTX 1660 Super isn't light, but it's lighter than most other options out there, so you can get by with a less-than-500W PSU and PCIe 3.0 motherboard.
You're on a budget
If you don't have a lot to spend, the GTX 1660 Super is a great way to spend a little money
Don't buy it if...
You want ray tracing or DLSS
Without ray tracing or tensor cores, this card is going to have to skip some of the latest gaming technology.
You have room in your budget for a better card
The GTX 1660 Super is a great option for gamers on a tight budget, but if you're not counting every nickel to buy a graphics card, try to step up to the RTX or AMD RX 6000-series cards, if possible.
You want to run lots of displays
The GTX 1660 Super only has DVI, HDMI, and DisplayPort input (one each), and no USB Type-C, so if you want to run lots of displays, this card won't be able to do it.
Also consider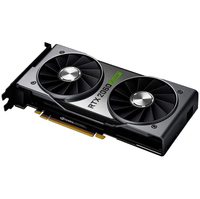 Nvidia GeForce RTX 2060 Super
If you have some wiggle room in your wallet, the RTX 2060 Super is the next generation up from the GTX 1660 Super, but has a lot more to offer for not a whole lot more money.
Read the full Nvidia GeForce RTX 2060 Super review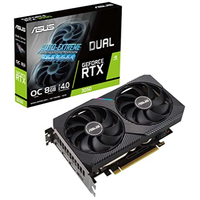 Nvidia GeForce RTX 3050
We weren't all that fond of the RTX 3050 when it launched, and compared to the other lower-end Nvidia Ampere cards, it's not one that we'd recommend. But it's the cheapest Ampere card out there and it does offer better performance than the GTX 1660 Super (along with ray tracing and DLSS), so if you have the option to pick it up, it can't hurt.
Read the full Nvidia GeForce RTX 3050 review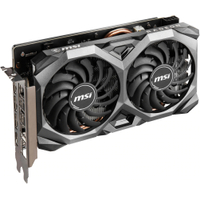 AMD Radeon RX 5500 XT
While the Radeon RX 5500 XT isn't as capable as the GTX 1660 Super, it's a good match against the GTX 1660, it's definitely a good option if you want to go with an affordable alternative from Team Red. Finding one at MSRP might be a challenge though, as this card got hit with some serious price inflation during the chip shortage.
Read the full AMD Radeon RX 5500 XT review
First reviewed October 2019
Jackie Thomas is the Hardware and Buying Guides Editor at IGN. Previously, she was TechRadar's US computing editor. She is fat, queer and extremely online. Computers are the devil, but she just happens to be a satanist. If you need to know anything about computing components, PC gaming or the best laptop on the market, don't be afraid to drop her a line on Twitter or through email.