Lunar Artefacts The Pointer Instrument: Two-minute review
The Lunar Artefacts The Pointer Instrument is, without exaggeration, one of the most pretentious peripherals you're ever likely to see. It's a preposterous leather-and-metal combo designed to evoke the lines of high-end cars, to be luxuriously comfortable, and to last a lifetime.
It'll even develop an actual patina, beyond that slightly scummy fingerskin halo that develops if you don't clean a normal mouse with enough regularity. It's unashamedly high-society, and it's pretty special.
Special it may be, but The Pointer Instrument is not cheap. It comes in at $268 (£200, around AU$360) for the top-end 7.05oz (200g) Solar Shadow and Classic Brown leather-and-brass models, $248 (£180, around AU$330) for the 4.2oz (120g) Lunar Shadow and the Modernist Brown aluminum version we've tested here, and $208 (£155, around AU$280) for the Optic edition which swaps out the leather for a clear plastic top layer.
The only real direct comparison we could make would be to Azio's Retro Classic Mouse (opens in new tab), a similarly leather-clad pointer with what appears to be the same optical sensor – that's half the price at $100 (around £76/AU$135), though it does lack a few of the bells and whistles of The Pointer Instrument.
The Logitech MX Master 3, still pretty much the best executive mouse out there (though lacking the ambidextrous shape and luxury finish here) retails at $99/£99/AU$169.
There's no question The Pointer Instrument is a quality product. It feels just on the right side of weighty – we'd imagine the brass version, at 80g heavier than this aluminum version, is possibly too heavy – with a slick-feeling metal wheel.
The stitched leather top plate is soft and comfortable; out of the box its plastic plate is stiffer than some and resists accidental clicks. That's adjustable, though, by tweaking a pair of set screws underneath the base to change the distance between plate and switch.
We feel like the heavier setting works: The Pointer Instrument isn't a twitchy mouse, it's one that's balanced for a long, luxurious syrupy slide over your mousing surface.
Not that it's not sensitive – the sensor tops out at 3,000 DPI, which is plenty enough to navigate multiple screens with a flick, and you /could/ game on it – but you probably won't.
The feature set is fairly top-end as far as mice go, but that doesn't necessarily make it the best mouse you can buy. The Pixart PAW 3805 sensor is built to work on everything including glass, for example, which we can imagine will be highly useful if you're carting this around meeting rooms and haven't sprung for the $94 (£70, around AU$125) leather Podium mouse pad to go with it.
You can run on 2.4GHz through a dongle that slots in the base when you're not using it, or use Bluetooth 5.0 – making it easy to switch between a laptop and a desktop, or to control a tablet or similar, via a physical switch on the base.
There's a choice of Qi or USB charging, or you can run it wired without having to turn the whole mouse upside down, something Apple hasn't yet learned. The Omron switches are solderless for easy replacement or upgrade, and Lunar Artefacts will work with you on a lifetime repair service, a level of customer service which goes at least some way to justifying the rather extreme price.
Everything just works, not that there's much that could realistically go wrong. Connecting is easy, there are no dedicated drivers, and little complexity beyond two main buttons and a wheel.
But as ambidextrous, luxurious and easy as The Pointer Instrument may be, it's not the most comfortable mouse out there. Its winged design means that while one extremity caresses your thumb, the other (at least if you have larger hands) sort of digs into the first knuckle of your ring finger if you're using anything other than a strict palm grip.
In that case, you can just about get away with resting said finger on the top edge. Lunar Artefacts does sell Accessory Grips which allow you to clip on a wider base, though we weren't able to test these – and they do appear to affect the sleek lines.
Should I buy the Lunar Artefacts The Pointer Instrument?
Buy it if...
You're looking for luxury
The leather, the metal, the Flight of the Navigator form: this is a lovely object with satisfying weight and feel in the hand. It's truly classy, and we can tell that it's been impeccably designed.
You're a palm gripper
The shape won't suit claw- or finger-grip mousers, and indeed can be quite uncomfortable given The Pointer Instrument's jutting out edges - but it's just perfect for palm grip, and positively glides over whatever surface you use it on.
You're comfortable steering clear of games
We understand the compulsion to spec up one's gaming setup, but higher DPS, lighter weight, RGB and so on will level up your game far better than a mouse that's built for (and inextricably linked with) desktop use.
Don't buy it if...
You're on any kind of budget
For all the extra customer service and premium materials, this is still an incredibly expensive mouse – particularly given that many mice at half the price offer far more control options and higher resolution.
You're a vegan
Obviously. This has French-tanned full-grain calf leather stitched to the top of it – while there's an animal-free plastic version available, the mere existence of the leather editions may put you off, and that's OK.
You like things to look perfect
The idea here is that The Pointer Instrument is made of materials which will change over time. You can polish it, you can nurture the leather, but it's going to end up worn and discoloured over time.
Also Consider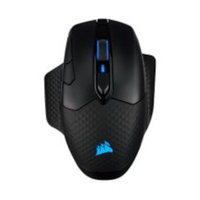 (opens in new tab)
Corsair Dark Core RGB Pro Wireless
It's not as outlandishly premium as The Pointer, but its design is more luxurious than most gaming mice which is a win if you wanted something a little fancier than your typical mouse, that's also well-optimized for games.
Check out our Corsair Dark Core RGB Pro Wireless review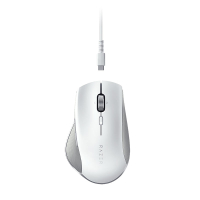 (opens in new tab)
Razer Pro Click
Why go for the mediocre when you can have a productivity mouse that's both stunning, feature-rich and extremely functional? This is a more modern design than The Pointer, but we think it's just as beautiful.
Check out our Razer Pro Click review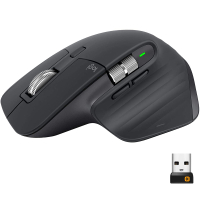 (opens in new tab)
Logitech MX Master 3
We've already mentioned this, but the Logitech MX Master 3 is often considered to be one of the best mice in the world, so the fact it's much, MUCH more affordable than The Pointer is just a nice bonus. You're getting 7 buttons, 70-day battery life on a single charge and a wonderfully ergonomic shape.
Check out our Logitech MX Master 3 review
First reviewed April 2022