A chair built with many in mind, the Eureka Ergonomics Typhon gaming chair is chock full of adjustability options. Comfortable, adjustable, and stylish, it's an excellent addition to any gamer's setup.
Pros
+

Plenty of adjustability

+

Premium materials

+

All day comfort
Why you can trust TechRadar We spend hours testing every product or service we review, so you can be sure you're buying the best. Find out more about how we test.
Eureka Ergonomics Typhon: One-minute review
Shopping around for gaming chairs can be a frustrating experience. After all, we're all built differently, so there's no way any singular chair is perfect for every person. Thankfully, in recent years, it has become easier to find chairs that are customizable. The Eureka Ergonomics Typhon gaming chair is a great example.
Truth be told, when we first got this chair, we were a little underwhelmed. Sure, its height is adjustable and its arms move in 4D (that's one whole dimension more than we can see!). But, it also felt a bit off, and foolishly we accepted that at face value – at first.
Let us save you some confusion, and let you in on some of the secrets that we learned during our time with this highly adjustable gamer chair. And when we say adjustable, we truly mean it. Nearly every part of the chair, from the angle of the headrest to the depth of the seat, has a level of adjustability. As such, it's one of the most comfortable chair around.
Eureka Ergonomics Typhon: Price and availability
How much does it cost? $499
Where is it available? Available now
Where can you get it? Available in the US only
Eureka Ergonomics Typhon: SPECS
Height: Up to 50.79 inches
Materials: Secretlab SoftWeave Plus Fabric, Secretlab Cold-Cure Foam Mix, steel, memory foam with cooling gel (head pillow), aluminum alloy
Assembled weight: 51.9lbs (23.54kg)
Max capacity: 280lbs
Adjustments: Recline, tilt, height, 4D armrest
Starting at $499, the Eureka Ergonomics Typhon is close to creeping into the premium price range among the best gaming chairs. Given the quality build, all-day ergonomics, and customizability, though, one could consider the price worth it. Plus, if you're dedicated to the COD franchise, opting for the Call of Duty Modern Warfare II model only costs an additional $40.
If you're looking for a chair that offers similar ergonomic support without the flashy colors, the Mavix M4 gaming chair is available for $444 and drops the flashy gamer profile for a sleek, office chair vibe with just a hint of color.
Eureka Ergonomics Typhon: Assembly
Packed quite snugly in a flat box
Fairly easy and quick to assemble
Like most computer chairs, the Eureka Ergonomic Typhon came with few parts and fairly simple instructions, arriving mostly disassembled and packed quite snugly in a flat box. It came with 3 pages of instructions which were composed entirely of images illustrating which part fit in where.
We were worried about accidentally attaching the arms backwards, but the bottom of the arms are helpfully labeled with R and L to avoid any mix ups. The only issue we ran into was figuring out how to attach the backrest without an extra set of hands, but if you have a friend nearby this chair should easily come together in less than ten minutes.
Eureka Ergonomics Typhon: Design
Mesh material perfect tension
Leather headrest
Accent colors are bright
With a sharp silhouette, the Eureka Ergonomics Typhon is a gaming chair that certainly can't be mistaken for a traditional office chair. It has dynamic, racer-back accents, which are vibrantly-colored while the rest of the chair is classic black, aside from the metal underside of the arm rests. The mesh lining is taut but flexible and offers smart lumbar support as well so it automatically adjusts the firmness and depth around your pressure points.
Under the seat, there are two levers, one on the right side and one on the left. The left lever locks the back into place, allowing you to keep the back at the perfect angle or leaving it free to tilt. On the right side is the familiar height-adjusting lever.
The armrests on either side are topped with foam and have large silver buttons on the side that control their respective height. The height adjustment is the only part of the arms that locks into place, leaving the side to side, front and back, and rotation of the arms free to be adjusted at any time.
Eureka Ergonomics Typhon: Performance
4D armrest
Smooth roller
Basically everything is adjustable
What the Eureka Ergonomics Typhon gaming chair boasts is ergonomics and customizability, and they follow through beautifully. For example, when we first used the chair, it felt like we were sliding off, like there wasn't much room to comfortably sit.
That was before we realized the depth of the seat of the chair is adjustable, sliding in or out to give you more – or less – room to settle your booty on. Once we found the honey spot, this chair became easy to settle into for a full day of gaming.
The mesh seating combined with the lumbar support only encouraged us to continue our all-day gaming sesh. Keeping up on good posture is also made easy, thanks to the self-adjusting backrest. And when we need a good stretch, the reclining backrest is there to allow us to confidently lean back without fear of tipping over.
Movement in general is supported on this chair. The wheels roll smoothly on polished concrete while the 4D armrests can be easily moved to accommodate whatever position you sit in.
Should I buy the Eureka Ergonomics Typhon?
Buy it if...
You need an all-day chair
Thanks to the self-adjusting backrest and the plethora of other adjustable options, this chair can be comfortably used all day
You like to game in style
The racerback chair's highlight colors are vibrant and do an excellent job complimenting the silhouette of the chair
You're a fidgety person
Because let's be honest – the clicks while adjusting the armrests was incredibly satisfying for someone who can't sit still, and the smoothly reclining back made stretching and moving in place comfortable.
Don't buy it if...
You're on a budget
While $499 is a fair price for the type of quality chair Eureka is offering, the price is still a bit high for most people on a budget.
You're a larger gamer
The mesh seat material is only guaranteed to support up to 275 pounds, so larger buyers should be aware before purchasing
Also consider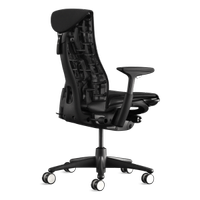 Herman Miller x Logitech Embody
If you're less concerned about budget and more concerned about the best of the best ergonomics, this chair offers an abundance of support and comfort at a premium price.
Read our full Herman Miller x Logitech Embody review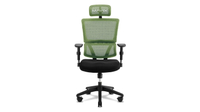 Mavix M4
With similar ergonomics but a more subdued appearance, the Mavix M4 is an excellent choice for both office and gaming usage
Read our full Mavix M4 review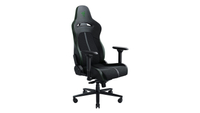 Razer Enki
Starting at $299 on Razer's website, the Razer Enki is a more budget friendly option that still focuses on gaming in comfort.
Read our full Razer Enki review
Eureka Ergonomics Typhon: Report card
Swipe to scroll horizontally
| | | |
| --- | --- | --- |
| Value | While there are several features that justify the price-point, there's still plenty of adjustable chairs at more affordable prices. | 4 / 5 |
| Assembly | The Eureka Ergonomic Typhon came with few parts and fairly simple instructions. | 4.5 / 5 |
| Design | With vibrant colors accenting the otherwise all-black chair, the gamer aesthetic is present but not loud enough to be off-putting. | 5 / 5 |
| Performance | The smart lumbar support works wonders for all-day use, and every adjustable feature works smoothly to ensure user comfort. | 5 / 5 |
| Total | Both highly adjustable and comfortable enough for all-day use, it seems like nothing was sacrificed in the making of this chair. Just make sure to adjust your budget accordingly. | 4.5 / 5 |
First reviewed January 2022
How we test
We pride ourselves on our independence and our rigorous review-testing process, offering up long-term attention to the products we review and making sure our reviews are updated and maintained - regardless of when a device was released, if you can still buy it, it's on our radar.