Offering terrific value for the price, the Earfun Air S lack some power for anyone after strong bass, but they're feature-rich nonetheless – and it's hard to fault too much at this price.
Pros
+

Comfy design

+

Good noise cancellation

+

Decent codec support
Cons
-

Bass is quite weak

-

Mediocre battery life
Why you can trust TechRadar We spend hours testing every product or service we review, so you can be sure you're buying the best. Find out more about how we test.
Earfun Air S: two-minute review
Earfun is slowly but steadily building up its reputation for providing good quality budget earbuds. The quirkily named brand is unlikely to be the first name you rush to when buying earbuds, but that should probably change over time.
In the case of the Earfun Air S, these wireless earbuds build upon the success of the Earfun Air, which are available at a considerable discount these days. Neither of them can truly rival the best true wireless earbuds, but the Earfun Air S still pack in some crucial features you'd previously only see in pricier alternatives.
Again, these look like Apple AirPods. They feel a little cheaper in your hands (because they are) but they're immediately comfy to fit in your ears. Battery life is roughly on a par with the Apple AirPods but no better, although you get wireless charging from the bulky charging case to keep you steady.
For most, sound quality is what's most important with earbuds. The Earfun Air S are a little flat at times and lack power when listening to bassier tracks. That's even after adjusting the companion app's equalizer tab, although this does help a little.
Fortunately, the Earfun Air S offer surprisingly good ANC for the price. Certain noises slip through, as is often the way with ANC, but key irritants including the noise of a fan at high power or people talking around you are blocked out.
A battery life of about 4 hours with ANC on or 5 hours with ANC switched off isn't amazing by any means, but it'll suffice for most people. Combined with the charging case, you'll get another 20 hours on top of that.
Back to what works and the Earfun Air S have some decent touch controls which mean you're unlikely to mis-tap awkwardly when on the move – always a bonus.
So, the Earfun Air S aren't perfect but nor would we expect them to be at this price. Instead, you get a decent mishmash of features meaning you'll still feel like you're getting good value for money. Effective ANC is these earbuds' strongest point. Just don't count on exceptional sound quality to boot.
Earfun Air S: price and release date
Released in August 2022
$70/£70 (around AU$119)
Available in one color: Black
The Earfun Air S have a recommended retail price of $70/£70 and are being released in the US and UK. At this early stage, Earfun has already discounted them to just $49 though, making them even better value than before.
While Earfun sells some of its products in Australia, the Earfun Air S aren't currently available in this region at the time of writing.
There's only one color scheme to choose from, and that is black.
Earfun Air S: design and features
Chunky charging case
4-5 hours battery from earbuds, up to 20 from case
Wireless charging
The Earfun Air S feel a lot like cheaper AirPods. They're more plasticky and not quite as smooth in your fingers but at first glance, they look like Apple's earbuds.
More importantly, they feel comfortable in your ears with a choice of eartips ensuring they'll feel snug even if you're moving fast.
In typical Earfun style (see the Earfun Air and Earfun Air Pro for reference), the touch controls are at the top of each stalk where the more rounded area is. Quick to respond, the touch controls can be adjusted via the companion app so you can get things just how you like them.
The charging case is fairly bulky but will slip into all but the smallest of pockets. USB-C and wireless charging support gives you all the latest options for charging up. Both methods are a little on the slow side for a full charge, but 10 minutes gives you back about two hours of playtime.
Bluetooth 5.2 support meant we never experienced any dropouts while also meaning you gain the SBC, AAC, and aptX codecs. Even with a few walls between us and our phone, the music kept on playing. There's also multipoint support so you can pair the earbuds with two devices simultaneously.
Design and features score: 4/5
Earfun Air S: sound quality and noise cancellation
10mm drivers
Excellent ANC for the level
Weaker bass
It's an album of two halves with the Earfun Air S when it comes to how good they sound. The ANC is remarkably good for the price. Sitting too close to a large fan wasn't an issue as we still couldn't hear the fan blowing, while other environmental sounds like ambient music and people speaking was also blocked out.
Switching over to the transparency mode is a success too and a real timesaver if you need to have a quick chat with someone.
However, when solely listening to music, the Earfun Air S falter. The soundstage is fairly small and lacking any real excitement and that's a trend that continues throughout. Bass is fairly weak in particular even when listening to something bass heavy like Hysteria by Muse.
It's all a bit muddled in the end and while everything sounds acceptable, it never rises above that. The detail of Under Pressure for instance never really becomes apparent when listening through the Earfun Air S. An orchestral track like something from Holst's The Planets lacks power and precision.
For a casual listen while you walk, it's not the end of the world, but you won't be truly enjoying listening to the Earfun Air S during your downtime. What we're saying is that for dedicated listening sessions, these aren't the earbuds.
Tweaking the companion app's equalizer helps slightly, but it's not hugely signifiant.
Sound quality and noise cancellation score: 3/5
Earfun Air S: value
Decent features
Reliable ANC
At this price, it's cruel to criticise the Earfun Air S too much but we are left remembering how cheaply you can buy the Cambridge Audio Melomania 1 Plus these days.
Granted, there's no ANC in the Cambridge buds, so if ANC is a dealbreaker for you, the Earfun Air S are a reasonable pair of earbuds if you can make some compromises.
Earfun Air S: should you buy them?
Swipe to scroll horizontally
Earfun Air S

| Attributes | Notes | Rating |
| --- | --- | --- |
| Design and features | The app is useful and the build feels comfortable, if a little cheap – because it is | 4/5 |
| Sound quality and noise cancellation | Excellent ANC let down by poor bass weight and dynamics when listening to music | 3/5 |
| Value | They're already reduced and incredibly cheap, so if budget ANC is your chief concern, they're a good shout | 4/5 |
Buy them if…
You need wallet-friendly ANC
The Earfun Air S's strongest point is their active noise cancellation. It works pretty well, especially at this price, and can make a huge difference if you hate to be disturbed.
You want AirPods clones
They look a lot like black AirPods so if aesthetics is everything, the Earfun Air S will do the job – as long as you don't show anyone the case.
You enjoy varied features
The Earfun Air S don't quite master everything but they're a good jack of all trades, offering a little bit of everything done reasonably well.
Don't buy them if…
You want superior sound quality
These days, you don't have to miss out on great sound quality because you're on a budget. However, this is the Earfun Air S's main error.
You want great battery life
The Earfun Air S could offer worse battery life but it's still fairly weak for the price. If you need to listen for a long time, steer clear.
You can afford more
If you can afford to spend a bit more, do so. The Earfun Air S are great on paper but lack the oomph they really need to make your music exciting.
Also consider…
Think the Earfun Air S might not be the true wireless earbuds for you? No worries, here are three alternatives that could offer just the design, feature-set and sound quality you're looking for.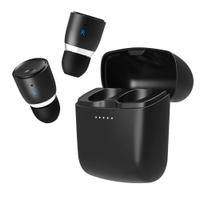 Cambridge Audio Melomania 1 Plus
Sounding fantastic, the Cambridge Audio Melomania 1 Plus may lack ANC but they offer audio performance way above their price range.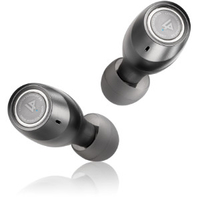 Lypertek PurePlay Z3 2.0
If you can stretch your budget a little, the sound great, offer ANC and include far superior battery life.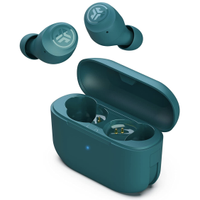 JLab Go Air Pop
Ridiculously cheap, the JLab Go Air Pop offer better bass than the Earfun Air S but lack ANC.
Jennifer is a roving tech freelancer with over 10 years experience. Having graduated from Swansea University with a degree in Media and Communication Studies, and later with a diploma from Staffordshire University with a post graduate diploma in Computer Games Design, she's written for a huge number of publications, including T3, FitandWell, Top Ten Reviews, Eurogamer, NME and many more.
Her main areas of interest are all things B2B, smart technology, wearables, speakers, headphones, and anything gaming related, and you'll find her writing everything from product reviews to buying guides. In her spare time, she enjoys the cinema, walking, and attempting to train her pet guinea pigs. She is yet to succeed.