Audeze Maxwell: Two-minute review
The Audeze Maxwell has some pretty big shoes to fill. As a brand, Audeze has built its image around audiophile products, even when it comes to its gaming headset series. So expectations are always going to be high for any new release.
What's worse for the Maxwell, however, is that it follows directly in the footsteps of the highly-praised Audeze Penrose, which despite its own share of flaws has gathered quite a fanbase thanks to its breathtaking sound quality. Factor in the fact that it has a wide soundstage, a terrific mic, and multiplatform compatibility, and it shares the spotlight with many of the best gaming headsets and is one of the best wireless gaming headsets on the market.
It's a good thing that the Audeze Maxwell is up for the task, not necessarily to take the mantle from the Penrose but to help expand the brand's gaming line and give fans more options to choose from. Its audio performance is strong, and it seems to have inherited the Penrose's immersive soundstage and impressive mic. Even better, it has addressed at least a couple of the biggest user complaints about the older model – namely, that super tight, brain-squeezing clamping force and the middling battery life.
But, it also arrives with its share of baggage, sadly, and for the price, I would have preferred less of it. I'm the type who would gladly pay money for a top-notch product, but I honestly cannot say I would do so with this for several reasons – the first being its design.
We now live in a world where the line between gaming headsets and audiophile headphones are starting to blur, not just in audio performance but design as well. The Audeze Penrose is, in fact, one of the best examples of that. It still has some trimmings that make you think, yes, this is made for gaming. However, no one would be embarrassed to don it on a commute or at the airport.
You'd think Audeze would build up from that, and yet it went the opposite way with the Audeze Maxwell. Not that the headset has that antiquated in-your-face gaming aesthetic that I'm glad we've truly left in the past, but it's also unapologetic in its size and bulk. I brought it with me to the Google I/O conference and had it one the whole time during my 10-hour wait at the San Jose airport after, and let's just say I caught people's attention with this massive thing around my head.
Its earcups aren't just big in diameter; they are thick as well. And while the headband and suspension band aren't massive themselves, they extend pretty widely over my head. The overall effect? I looked like a wannabe fighter pilot, and not in a cool Top Gun way – though, to be fair, many gaming headsets tend to look bigger than they are on my head.
Thank goodness Audeze opted for a nice dark gray finish, although I do wish it had done a better job with that coat of paint. Sadly, the paint on the aluminum band and yoke is easily scratched off. If you so much as accidentally brush the headset against a hard surface like a wall, that nice finish will come off. This, on top of its size and weight, makes me think this does not belong anywhere else outside of your gaming space – despite the fact that the mic is removable, and it comes with Bluetooth connectivity for mobile devices.
You don't have to worry about the Penrose's notorious clamping force being inherited by the Maxwell. This gaming headset is wider and has a much more flexible band. However, that success is somewhat marred by the unnecessarily heavy earcups. Their weight doesn't just rest on the sides of your head, but because both are so heavy, they end up pulling each other in, putting added pressure on your head. After about 30 or so minutes of wearing it, I start to feel that pressure, which means that this isn't exactly ideal for long gaming sessions.
At least the ear pads and the suspension band offset some of it by providing comfort. The ear pads in particular are very plush, soft to the touch, and decently breathable.
In my opinion, the controls on the left ear cups feel clunky, reminiscent of controls on headsets from eight years ago. I would have expected more modern and more elegant buttons and dials here, considering the price. However, they do work well so they're not exactly deal-breakers.
What is modern here are the connectivity options. Apart from the USB-C port for charging, you're getting 2.4GHz ultra-low latency wireless and Bluetooth 5.3, and instead of a USB dongle, you're getting a USB-C one with a switch for PS5 and PC.
Unsurprisingly, the sound quality on the Audeze Maxwell is fantastic. Just a step below a true audiophile performance, it delivers detailed, articulate highs, rich mids, extended low end, and a great immersive soundstage. It's clear and detailed with lots of headroom, making games like Kena: Bridge of Spirits, Cyberpunk 2077, and Hogwarts Legacy incredibly immersive to play.
The bass is accurate enough that you can hear all the sub-bass elements well. Though the bass goes deep, it's worth noting that it is quieter than other neutral headphones and gaming headsets. It's got a wider frequency range, yes, but it does not have a lot of oomph. As a result, explosions in games, videos, and music do not hit that hard unless you turn the volume up to 90% or the content itself has a lot of sub-bass.
As an example, Kendrick Lamar's Humble has a lot of sub-bass so there's a lot of low end coming through on the Maxwell. However, Dua Lipa's Levitating, which has a strong low-end but not a lot of sub-bass extension, sounds a little weak. Same with Cyberpunk 2077, which has a very aggressive soundtrack with lots of mid-range guitars and buzzard synths. It sounds fantastic, especially since you're really hearing the low ambient noise, but when it comes to explosions, you're not going to get that satisfying rumble.
The mid range is rich without being too full, and around 70% volume, it sounds great. However, lower than that, it gets quieter and starts sounding restrained, which is not good news if you prefer to listen at lower volumes since the high end is also a tiny bit darker. Don't get me wrong; at higher volumes, it sounds fantastic. However, unless you turn this headset up, the audio starts to sound boring.
On the upside, the mic sounds incredible. Your voice will come through crisp and clear, and the people on the other side will barely hear any background noise like you button mashing on your keyboard. As a bonus, it does seem to emphasize the lower mids, which makes your voice sound a little fuller or deeper. That's a nice extra especially if your voice is as high-pitched or as grating as mine.
The battery life is obviously a marquee feature here, giving you more or less 80 hours of playtime at full charge. That's eight full days of playing, if you're clocking in about 10 hours a day, which obviously not many people do. If you're playing at a more realistic two hours per day, that's about 20 days until your next charge.
Though I haven't used this headset for that many hours, what I can tell you is that I've been testing it for about a week now, and I have yet to charge it again.
Audeze Maxwell: Price & availability
How much does it cost? From $299 / £319 (about AU$450)
When is it available? Available now
Where can you get it? Available in the US, UK, and Australia
The Audeze Maxwell sits in the premium market, starting at $299 / £319 (about AU$450) for the PC/PlayStation model and $329 / £349 (about AU$495) for the Xbox version, putting it out of most people's budget. It is something we've come to expect from Audeze's gaming headsets, with the much-lauded Audeze Penrose setting gamers back $299 / £299 / AU$399.
But here's the thing: truly amazing, detailed audio is hard to find cheap, so it's something we're not at all surprised about. In fact, the SteelSeries Arctis Nova Pro Wireless is even pricier at $349 / £329 / AU$649 – though it has a lot more versatility and features than others.
If you cannot go that high, the SteelSeries Arctis Nova 7 Wireless is more affordable in the US and the UK at just $179 / £174. There are much cheaper options out there, but this one's better sounding than the rest of them.
Audeze Maxwell: Specs
Swipe to scroll horizontally
| | |
| --- | --- |
| Interface: | 2.4GHz ultra-low latency wireless, Bluetooth 5.3 |
| Platforms: | PC, Mac, Playstation or Xbox, Switch, Mobile |
| Mic: | Detachable hypercardioid boom microphone |
| Surround sound: | Dolby Atmos |
| Weight: | 17.3oz (490g) |
You're on a tight budget
Swipe to scroll horizontally
| | | |
| --- | --- | --- |
| Value | This is a pretty expensive gaming headset, but it sits in the same price range as other premium gaming headset. | 3.5 / 5 |
| Design | The Maxwell is big and heavy, and it has some clamping force. It's also prone to scratches, especially the headband. | 3.5 / 5 |
| Performance | Delivering clear and detailed audio with a lot of headroom and an immersive soundstage, it also isn't perfect. Its bass is quieter, its mids restrained, and its highs darker. | 4 / 5 |
| Avarage rating | The Audeze is great, but at its price point, I do wish it was greater. | 3.5 / 5 |
Buy it if...
You want a premium, excellent-sounding headset
Touting that Audeze audio stamp, the Audeze Maxwell delivers clear, detailed and decently-balanced sound with a wide and immersive soundstage.
You want something that lasts a while
At full charge, you're getting more or less 80 hours of playback, beating most wireless gaming headsets on the market.
Don't buy it if...
You're on a tight budget
This is an expensive gaming headset, starting at $299 / £319 (about AU$450). It also has far too many flaws for the price.
You want something that moonlights as headphones
Due mostly to its size and weight, you're better off leaving this at home at your gaming setup.
You want something sleek and elegant
This has more of a gaming headset look rather than a pair of svelte headphones.
Audeze Maxwell: Also consider
Swipe to scroll horizontally
| | Audeze Maxwell | Audeze Penrose | SteelSeries Arctis Nova Pro Wireless |
| --- | --- | --- | --- |
| Price: | From $299 / £319 (about AU$450) | $299 / £299 / AU$399 | $349 / £329 / AU$649 |
| Interface: | 2.4GHz ultra-low latency wireless, Bluetooth 5.3 | 2.4 GHz Wireless (16bit/48kHz), Bluetooth, 3.5mm | Low Latency 2.4 GHz, Bluetooth 5.0, 3.5mm |
| Platforms: | PC, Mac, Playstation or Xbox, Switch, Mobile | Xbox, PlayStation, Nintendo, PC, Mac, mobile | PC, Mac, Playstation, Xbox, Mobile, Nintendo Switch |
| Mic: | Detachable hypercardioid boom microphone | Detachable broadcast quality mic | ClearCast Gen 2 bidirectional noise-canceling mic |
| Surround sound: | Dolby Atmos | Not specified | 360 Spatial Audio for PC via Sonar |
| Weight: | 17.3oz (490g) | 11.3oz (320g) | 11.8oz (336g) |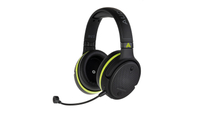 Audeze Penrose
The Audeze Penrose X offer stellar sound quality. The finicky headset control and tight clamping force are glaring issue, but that audio is incredible.
Read our full Audeze Penrose review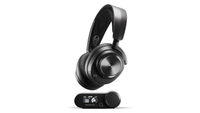 SteelSeries Arctis Nova Pro Wireless
The SteelSeries Arctis Nova Pro Wireless is the future of gaming headsets with its multi-device-and-platform connectivity, long battery life, amazing comfort, and excellent sound quality.
Read our full SteelSeries Arctis Nova Pro Wireless review
How I tested the Audeze Maxwell
Spent a week testing it
Used it for gaming, streaming, and music listening
Tested it with a variety of games, songs, and movies
I tested the Audeze Maxwell as my gaming headset for a few days then brought it with me to Google I/O as my travel headphones, using it at airports and aboard planes.
Besides using it with games like Kena: Bridge of Spirits, Cyberpunk 2077, and Hogwarts Legacy, I also used it to watch Ted Lasso and a couple of movies, as well as to listen to music.
I've been testing, reviewing, and using gaming headsets for years as a freelance tech journalist and now as one of the Computing editors at TechRadar. My years of experience along with my discerning audio tastes make me more than qualified to test and vet these devices for you.
First reviewed May 2023