Acer Chromebook 515: Two-minute review
I was excited to get my Acer Chromebook 515 review unit - one which skews the Chromebook formula by stirring in the adjective 'big'. After all, Acer and Chromebooks go hand in hand. The company has probably the widest catalogue of ChromeOS devices and isn't afraid to apply slightly more adventurous designs, like that of the Chromebook Spin line, to a product category that's usually pretty dull.
We're even more excited (and a little surprised, too) to find out it's actually decent. Part of that quality comes from its internals. Yes, a package of 11th-gen Core i3, 128GB SSD, and 8GB RAM might seem a little lacking in a regular £449 (around $550 / AU$790) laptop, but put it to work powered by the ChromeOS, and it's enough to make it really fly. This is a machine that rarely feels like it's trying too hard, and there's a Core i5 version (which may even be available for a very similar price) if you feel you're going to need to push it harder.
Then there's the 15.3" screen that, while probably at the bottom of the pile as far as IPS displays go, is plenty visible, can be dialled up to a decent brightness, and is one of the largest you'll find on a Chromebook - at least until Acer decides the bananas 17" Chromebook 715 is due a refresh.
The full-sized keyboard is a luxury even if it's squashed enough to make acclimatisation a little tricky. The battery is huge and will easily see you through an entire day's work. It's solidly built, feels sturdy on the lap or on the desk, its speakers are absolutely fine, and the hinge is basically wobble-free. The Acer Chromebook 515 is just a good laptop that happens to run ChromeOS, which somehow makes it better.
I won't claim that it comes without annoyances. It's great having a pair of USB 3.2 Type-C ports, one on either side of the chassis, but the omission of an Ethernet socket on a machine that's very much aimed towards business deployment seems pretty bone-headed. The Chromebook 515's webcam is absolutely terrible, a similarly confusing choice on a machine that'll presumably be used for video conferences. Its screen struggles with colour reproduction and can feel a little fuzzy on the eyes. And it's big (which is kind of the point) but heavy with it, meaning it'll make an impact on your bag.
Still, as Chromebooks go - and it's a bar that's rising ever higher - this is a very solid option.
Acer Chromebook 515: Price and availability
Cheap enough in the UK - but the Core i5 version might be just as cheap
Pricier in the US
Tricky to find in Australia
Acer Chromebook 515: SPECS
Here is the Acer Chromebook 515 configuration sent to TechRadar for review:
CPU: Intel Core i3-1115G4 Processor (Dual core, 3.0 GHz)
Graphics: Intel Iris Xe
RAM: 8GB LPDDR4X
Screen: 15.6" IPS Full HD (1920x1080) non-touch
Storage: 128GB SSD
Optical drive: None
Ports: 2x USB Type-C (Thunderbolt 4), 1x USB 3.2 Gen 1 Type-A, HDMI, audio combo jack, microSD reader, fingerprint sensor
Connectivity: 802.11ax (Wi-Fi 6), Bluetooth 5.0
Camera: 720p webcam
Weight: 3.02 pounds (1.37 kg)
Size: 8.7 x 12.7 x 0.7 inches (22 x 32.3 x 1.9 cm; W x D x H)
In the UK, the Core i3 version of the Acer Chromebook 515 appears to be exclusive to Currys' business vertical, priced at £449. Its upgraded Core i5 cousin is also a Currys exclusive, with an MSRP of £549, though you'll likely find it cheaper - as I write it's discounted to £457.50, and given the processor upgrade and doubled storage, we'd probably lean in that direction if the price is still right.
US readers won't find these precise specs in local stores; Amazon and the like stock an otherwise identical Core i5 spin, which starts at a probably-too-expensive $729. In Australia, you may be able to find a Core i3 version for AU$727, though it's not clear whether Acer officially stocks it on southern shores.
Larger Chromebooks like this are a rarity, so it's hard to compare the Acer Chromebook 515 against a direct competitor. If you can cope with a little less screen real estate, Acer's own Chromebook Spin 713 offers significantly more luxury and flexibility for $699 / £599 / around AU$980; in the US, it's absolutely a better option. There's also the slightly smaller Acer Chromebook 514, which cuts screen size and excises the numerical pad, but otherwise offers a similar level of specs.
Acer Chromebook 515: Design
Large screen leaves room for a big keyboard
Ports aren't perfect
The Acer Chromebook 515 is an unashamedly business-focused machine and has the design to match. There's a full-sized keyboard (with an asterisk) featuring a number pad perfect for long days spent battling Google Sheets; that asterisk, at least on the UK version reviewed here, refers to its tiny Return key and slightly narrowed numpad. Neither are deal breakers, and one's fingers get used to them quickly. But the transition from a proper keyboard can be slightly jarring.
Thankfully, the typing action is consistent and, if not deep, at least very definite. The off-centre positioning of the Gorilla Glass-covered trackpad means there's plenty of space to rest one's palms. As Chromebooks go (and they usually go far smaller), this may be the most comfortable keyboard experience going.
Obviously, the size of a laptop base tends to be proportional to the size of its screen, and the Acer Chromebook 515 doesn't skimp on panel inches nor on the size of its chin bezel - it's a chunky one, and reasonably heavy with it.
Whether you'll love its 15.3" 1080p display, though, is dependent on how accurately you need to be able to interpret colours. I's an IPS panel, though one with a relatively limited golden viewing angle and a slightly fizzy, washed-out look to it. I found it, again, comfortable - at least in the intended context of work - but disappointing when watching video.
Looks-wise, as befits a business machine, this is almost entirely unexciting, though Acer has tucked in a couple of pretty concessions. The chassis is a dark muted grey, but hold it at the right angle, and you'll spot just a hint of glittery sparkle. A white backlight picks out the keyboard beautifully as well. Plus, there's a fingerprint reader and a physical slide-over cover to block the webcam - though it should be noted that it doesn't actually disable the camera itself.
Port distribution is clever with a USB 3.2 Type-C port on either side, even though you're restricted to a single Type-A port, and you'll need to rely on a dongle for Ethernet as there's no built-in network port.
Acer Chromebook 515: Performance
Smooth performance that barely stutters
Android apps are functional but not fantastic
Benchmarks
Here's how the Acer Chromebook 515 performed in our suite of benchmark tests:
Mozilla Kraken: 647.7ms
Speedometer: 280 runs/minute
JetStream 2: 162.031
Running ChromeOS isn't the biggest challenge for a laptop, but Google's web-first OS is often paired with some less-than-capable budget hardware - a combination which somehow makes it look a lot more difficult than it is and leaves a bad taste in many mouths.
No such bitterness here: at no point did the 11th-gen Core i3 inside my review unit feel lacking in desktop use. An SSD as opposed to eMMC is a treat - file manipulation here is far swifter than on some lesser Chromebooks. Its generous-enough 8GB RAM keeps up even with a large number of tabs open, and Wi-Fi 6 ensures connectivity stays speedy and the Chromebook 515's wireless reach is very decent.
The benchmark results back this up – while they're not the very highest we've seen, they're more than acceptable. This is a machine, which crosses the line between power and price, that somehow scores on both fronts. It's a pleasure to use. Even the speakers keep up - they're not mind-blowing, and the fact that they're downfirers means they won't work well on every surface, but they're perfectly competent.
That said, it's maybe not quite meaty enough to convincingly deal with Android translation. The games I tried were mostly slick, though suffered from occasional hitches and slowdown - ironically, you'll want to go for the kind of ARM hardware that makes ChromeOS feel terrible (or use something like BlueStacks on a Windows machine) if you're really looking for a laptop which can run Android.
Given its supposed business credentials, it's hard to forgive the Chromebook 515's 720p webcam. It's awful. At least its fuzzy, dark image smooths out your rough edges, I suppose.
Now, there's not really a way to get through a Chromebook review without a critique of ChromeOS itself, and so I must (by law) include one here. Being confined to what is essentially a limited walled garden of software may not suit every use case. This isn't a machine for gaming; it's not one that can run full-fat Windows apps or (at least without a little tinkering) Linux software. It's a web browser in a box.
But heck, if your business runs Google apps by default, this might be one of the most easy-to-manage laptop platforms there is. If you just want a machine to help you thumb through Twitter, Reddit and TechRadar while you're sat on the couch, the massive screen of the Acer Chromebook 515 makes it a comfortable option. ChromeOS isn't the barrier it once was.
Acer Chromebook 515: Battery life
Lasts a decent amount of time…
…though ChromeOS seems to have no idea how long that'll be
To say the Chromebook 515 has shockingly good battery life would be a little disingenuous. I was surprised it lasted as long as it did, but it's not the kind of twelve-hour performer you might find elsewhere in the Chromebook world.
While it's obviously going vary depending on the kind of work you're doing - and tasks like video playback do tend to drain it a little quicker - there's almost no way that this won't see you through a full day, particularly if you can convince yourself to dial down the brightness a little. Acer claims it should reach up to ten hours on a charge; expect eight and a half.
Do bear in mind that ChromeOS' battery life estimations are wildly inaccurate, seeming to vary by the minute and may in fact be entirely fictitious. But even if you never quite have a clue how long you have remaining, the battery here is entirely acceptable. USB Type-C charging just seals the deal.
Should I buy the Acer Chromebook 515?
Buy it if...
You need extra screen space
ChromeOS is much more practical on the move if you can position browser windows side-by-side. The large screen here might not be the best, but it's good enough to add extra flexibility.
You're going to push ChromeOS hard
Even though its Core i5 cousin might be pennies more expensive, the processor and RAM combo here is enough to make things far smoother than a Pentium or ARM Chromebook can manage.
You need longevity from a laptop
We're pleasantly surprised by the Chromebook 515's staying power. It might not keep going as long as, say, an ARM equivalent, but it's also much more capable - particularly if you want to start getting technical with Linux apps.
Don't buy it if...
You need to perform a lot of video calls
Acer pins this in the business bracket, but conferencing with this looks terrible. I know space is tight for webcams, but the tide in other laptops is beginning to turn away from cameras, which feel like they belong in 20th century tech.
You need to use bespoke software
Yes, yes, ChromeOS - but with so many packages and business functions migrating online, it's not quite the hindrance it once was. That said, if there's a desktop app you really need to use, a machine with a desktop OS would be a better choice.
You value aesthetics
We're not saying this is ugly, because it's not. It's functional, industrial almost. But for all the very subtle sparkle of its plastic, it's not pretty. Look to HP's premium line if you want something more gorgeous out of a Chromebook.
Also consider
Swipe to scroll horizontally
| | Acer Chromebook 515 | Acer Chromebook 514 | Lenovo Ideapad Duet 5 |
| --- | --- | --- | --- |
| Price: | Starting at £449 (around $550 / AU$790) | Starting at $499 (about £380, AU$710) | Starting at $429 / AU$799 |
| CPU: | From Intel Core i3-1115G4 | From Intel Pentium N4200 | From Qualcomm Snapdragon 7c Gen2 2.55GHz |
| Graphics: | Intel Iris Xe | Intel HD Graphics 500 | Qualcomm Adreno GPU |
| RAM: | 8GB LPDDR4X | 8GB LPDDR4 | 8GB LPDDR4 |
| Screen: | 15.6" IPS Full HD (1920x1080) non-touch | 14-inch, FHD (1,920 x 1,080) IPS LCD touchscreen | 13.3-inch 1920 x 1080p multitouch OLED, 400 nits |
| Storage: | 128GB SSD | 64GB eMMC | 128GB eMMC |
| Ports: | 2x USB Type-C (Thunderbolt 4), 1x USB 3.2 Gen 1 Type-A, HDMI, audio combo jack, microSD reader | 2 x USB-C (3.1 Gen 1), 2 x USB 3.0, microSD card reader | 2 x USB Type-C 3.2 Gen1, 1 x Pogo pin connector |
| Wireless: | 802.11ax (Wi-Fi 6), Bluetooth 5.0 | 802.11ac Wi-Fi, Bluetooth | Wi-Fi 6, Bluetooth 5.1 |
| Camera: | 720p webcam | 720p webcam | (Front) 5MP RGB; (Rear) 8MP RGB w/ autofocus |
| Weight: | 3.02 pounds (1.37 kg) | 3.31 pounds (1.5kg) | 2.24lbs (1.02kg) |
| Dimensions: | 8.7 x 12.7 x 0.7 inches (22 x 32.3 x 1.9 cm; W x D x H) | 12.7 x 9.1 x 0.7 inches (323 x 232 x 17mm; W x D x H) | 12.04 x 7.35 x 0.28 ins (305.86 x 186.74 x 7.23mm) |
If our Acer Chromebook 515 review has you considering other options, here are two more to consider...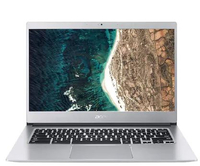 (opens in new tab)
Acer Chromebook 514
The 515's smaller sibling obviously misses the number pad and gigantic screen on offer here, but makes up for it with touch capabilities and a dash more portability. It's a toss up - there's enough power in either to offer a slick ChromeOS experience.
Read our full Acer Chromebook 514 review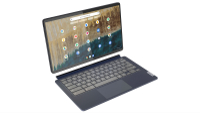 (opens in new tab)
Lenovo Ideapad Duet 5
Taking the touchscreen idea further, Lenovo's detachable tablet Chromebook is perfect for whiling away the hours on the couch - though it's built on a Snapdragon platform, so not great for high-end performance.
Read our full Lenovo Ideapad Duet 5 review
Acer Chromebook 515: Report card
Swipe to scroll horizontally
| | | |
| --- | --- | --- |
| Value | The Acer Chromebook 515 is affordable for UK customers. While it is slightly pricier for US folks, it's still pretty fair-priced for the power. | 4 / 5 |
| Design | It isn't the most attractive Chromebook I've tested, but I appreciate that the large screen leaves room for a big keyboard. | 3.5 / 5 |
| Performance | It delivers a smooth performance that barely stutters while Android apps are functional. | 4.5 / 5 |
| Battery | It isn't as long as other Chromebooks, but it does give you at least a full workday on a single charge. | 4 / 5 |
| Total | The Acer Chromebook 515delivers power in most of the places that counts. | 4 / 5 |
First reviewed February 2023
How I tested the Acer Chromebook 515
We pride ourselves on our independence and our rigorous review-testing process, offering up long-term attention to the products we review and making sure our reviews are updated and maintained - regardless of when a device was released, if you can still buy it, it's on our radar.