How gaming tech is transforming the workplace
Gaming increasing workers expectations of workplace tech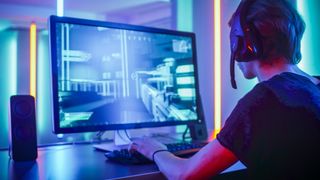 The hybrid work boom has blurred the lines between work and play – even in the most demanding use cases. This has been driven by the booming games industry, which is now hugely competitive and is producing high end technology to reflect the high stakes involved. This in turn is raising expectations of what technology can and should do in other areas of life – including work.
Between April 2020 and November 2021, the UK gaming industry contributed an annual total of £2.88 billion to the UK's GDP, a figure that has rapidly grown during the past decade. The pandemic triggered a golden era of gaming technology spend in the UK, with sales hitting £453m and £464m in 2020 and 2021 respectively. The profile of the gamers themselves has also dramatically moved on from the stereotypical male demographic. In 2020, females who identify as gamers outnumbered males for the first time. Gaming is now a mainstream activity with mass market attention, it's not just for those who take it seriously, but also those who enjoy to play causally too.
This industry, centred on entertainment, might seem diametrically opposed to the world of work, but they're actually closer than you might think. Gaming is raising the bar for advanced and immersive experiences, and enterprises are looking to follow. As such, high-performance hardware, advanced graphics, responsive peripherals and cloud-based services that were traditionally associated with gaming are now changing the way we work for the better.
Neil MacDonald is UK&I Channel Director for HP.
An immersive experience for everyone
For gamers, minute details matter. Technology can mean the difference between virtual life and death. Gamers are accustomed to using stream-ready 4K webcams, headsets and microphones that deliver crystal-clear audio and video communication. Responsive keyboards that can register inputs accurately and quickly, especially for fast-paced and competitive games, are a must. Not to mention powerful processing and high-resolution displays for sharp and vivid images in 4K quality.
For anyone using this kind of technology regularly, office equipment which historically has had a different purpose to gaming equipment may feel like a step down. As work requires the same high levels of collaboration as gaming environments and the same level of detail – particularly in creative fields – it should command the same calibre of technology. In this arena too, details matter. If technology can deliver a competitive advantage, it can be worth its weight in gold.
I, for one, value the flexibility that hybrid work can deliver. But if I'm joining a meeting from home, I don't like the feeling of being a million miles away from my colleagues. If gaming technology can make me and others feel like we're escaping a zombie apocalypse or scoring a goal in a World Cup final, it can surely make me, and other gamers feel connected to the workplace – wherever we are.
Gaming makes its mark
Not only does gaming technology improve productivity and performance, it also helps attract the best talent, as people expect firms to provide the tools they need to do their best work.
Take peripherals for example. I might not be making an appearance at the Apex Legends Global Series any time soon, but even for me it's clear to see the influence that gaming is having on the devices we're using. I use Poly peripherals and the combination of high-quality audio and video features with noise cancellation, smart controls and sleek design wouldn't look out of place in competitive gaming scenarios.
Similarly, high powered PCs aren't exclusively for gaming. Solutions such as HP's line of Z workstations are attractive to a variety of users because they can do it all. These workstations feature powerful processors, graphics cards, memory and storage that can handle demanding tasks in work and play environments.
The challenge for businesses
You might think of gaming technology's march into the office as an unnecessary extravagance, but the reality is that the technology currently being used by some businesses is affecting employees in a number of ways. For example, research by HP uncovered the phenomenon of 'tech shame', where the awkwardness of technical hitches in meetings affects younger workers in particular. Young people are 10 times more likely to feel shame in these scenarios when compared to their older peers. Younger employees are more likely to buy their own tech after remote meeting issues – but what about the others that don't and who continue to be frustrated?
Workers know that better exists, because in many cases they're already using it in gaming contexts or are aware of others doing so. Take gaming headsets for example. The global market is expected to grow at a CAGR of 7.5% between 2022 and 2030. If these devices are getting better and more popular for gamers, there's a risk that businesses will be left behind if they don't pay attention to the marketplace and the growing expectations of their staff. Workers are seeing what's available, and at a time when competition for talent is fierce, the technology that companies use could be a big differentiator when looking for the most switched on and gifted employees.
Gaming just got serious. No longer should it be seen by top performing businesses as a distraction because the technology that has propelled gaming to become a multibillion-pound industry in the UK is now putting on its suit and tie and is entering the workplace. The challenge for businesses is to keep abreast of this fascinating space and see how innovation there can benefit their own work. We're already seeing gaming technology make work more immersive, collaborative and fun. These aspects boost the bottom line and make sure the top talent comes to your company – and stays there.
Are you a pro? Subscribe to our newsletter
Sign up to the TechRadar Pro newsletter to get all the top news, opinion, features and guidance your business needs to succeed!
Neil MacDonald is UK&I Channel Director for HP.