CounterMail is an ideal email service for sending encrypted messages. It nails the basic security features but it doesn't have enough complimentary features to match up with more formidable competitors.
Pros
+

Very secure

+

Supports custom domains

+

Supports USB authentication
Cons
-

No native app

-

No free plan

-

Expensive extra storage
Why you can trust TechRadar We spend hours testing every product or service we review, so you can be sure you're buying the best. Find out more about how we test.
Most popular email clients, such as Gmail and Yahoo Mail, are free. Yet, nothing is really free. In exchange for using these free services, you allow the providers to harvest your data for advertising purposes to make money. "If you're not paying, then you're the product" is a popular quote.
Many people aren't comfortable with handing over their data to third parties, so they seek secure email alternatives. CounterMail is one of the best alternatives offered by a Swedish company. It allows you to send emails securely, with no third party having access to your data.
Is CounterMail one of the best secure email providers? Read on...
CounterMail: Plans and pricing
CounterMail doesn't have a free plan, which is a disadvantage. It only offers a one-week free trial with limited storage space.
CounterMail's premium subscription comes with 4 GB of storage, which is relatively low. You can pay $29 for a six-month plan, $49 for 12 months, or $79 for 24 months.
4 GB of storage is quite low, but you can expand it for a one-time fee. You can pay $19 for 250 MB, $35 for 500 MB, $59 for 1 GB, or $89 for 1.75 GB. The extra storage options are pretty expensive compared to the competition.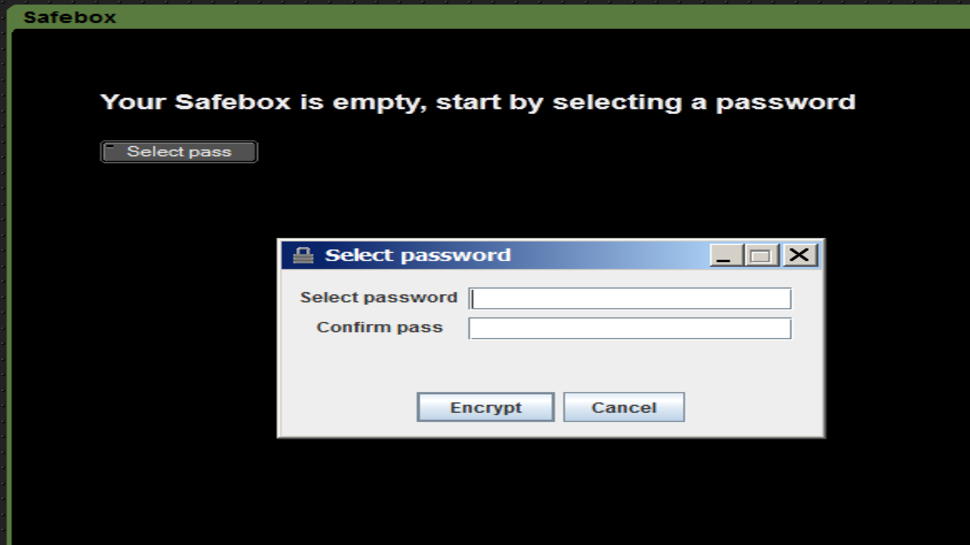 CounterMail: Features
CounterMail offers many good features, including:
End-to-end email encryption
End-to-end encryption is a security protocol that prevents any third party from accessing information while it's in transit. Your email gets encrypted on CounterMail's server and decrypted at the recipient's server. If anyone were to intercept it, the data will be useless to them because they don't have the decryption keys. Even CounterMail doesn't have the keys, so they can't access your data.
CounterMail uses the OpenPGP email encryption standard; this standard is the most popular one email clients use to encrypt emails. The drawback is that you can only send encrypted emails from CounterMail to clients also using the OpenPGP standard.
OpenPGP encrypts your message body and contents but not the subject line because of the way it's designed. To encrypt the subject line, CounterMail uses additional RSA and AES-CBC encryption.
Secure forms
CounterMail allows you to create encrypted web forms that others can fill out. When the recipient submits and fills out the form, it will end up as an encrypted email inside the creator's inbox. You can also embed the form on your website using custom HTML code.
Custom domains
Many businesses and individuals need emails with a custom domain name because it makes them look more professional. The good thing is that CounterMail allows you to set up emails with your personal domain name. You simply need to adjust your A records and MX records on your registrar to point to CounterMail's servers. Note that there's a one-time $15 set-up fee for each domain.
Notifications
You can set up notifications for your CounterMail using another email address. For instance, the notification could be on your Gmail account. Each time someone sends a message to your CounterMail address, you'll receive an alert on the other address.
Safebox
CounterMail offers a password manager called SafeBox. This tool gives you a secure place to store your usernames and passwords. All the data in the Safebox is protected by a master password.
Safebox uses OpenPGP encryption separated from your account keys and password. The encryption and decryption process occurs entirely on your computer inside the web browser, so you can be sure no third party is accessing your data.
Ensure you remember your master password because, without it, you won't access any data on your Safebox.
Alias email
An alias email address is a forwarding address. Any email sent to an alias automatically gets forwarded to the main address; it's a creative way to interact with people or apps without giving out your main email address.
CounterMail allows you to create multiple aliases. You can create up to 10 such addresses if you have a premium subscription.
USB key encryption
You can use a USB key to protect your CounterMail account in addition to your password. The USB will have a custom key file that's needed to log into your account. Without this 512-bit key file, no one can access your account even if they somehow get hold of your password.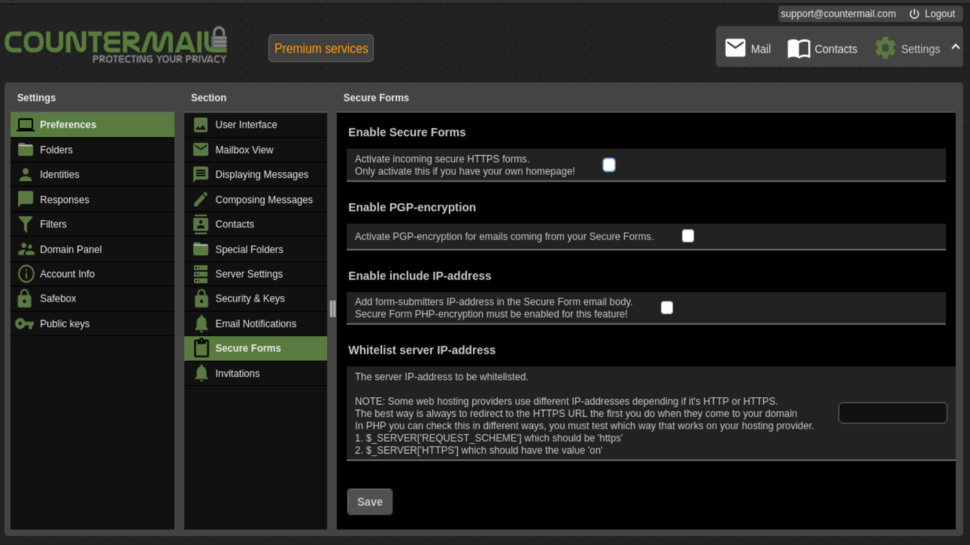 CounterMail: Interface and use
CounterMail doesn't score high in ease of use. The platform's interface isn't as intuitive as what you'd find on many competitors. With a dark background and olive-green and white colors to highlight text, it looks like a tool designed for hackers instead of the everyday user.
Fortunately, signing up isn't difficult. But the design looks out of date and unsuitable for an average email user.
CounterMail: Support
CounterMail offers direct support via a ticketing system on its website. You can create a ticket and state your issue, and the company's support staff will respond to your ticket within a few days. There's also an extensive Knowledge Base and FAQs section you can consult before filing a ticket.
CounterMail: Competition
Posteo is the main competitor to CounterMail that we'll like to highlight. It offers basic email encryption features but not significant complementary features, just like CounterMail.
Posteo is a more affordable tool, costing just $1 per month. However, it doesn't support custom domains.
CounterMail: Final verdict
CounterMail is a suitable choice if you're seeking a basic encrypted email tool to use. However, it doesn't offer as many complementary features as various competitors. We also consider the platform lacking in customer support and ease of use; there's no native mobile or desktop app, unlike many competitors.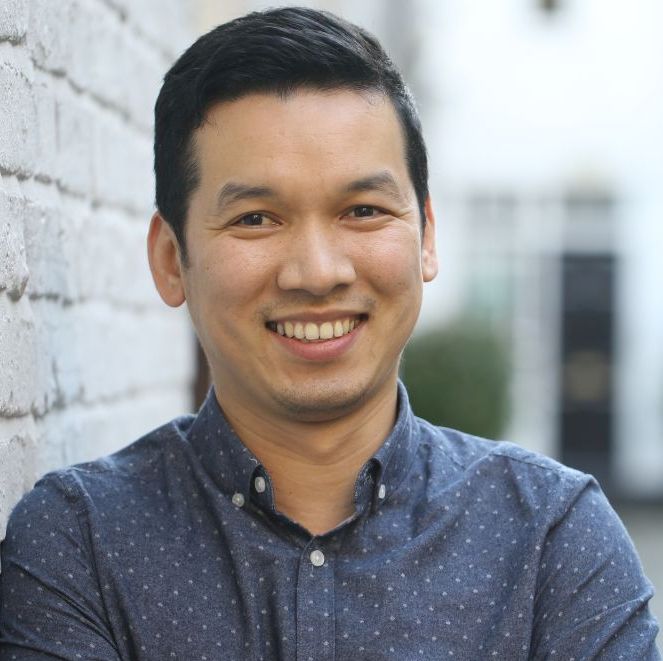 Managing Editor, TechRadar Pro
Désiré has been musing and writing about technology during a career spanning four decades. He dabbled in website builders and web hosting when DHTML and frames were in vogue and started narrating about the impact of technology on society just before the start of the Y2K hysteria at the turn of the last millennium.