Have QuickTime on Windows? You might be vulnerable
The unsupported media player needs to go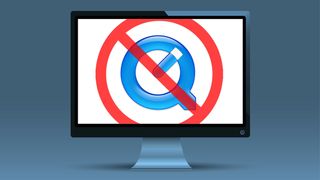 Are you still using QuickTime on your Windows PC? You might want to reconsider that. An antivirus software company named Trend Micro and the Department of Homeland Security have deemed the Apple-created program as a security risk.
Trend Micro's call-to-action urges Windows users to uninstall QuickTime following two key concerns. The first is Apple's deprecation of the program - the company has ceased providing security updates for the multimedia player on Windows, and have even provided instructions for removing the software.
Second - and probably more urgent - is that Trend Micro claims it has detected "critical vulnerabilities" found, which could potentially allow someone to remotely access your computer's data or take control of the system.
Since Apple has stopped supporting the program, it is highly unlikely that these weak spots will be addressed, making the software a permanent risk to keep on your computer.
The United States' own Department of Homeland Security has put out a warning of its own as a follow-up to Trend Micro's report, recommending that "the only mitigation available is to uninstall QuickTime for Windows."
QuickTime users running the program on Apple hardware need not worry for the time being, as Trend Micro stated that its warning doesn't apply to Mac OSX. As for those on Windows, however, it's time to kill it with fire.
In lighter news, here's the best tech for your cat
Sign up to receive daily breaking news, reviews, opinion, analysis, deals and more from the world of tech.
Parker Wilhelm is a freelance writer for TechRadar. He likes to tinker in Photoshop and talk people's ears off about Persona 4.