Best business gadgets and accessories of 2023
Best
Contributions from
last updated
Our round-up of the best business productivity tools around.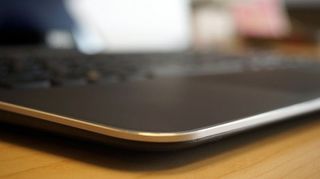 Welcome to our pick of the best business accessories currently available. These are the latest gadgets and tools that can help transform any modern office to become more productive and better connected.
The best business accessories you'll find in this guide have novel approaches to improving productivity and efficiency, and would fit right in amongst office staples like printers, servers and routers. These are the products that will give you that extra boost as the pandemic soldiers on and businesses and organizations worldwide discover the joys and pains of hybrid working.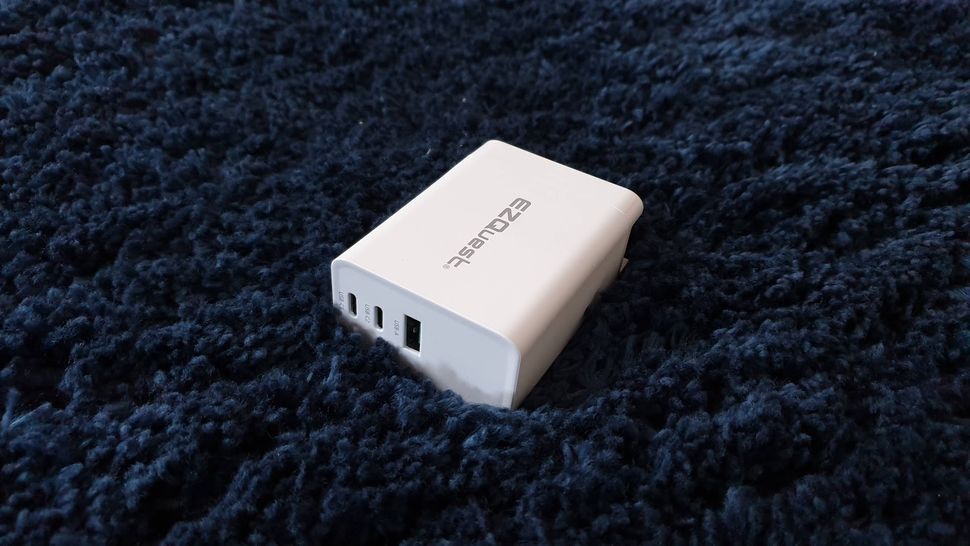 A new challenger lands in a very crowded market
Reasons to buy
+
Long warranty
+
Long cable
+
Up 100W per port
+
Free EU socket
Reasons to avoid
-
More expensive than the competition
EZquest may be a new name to most of our readers but the name has been around for more than two decades doing external hard drives and backup solutions. Fast forward to today, and the new EZquest focuses on peripherals of all sorts. Docking stations, USB adaptors, card readers and wall chargers. Their newest product is a 120W GaN power supply unit.
The manufacturer claims that it is 35% smaller than the Apple 96 Watt USB-C charger and half the size of traditional silicon-based chargers. It could have been even tinier if it didn't include a USB-A port and a second USB Type-C port. Note that the maximum you can deliver on one Type-C port is 100W.
It features a long 2m cable that allows the user to charge and sync his or her device. The cable is reinforced with Kevlar core and can apparently support 50,000 bends; it does come with a free EU pin converter (plus a built-in foldable US plug) and an 18-month warranty, which is longer than average. As expected, it comes with safety features including over-current, over-voltage, over-temperature, and short-circuit protection.
At just under $100, it is priced competitively compared to the likes of the Hyperjuice GaN 100W USB charger although there are similar models from lesser-known brands that sell for cheaper on Amazon. It is relatively big though compared to a lower-wattage power supply unit which may be an impediment if you want something that doesn't stress your power socket.
It is one of the best laptop chargers (at least when it comes to universal ones) on the market right now, one with Type-C connectors.

Image 1 of 4
It's compact, stackable and surprisingly affordable
Reasons to buy
+
Well priced
+
Great design
+
Stackable
+
Up 100W per port
Reasons to avoid
-
No UK 3-pin plug version
-
Short warranty
HyperJuice, which is owned by tech accessory behemoth Targus, launched a 100W stackable 100W USB-C charger that is based on Gallium Nitride (GaN) technology, allowing it to be more power efficient (up to 95% according to Hyperjuice).
That means that it is far more compact than more traditional power delivery technologies and can also deliver much higher power outputs. At 85 x 45 x 30.5mm for a weight of only 166g, it is small enough to be carried around comfortably.
There's a 2-pin plug and a built-in AC power outlet (1500W rated) with three 100W-rated Type-C connector and a 18W USB Type-A port. What that means is that you can in theory, plug in a 16-inch Apple MacBook Pro laptop.
But don't expect to be able to run a mobile workstation or a gaming laptop with a powerful discrete graphics card from it.
Because of its design, it fits snugly against any wall sockets which makes it less prone to randomly fall out. However, we wouldn't recommend stacking 16 of them (64 ports in all) to a single wall socket as the combined weight might stress the latter.
It doesn't come with any cables so you will have to provide your own. Make sure your USB cables can handle the power requirements of the connecting devices.
Note that there's no 3-pin UK plug version available at the time of writing and the warranty on the HyperJuice 100W USB-C charger is only one year. Other than a 100W model, there's a smaller 65W one which is currently out of stock.
At just under $100 with free delivery in the US, the Hyperjuice stackable GaN 100W USB-C charger is certainly one of the best laptop chargers (at least when it comes to universal ones) on the market right now.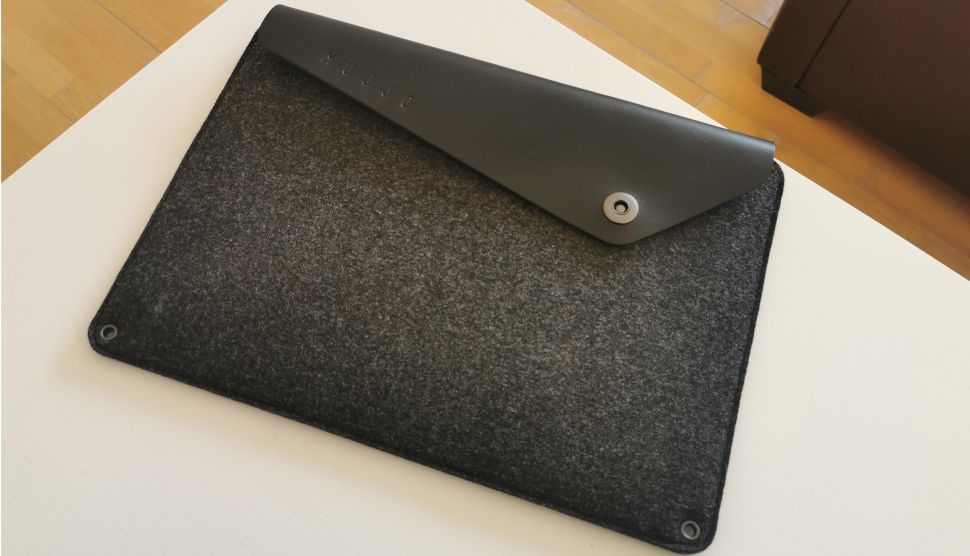 A stylish laptop sleeve, whatever your device
Reasons to buy
+
Stylish design
+
Lightweight
+
Lots of storage
Keeping your devices protected whilst out and about is always important - but what if you want to do it in style? Dutch company Mujjo has a number of high-end cases and sleeves for phones and laptops alike, and we got out hands on its Macbook Air 13" sleeve to try out.
The design is certainly luxurious, made from a combination of felt and vegetable-tanned leather, secured with a single snap button to allow for quick opening and closing. The sleeve has been designed for the latest new 13" MacBook Air and MacBook Pro devices, but we found it worked with other laptops as well. Inside, your device is kept safe thanks to the felt interior, which also includes integrated storage compartments to allow you to store documents and other essentials - and there's even a special slot to store debit/credit cards or an SD card.
This is definitely a luxury item for your device, and one that will certainly make you stand out from the crowd.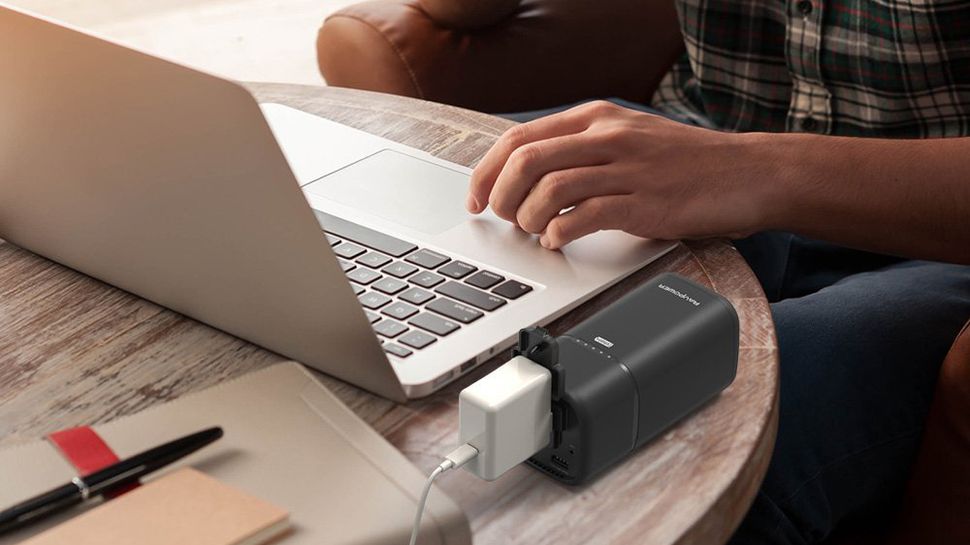 A compact portable laptop charger with a short recharge time
Reasons to buy
+
AC wall socket
+
USB C and USB A ports
+
Carrying case included
Keeping all of your devices topped up and ready to use has certainly gotten easier with the advent of portable power banks. However, what about when you also need to power a laptop, portable monitor, or even a small TV when outdoors and away from a power outlet? Thankfully, some manufacturers have begun to add AC outlets to their portable batteries so you can charge or power almost any device, regardless of whether it connects via USB or with a plug.
For those looking for a portable laptop charger that won't break the bank, RavPower has you covered. The company's PD Pioneer 20000 costs only $89.99 and can charge all of your devices as it features a USB-C port, a USB-A port, and a three-prong AC wall socket. RavPower also makes two different variants of the device depending on whether you need a North American or UK wall socket to charge your laptop or other AC-powered devices.
As its name suggests, the PD Pioneer 20000 contains a 20,000mAh battery capable of delivering 74Wh of power. The device's 30W PD port can fully charge a 2015 Macbook in around two hours, while its Quick Charge 3.0 port can deliver up to 18W of power to compatible USB-A devices. The PD Pioneer 20000's AC port can even reach a max AC output of 100W.
If you're getting ready for a trip and just remembered to pack your PD Pioneer 20000, you won't have to wait too long to fully charge the device, as it can be recharged in just three hours. While certainly larger than most power banks, the device can easily be slipped into a side pocket of a backpack or messenger bag as it is 2.7 inches wide and 5.8 inches long. However, you won't want to be lugging the PD Pioneer 20000 around for too long as the device weighs 660g.
In addition to one USB-C to USB-C cable, RAVPower also includes a carrying pouch complete with pockets to keep its portable laptop charger safe on the go. It's worth noting that a USB-C adapter isn't included, but if you're in the market for a portable battery with a USB-C port, you'll likely still have the one that came with your smartphone or laptop.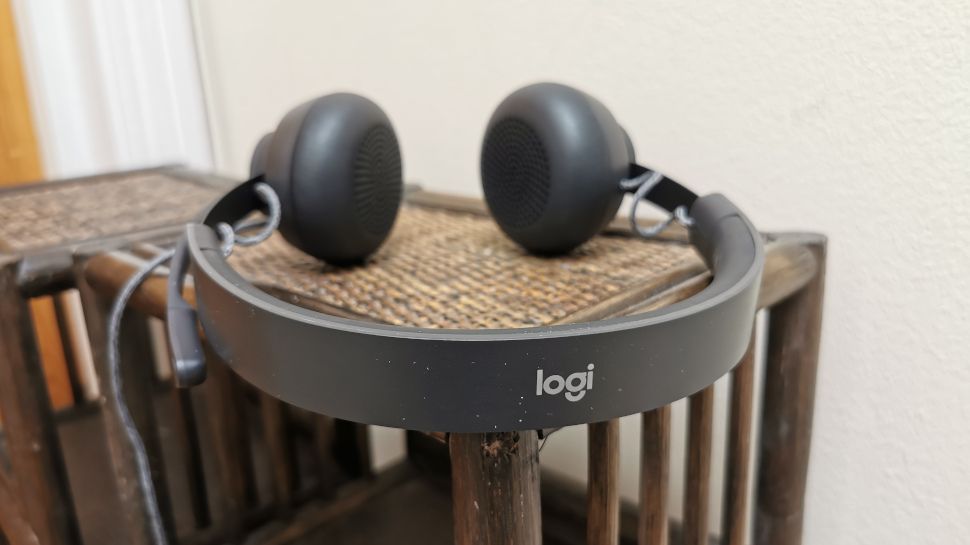 Possibly the best wired headset around today
Reasons to buy
+
Excellent sound
+
Fully adjustable
+
Automatic mute function
Reasons to avoid
-
No wireless option, obviously
As employees around the world adjust to a new way of working from home, the need for a robust and high-quality headset can be vital for those needing to take part in multiple conference calls.
Logitech is well known for its wide range of computing accessories, and the Zone Wired headset is its pitch to conquer the headset market for home workers. Connecting via USB-C or USB-A, the Zone Wired headset is a handy companion for video conferencing and collaborative calls across all the major software platforms - we've tried it with Zoom, Microsoft Teams, Google Meet and Cisco Webex with no issues. Audio quality is incredibly clear, with the built-in microphone having no problem picking up speech even at low volumes, and the headphones themselves giving excellent playback - and aren't half bad as general music devices either.
The microphone even features an automated mute function when you flip it up, meaning if you need to grab a drink of water, cough or even shout at the family to calm down, your colleagues will be none the wiser.
However the only downside is, as the name suggests - the lack of wireless capability. The Zone Wired does feature an extremely lengthy headphone wire, but if you're looking for something you can use whilst on the move, this is not for you.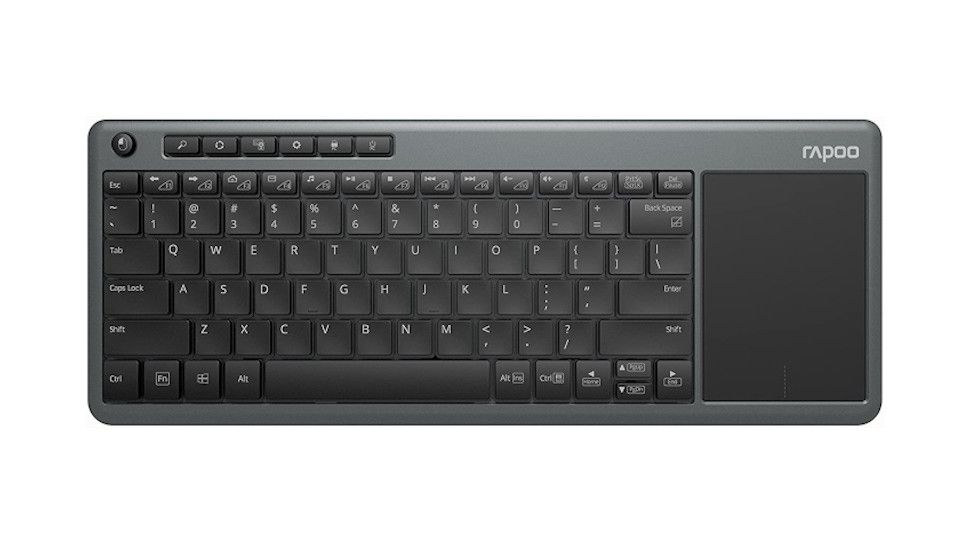 A potential partner for your business presentation
Reasons to buy
+
Very affordable
+
Two-year warranty
Reasons to avoid
-
No Linux compatibility
-
No physical mouse button
The K2600 is the latest in a growing band of multimedia keyboards invading boardrooms and TV lounges, as businesses and movie fans alike discover that smart TVs, HTPC and business displays require more than just a remote control to make the most out of their functionalities.
This keyboard comes with an integrated touchpad, but without physical mouse buttons, which is likely to irk purists that prefer the Logitech K400 Plus.
At £24.99 from Argos (roughly $30/AU$45), it is cheaper than the aforementioned Logitech model, but less widely available. The much larger touch area of the K2600 means you will be able to swipe, pan, zoom, tilt and perform all kinds of multitasking gestures, perhaps with greater ease.
The peripheral connects with the host device via a bundled Bluetooth dongle (lodged inside the keyboard) with a range of up to 10 meters. But you won't be able to connect directly via Bluetooth, which is a shame.
There are also seven programmable keys located at the top of the keyboard for rapidly accessing your favorite applications.
There's a sealed anti-oxidation membrane under the 86 scissor keys which, according to the manufacturer, extends the lifespan by preventing oxidization of the internal circuits and minimizing the risk of key defects.
Bear in mind you also get a two-year warranty, as well as two AAA batteries that should last about a year.
Note, the keyboard doesn't support Linux and there's no option for left handed people. We are also not huge fans of its non-chiclet key design, as the keys (which are part concave, part convex) tend to be slightly more wobbly, with spongy feedback and short travel. This certainly doesn't help if you're typing from your sofa, without a hard surface to work with.
Given the ubiquity of laptops, it is puzzling that only one known peripheral manufacturer has managed to produce a wireless keyboard (and touchpad) that mimics the design of laptop base units. The Keysonic ACK-540 series is more than a decade old and, while it may suffer from a way too small touchpad, it should provide a far more pleasurable experience for prolonged typing periods, minimizing the risk of RSI and wrist pain.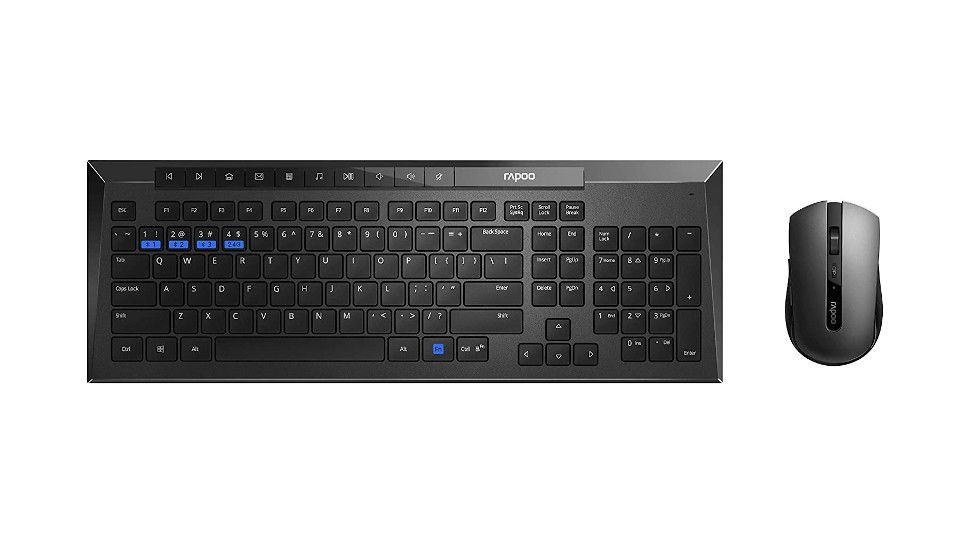 An affordable peripheral set that can connect to multiple devices easily
Reasons to buy
+
Affordable for what it offers
+
Two-year warranty
Reasons to avoid
-
Can connect up to 4 devices
-
No Linux compatibility
The 8200M from Rapoo is a wireless keyboard and mouse combo that can connect via Bluetooth and a bundled 2.4GHz adaptor to up to three compatible devices simultaneously, and switch seamlessly between them via four dual-function keyboard keys (1, 2, 3 and 4).
This means you should be able to connect to a smartphone, smart TV (or Android box) or laptop with ease, at a range of up to 10 metres.
The keyboard is also spill-resistant and has 10 multimedia keys located on the top edge, with 113 scissor keys in total.
The 8200M's chiclet-style keys have good travel, but the feedback should be better and the Enter key bigger. That said, we didn't encounter any issues with touch typing and nor did we suffer a higher error.
The 8200M is available in black or white and retails for £37.70 from Box (roughly $50/AU$70).
As with other Rapoo models, this one comes with bundled batteries and a two-year warranty. The company claims the keyboard will last up to 12 months on one set of batteries, while the mouse will survive up to nine.
Speaking of the latter, you can adjust its DPI sensor from the mouse itself via a DPI switch, between 600 and 1600dpi. However, we have used it for a couple of weeks and find it slightly too mushy for our taste.
The mouse worked without trouble, but we would have preferred a rounder shape. When it comes to input peripherals, though, it is often a matter of personal preference.
The 8200M is not the firm's top of the range keyboard combo; that title belongs to the 9900M, which has a 4.0 mm ultra-slim design with aluminum alloy base and a different placement for the multimedia keys.
However, it is the mouse that boasts the greatest innovations, with a fully adjustable DPI sensor (up to 3200dpi), a far more ergonomic design, a side-scroll wheel and a built-in eco-friendly battery that can be charged via a USB port.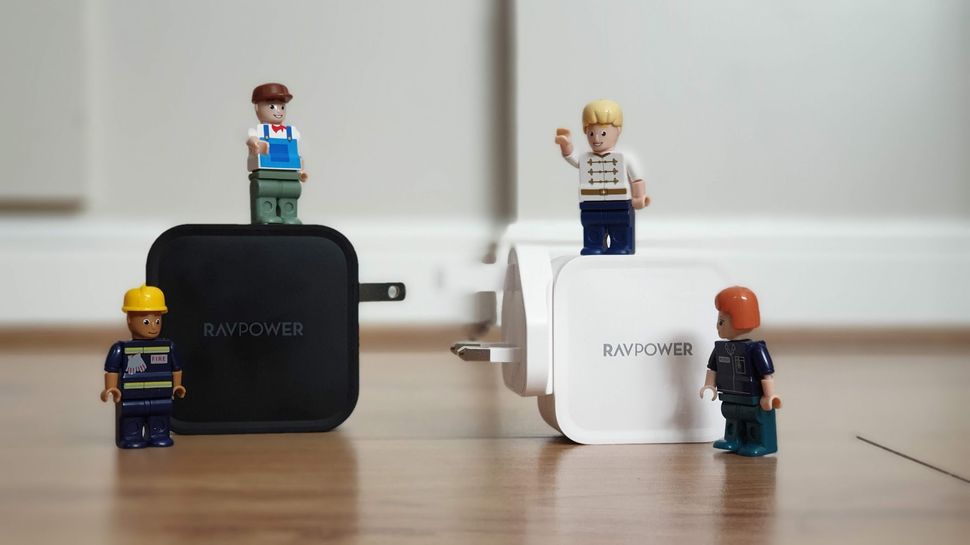 Rapid charging for high-capacity devices
Reasons to buy
+
Fast charge for later batteries
+
Compatible with USB-A and USB-C
+
Dual device charging
Reasons to avoid
-
Sometimes obscures adjacent power sockets
Gallium nitride (GaN) wall chargers are able to refuel devices at a much faster pace than their silicon counterparts - and they're also more petite and energy-efficient.
So, if you're looking for a way to charge your high-capacity devices quickly - including laptops, power banks and more - look no further than these two GaN wall chargers from RAVPower.
The 65W RAVPower PD 2-Port model can push a 15-inch MacBook Pro from totally depleted to fully charged in two hours (instead of four). Thanks to its two ports, it can also charge multiple devices simultaneously, which is perfect if you're caught short with both your laptop and phone out of power.
Its footprint is also 30% smaller than equivalent products (as well as most OEM chargers) and this compact design means the adapter fits easily into a pocket or backpack.
Then there's the even more powerful 90W PD Pioneer 2-Port adapter, a heavy-duty GaN charger for devices with massive battery capacities. If you find your current high-wattage charger is excruciatingly slow, this might be the perfect piece of kit for you.
With this 90W adapter, you can expect a 7.5x improvement in charging times in comparison to the 30W chargers that come bundled with many electronics. For context, it charges a 15-inch MacBook Pro even faster than the 65W model in just 1.8 hours.
Unlike silicon chargers, the PD Pioneer doesn't overheat or short-circuit, allowing you to charge your devices for as long as you need. RAVPower has also worked hard to ensure the adapter is as power-efficient as possible, achieving a charging efficiency of over 93%.
It's slightly larger than the 65W model at 64 x 64 x 32mm, compared to 55 x 55 x 31.5mm. We also presume it's therefore marginally heavier than its 125g cousin, but its official weight isn't listed on the RAVPower website.
We haven't managed to drop USB-A for USB-C just yet, so we were pleased to see these RAVPower wall chargers are compatible with both old and new USB connectors.
We were a little disappointed to see the adapters sometimes obscure multiple power sockets, especially if attached to an extension lead, so just bear that in mind if you're thinking about making a purchase.
As you'd expect, the more powerful 90W adapter is slightly more expensive at $54.99 (roughly £45/AU$85), while the 65W model will run you $39.99 (roughly £33/AU$60), but neither are outrageously priced compared to alternatives on the market.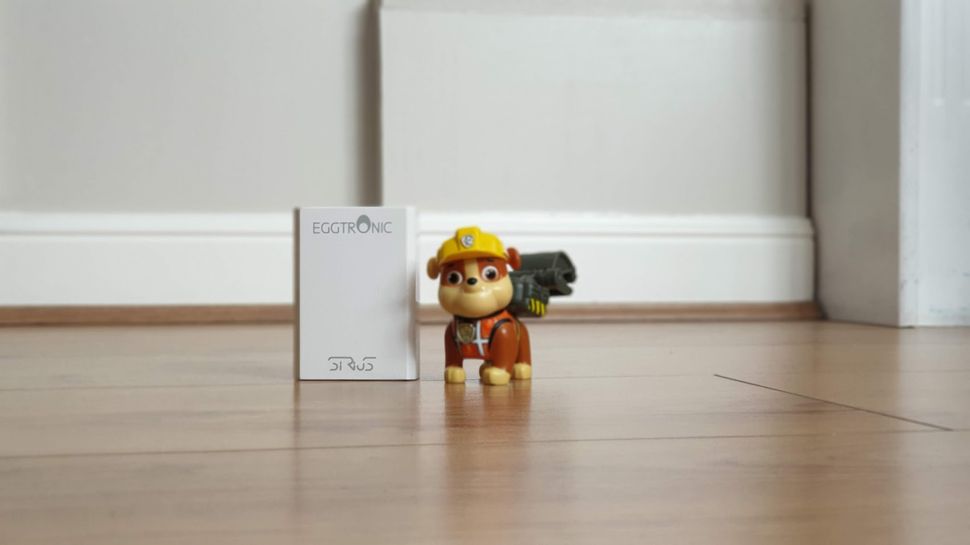 The 'smallest 65W USB-C laptop power adapter in the world'
Reasons to buy
+
Exceptionally small
+
Intelligent voltage detection
+
Energy efficient
Reasons to avoid
-
A little expensive
-
Non-US versions not available
Gone are the days of packing tens of different device chargers for every trip. This attractive little piece of kit from Eggtronic allows you to charge any USB-C device - from laptops to smartphones, tablets, cameras and more.
Eggtronic describes the Sirius as the 'smallest 65W USB-C laptop power adapter in the world' - and we can certainly vouch for its miniature proportions. At less than 0.1kg and with dimensions of 69 x 50.5 x 19.5 mm, it's smaller and lighter than a pack of cards.
Designed in Italy and available in black or white, the Sirius sports a sleek and minimalistic aesthetic, so it wouldn't look out of place connected up to, say, a MacBook Pro.
It's also finished with an anti-fingerprint coating that repels both oil and water, which means your charger should retain its clean matte finish long after its initial few outings.
The charger uses a nifty automatic voltage and current detection system to ensure it's compatible with all USB-C devices (up to 20 volts and 3.25 amperes) and is safe to use in all scenarios.
Many similar products use GaN power transistors to shrink charger size and cut costs. Eggtronic, however, uses EcoVoltas technology for an efficiency gain of 3% over other GaN chargers on the market. All in all, 93% of energy drawn from the mains is converted into device charge, which isn't bad going at all.
The same technology ensures gadgets connected up to the Sirius remain cool while on charge, extending their lifespan to the greatest degree possible.
In terms of quality of life features, collapsible prongs mean the Sirius won't snag on any items of clothing in your luggage as you're travelling from A to B. The USB-C cable that comes bundled - which is an impressive 1.8m long - is also made of durable material, so you don't have to worry about it fraying or snapping with re-use.
It's also worth noting that cable tips for not USB-C devices are available on the Eggtronic website, if you've fallen in love with the Sirius but own a handful of non-compatible devices.
Our only major gripe with the product is the price point, which sits a little above rival products at $68.99 (roughly £55/AU$105). If you're willing to forfeit the sleek design and tiny footprint, you might want to consider a cheaper alternative.
Unfortunately, it also appears the adapter is only compatible with US wall sockets. The need for EU and UK-based customers to employ an additional converter does detract somewhat from the sleekness of the Sirius.