Best office chairs in Australia for working from home or the office
Best
Contributions from
last updated
Get one of the best office chairs to improve your productivity
Quick menu
1. Quick list
2. Best overall
3. Best for ergonomics
4. Best budget
5. Best for long hours
6. Best for gamers
7. Best for under AU$500
8. Best executive
9. Best for larger people
10. Best leather office chair
11. FAQs
Whether at the workplace or at home, choosing the best office chair can make all the difference when you're at your desk. Finding the right blend of comfortability, adjustability and price range can be tricky, and with more of us working from home, it's more important than ever to pick the perfect chair for your office space.
These are chairs that you'll be sitting in for hours at a time, regardless of whether you're working or gaming, so not only does your office chair need to be comfortable, but it also needs to last. High-quality materials and build are important factors to look into, as well as what the chair is made of – mesh, leather and other materials can make all the difference for not only the look of a space, but also for how cosy a seat is.
Not all office chairs are built the same, and whether you want maximum adjustability or you want an affordable option, this list has the best office chairs you can find in Australia.
Best Office Chairs: the quick list
Load the next 3 products ↓
Best executive chair
The Humanscale Freedom combines build, material quality and ergonomic support in a premium office chair for those who have the money to splurge.
Best for large people
8. Secretlab Titan Evo 2022
Not all chairs are designed to fit every body, but the Secretlab Titan Evo 2022 edition has an XL option so big and tall people can also sit comfortably.
Best leather office chair
9. Noblechairs Epic Real Leather
Mesh chairs won't cut it for everyone, and as a real leather chair with a premium build and a stack of customisation options, the Noblechairs Epic Real Leather ticks all the boxes.
Best office chair overall
Arguably the best money can buy
Specifications
Seat height:
Available with different gas lifts
Reasons to buy
+
12-year warranty
+
Excellent build and adjustability
Reasons to avoid
-
Neck/head support not best placed
-
Expensive for some
Singaporean company ErgoTune has, well, fine-tuned its Supreme chair after listening to feedback from its users. And that makes the Supreme V3 one of the best ergonomic office chairs money can buy. Its mesh body is strong and practically everything about it is adjustable. There are a total of 11 adjustment points and the company is so confident of its chair that there's a whopping 12-year warranty on the Supreme V3.
ErgoTune even caters to people of different heights, offering different gas lifts to suit your needs, however it's not the widest seat you can get. With a width of 61cm, it may be a tight fit for bigger users. If that's not going to be an issue, the ErgoTune Supreme V3 is remarkably comfortable, a perfect throne for all-day sitting in the Aussie heat and with plenty of ergonomic support in places where they're needed the most.
For details, take a look at our in-depth ErgoTune Supreme V3 review.
Best for ergonomics
2. NeueChair Ergonomic Office Chair
Great overall ergonomic chair
Specifications
Dimensions:
70 x 66 x 104-113cm (W x D x H)
Seat height:
47 - 56cm (minimum to maximum)
Reasons to buy
+
Excellent balance of quality and price
+
Breathable mesh back
+
Customisable and highly ergonomic
Reasons to avoid
-
Might be difficult to clean mesh
Combining excellent build quality, premium materials, functional and adjustable design, and a relatively affordable price makes the NeueChair a no-brainer for those looking to solve their home office chair dilemma. With grippy pleather (polyurethane leather) arm-rests, an aluminium alloy frame, and a breathable mesh backrest, this chair is classy, comfortable, and built to last.
You can adjust everything you realistically need to – armrest height and angle, lumbar support, backrest tilt – and the controls are easy to access. While some of the other chairs on the list lean more towards the 'designer' end of the price bracket, the NeueChair does manage to squeeze in under this, although there are definitely some more affordable options out there if you're willing to sacrifice a little of the NeueChair's class.
For more detail, you can check out this glowing review of the NeueChair from our associates at Windows Central.
Best budget
Affordable comfort with a touch of personality
Specifications
Dimensions:
66 x 50.7-55.7 x 95-107cm (W x D x H)
Reasons to buy
+
Comfortable
+
Great colours
Reasons to avoid
-
Lacks strong ergonomics
-
Limited adjustments
It's not the most ergonomic chair we've tried, but we love the Steelcase Personality Plus for its value for money. Not only is it well designed, with different colours available directly from the manufacturer, it's got some features that you won't find in some other entry-level office chairs. For one, the armrests pivot a little and can be adjusted for height, the seat itself can be moved back and forth marginally and, importantly, it's well made with a sturdy frame.
We prefer the mesh back Personality Plus models, as these are more suitable to hot Aussie summers, but you can opt for an upholstered/padded version too.
Despite the limited number of adjustments that can be made, the Personality Plus is very comfortable, but it lacks decent lumbar support. There is a moveable curved panel for some curvature, but you'll hardly know it's there. If your lower back doesn't require that additional support, the Personality Plus will go a long way, with a 12-year warranty in place.
Read our in-depth Steelcase Personality Plus review to find out more.
Best for long hours
Ideal when you're sitting for long periods of time
Specifications
Dimensions:
29 x 29.5 x 45 in ( 73.7 x 74.9 x 114.3 cm)
Seat Height:
17 – 22 in (43.2 x 55.9 cm)
Maximum Load:
300 lbs (136 kg)
Colors:
Black, Canyon, Glacier, Nightfall, Dark mineral, Dark carbon
Reasons to buy
+
Herman Miller signature comfort
+
Stunning design, premium build
+
No setup
Reasons to avoid
-
Some adjustments not the easiest
-
Expensive
With two variants including one co-designed by Logitech, the Herman Miller Embody is a chair that has been designed to keep you comfortable for hours at a stretch, whether you're gaming or working. It features a modern design that looks like it's been picked right out of a utopian science-fiction movie, and has been built with high-quality materials so it'll also go the distance, even with long periods of use.
It comes out of the box prebuilt, and is suitable for both petite and larger people, thanks to a comfortable spring/foam hybrid backrest that is suitable for taller folks as well. There's a stack of adjustability options on this chair too, though they're not all the most intuitive. Besides typical office chair adjustments such as armrest height, the BackFit adjustments allow the chair's backrest to be tightened or loosened, for a level of customisation that comes down to an individual's spine.
Read our full Herman Miller Embody review
Best for gamers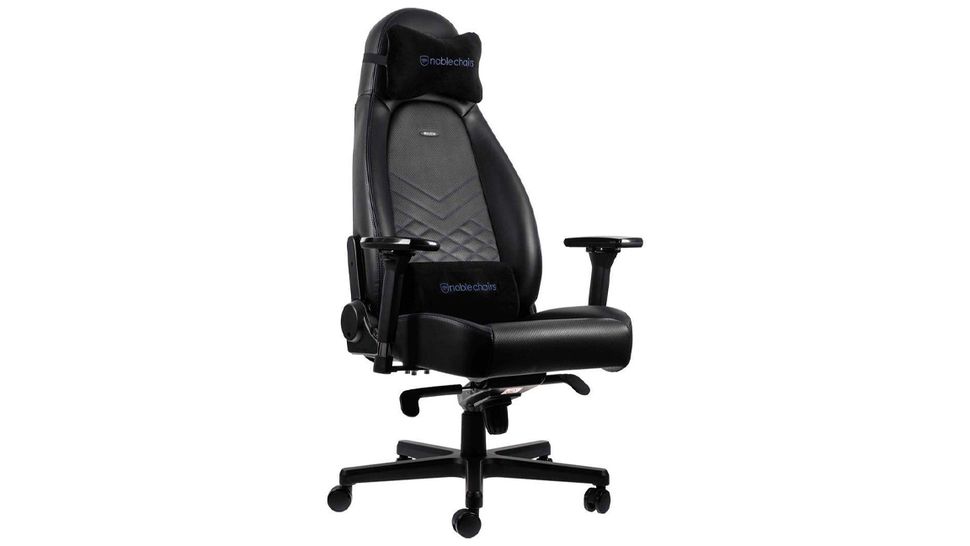 5. Noblechairs Icon Gaming Chair
A luxury gaming chair
Specifications
Dimensions:
87 x 37 x 70 cm (W × D × H)
Seat height: (Minimum to maximum):
48 - 58 cm
Reasons to buy
+
Premium materials
+
Very comfortable
+
Armrests very adjustable
Reasons to avoid
-
Bolster support pillow unnecessary
Noblechairs is well known for crafting some of the best gaming chairs out there – and the Noblechairs Icon makes it clear why. It's quite affordable, extremely comfortable and one of the best PC gaming chairs out there.
This is thanks to its nice lumbar pillow, which you can easily remove if you don't like it. The Icon is Noblechairs's least aggressive design, which may appeal for those wanting a chair that blends in with their home office and doesn't have the typical gaudy gaming designs.
Best for under AU$500
6. Koala upright
A simple chair thats great for small spaces
Specifications
Dimensions:
87 x 49 x 60.5 cm (W × D × H)
Seat height: (Minimum to maximum):
45.5 - 54.5 cm
Reasons to buy
+
Earthy colour options
+
Comfortable when upright
+
Relatively affordable
Reasons to avoid
-
No lumbar support
-
Limited adjustability
-
Thin padding
Simple and more budget-friendly than every other chair on this list, the Koala Upright Office Chair is a no-frills piece of furniture that can slot into any office space. It features a compact and minimalist design, making it a great choice for small spaces, and the colour variants give the option to add a pop of colour to any WFH office space.
It's a quality office chair at a great price point, but it does come with some concessions. There's very limited points of adjustment on the Koala Upright Office Chair, only offering the option to adjust the height of the chair or its recline, and there's no additional lumbar support or any armrests. While it has minimal cushioning, the padded seat and moulded backrest come as one single part, so it's very quick and easy to pop together. It would suit both an office space and a student's study desk.
Read our full Koala Upright Office Chair review
Best executive chair