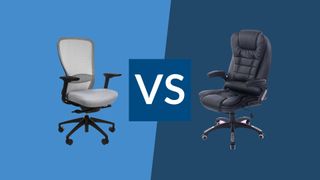 (Image credit: Future)
If you're in the market for a new office, desk or task chair to complete your workstation, or perhaps as part of a home office of business refresh, there is a lot of choice. Almost too much in fact, and it's not just about choosing the best office chair as some would have you believe. You might not even need an office chair if you're more of a casual desk user, but it's vital to make the right decision.
Much like buying an office desk, purchasing a new chair largely revolves around what you're planning to do and how much time you spend working. This is compounded if you need to consider any ailments you may suffer from, such as back pain, shoulder or hip pain. In that respect, you'll want to pay close attention to the ergonomics of any chair you're interested in.
It might look good, but is it going to be good for you to sit on, especially over longer periods of time? Equally, you'll need to keep in mind those everyday practical considerations, such as if your new chair is going to be a good fit for your workstation. There's no point in buying something with all of the bells and whistles if it simply isn't matched to where you work.
What's the budget?
Buying a new office chair can be an expensive process, although you can look at getting one secondhand if your budget is particularly tight. However, it's important to spend as much as you can on a new office or desk chair to ensure your comfort and general wellbeing is taken care of.
While there are plenty of cheap office and desk chairs that might look the part, many budget models often compromise on the comfort and ergonomic front. Spend any amount of time in a low-budget chair and its shortcomings will soon become apparent. Cutting corners on the money front could prove counterproductive as it'll make you less happy at your desk and could aggravate any physical ailments you might suffer from.
Ergonomics and comfort
Office chairs are all about keeping you comfortable but efficient in the workplace. In that respect, they'll generally follow a similar theme in the design department, with features that allow you to adjust height, back tilt and so on. However, compared to a desk chair the overall design will probably bit a little more utilitarian.

A desk chair, on the other hand, might deliver more in the way of casual comfort, such as adjustable lumbar support. Many office chairs also don't come with armrests and may feature a lower backrest too, which might be a conscious decision in order to save space. If you're working in a small office space then the slightly less imposing nature of many common office chairs will be an advantage.
The ubiquitous office chair can frequently be leather or vinyl covered, with mesh inserts to aid breathability. Mesh, when combined with fabric coverings can be a lot less hot to sit on, which is another thing to think about if your office is in a sunny location of frequently suffers at the hands of less efficient air conditioning. If you're working from home this isn't going to be such a consideration, but for office workers it's crucial.
Shared features
Office chairs and desk or task chairs do have much in common though. This includes the way they sit on the ground, which is usually on castors. These are fixed to a base that then has the central support tube for the chair itself. However, quality can also vary greatly in this part of any design, be it office, desk or task chair. The key to checking which castor is going to best for your needs is to try it – ideally on a similar surface to the one in your office.
There's nothing worse than have an office or desk chair that doesn't move freely as and when you need it to. The same goes for adjustability, with many office and desk chairs coming with a variety of functions that will allow you to change the way it works. Adjustment can usually be done via levers on the side or underside of the seat base, while back adjustments can invariably be made with a knob or roller found on the seat back.
Should I bother?
You might have got this far and not feel like there's not much difference between an office chair versus a desk or task chair. However, if you've got a need to improve your posture and keep it that way, a task or desk chair could be the one to go for. That's one noticeable difference that can pay real dividends because a decent desk chair can promote posture and offer support where it's needed.
The other great thing about a decent desk chair is that it doesn't rely on frills to get the job done. Many task and desk chairs might look quite mundane, especially if you're comparing them to an office chair with all the CEO-flavoured trimmings however. Another bonus is that desk or task chairs generally have less settings to get configured. If you sit in one and it feels right, you could therefore be on to a good thing.
Get it right
Of course, if you're looking for an office or desk chair that is going to be used by more than one person then both routes should factor in a few essentials. In either case, the seat will need to have the ability to adjust to suit different body types. You're also after ease of adjustment, so that tools and a manual aren't needed to change it for a change of employee – perhaps between shifts.
It's all about practicality in the long run, and a decent desk or task chair may fit the bill for everyday tasks. However, if you work for on your own and only have yourself to worry about, it might be a better idea to splurge and get yourself the best office chair you can afford, complete with all of the additional trimmings many of them come with.
Are you a pro? Subscribe to our newsletter
Sign up to the TechRadar Pro newsletter to get all the top news, opinion, features and guidance your business needs to succeed!
Rob Clymo has been a tech journalist for more years than he can actually remember, having started out in the wacky world of print magazines before discovering the power of the internet. Since he's been all-digital he has run the Innovation channel during a few years at Microsoft as well as turning out regular news, reviews, features and other content for the likes of TechRadar, TechRadar Pro, Tom's Guide, Fit&Well, Gizmodo, Shortlist, Automotive Interiors World, Automotive Testing Technology International, Future of Transportation and Electric & Hybrid Vehicle Technology International. In the rare moments he's not working he's usually out and about on one of numerous e-bikes in his collection.