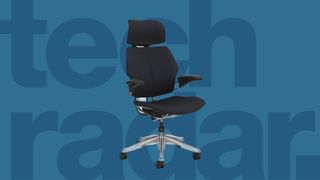 (Image credit: Future)
Not everybody is in a position to buy themselves or their employees the best office chair. Sometimes it might be a case of heading in the direction of secondhand instead, which might not initially sound appealing, but pre-used office equipment can be good, if not great. The main thing to do is your homework, especially before parting with any payment.
The other thing is to try to stick to reputable office equipment outlets, which generally only tend to stock chairs and office desks that haven't been completely worn out. On top of that, you'll want to follow a few guidelines in order to ensure that any office chair you're considering meets the criteria needed, including comfort and ergonomic design.
Added to that, buying a secondhand office chair is obviously made much easier if you can view it first. That way, it's possible to look over the physical appearance of the chair wile also ticking a few things off a checklist. Look out for wear and tear, check that the office chair works as it should and all mechanisms and levers are functioning, so it can be easily adjusted.

Above all – take a seat and ensure that your secondhand office chair fits the bill. If it's not comfortable then move on to the next option, using our tips below…
How to buy a secondhand office chair
1. Any warranty?
One of the major benefits with buying a brand new office chair, or any office equipment for that matter, is that it should come with a warranty. In many cases, if you're going down the secondhand route, there will probably not be any warranty at all, which does mean there's an element of risk.

That's why it's always a good idea to try and see the office chair in person, rather than relying on images and descriptions online. At least if you can view the chair and check it over you'll hopefully be able to spot anything obvious and give it a wide berth if the chair isn't up to scratch.
2. Wear and tear?
Buying a secondhand office chair will also likely mean there's be wear and tear to take into consideration. Although many larger companies will replace their office seating stock more regularly, there's every chance the office chair you're interested in will be worn in a few places. Remember how office chairs get treated during their working life, with many features and functions taking a pounding over time.

Along with the seat covering, which should be checked for dirt, damage and general condition, be sure to check over all of the seat mechanisms. Obvious features, like height and recline adjustment is a given, but inspect the cylinder for wear and tear – if it's leaking or doesn't feel as it should then avoid the chair as this can be an expensive part of the design to fix.
3. Hidden defects?
Staying with the wear and tear angle, try and take a deep dive into the inner workings of your chosen secondhand office chair. As mentioned above, the pneumatic cylinder is one area that should be functioning as expected as this can incur extra cost if you need to repair it. Things like levers for adjusting the chair's position should also be picked over carefully too.

Even simpler components, such as the castors, should work as expected. And don't just look at the seat coverings either - you should also check how much support is offered by the chair. A worn out chair that features sagging in the padding and feels uncomfortable to sit on should definitely be avoided.
4. Deep clean required?
Unless you strike gold and find a secondhand office chair that has hardly been used, then it's very likely you'll want to spend some time cleaning it once you've got it back to the office. It obviously depends on the material the chair has been constructed from, but most coverings can be refreshed using proprietary cleaning products.

Leather is invariably one of the most durable seat coverings, but even that can crack as it dries out over time. However, there are numerous leather products out there that can replenish the covering and bring it back to life. Vinyl is obviously easy to clean, often with just hot water and a fluffy cloth, while material-type coverings might need more careful attention, though a steam wand can also prove useful if used with care.
5. Everything works?
Try and look at the bigger picture with your secondhand office chair – imagine it in your workplace environment. One thing to consider that is easy to overlook is whether or can it can be adjusted to work in harmony with your desk. Things like armrests can look appealing when you first set eyes on a secondhand office chair, but if they can't be adjusted and stop the chair sliding under your desk then they can quickly become an issue.

So along with checking that all of the hardware and fittings mentioned above work, have a look at peripherals such as arm and headrests to ensure they can be adjusted and/or removed as and when needed.

Final thoughts
When you consider how much use an office chair gets over time, things will inevitably wear out eventually. But, if you pick over your preferred secondhand office chair using the basic tips mentioned above you should be well on your way to getting some quality new seating. If there's anything you're not quite happy about then move on the next option.

After all, there's not exactly a shortage of office chairs, no matter where you happen to be based, so it's well worth continuing your search until you've located an office chair you're satisfied with. The other bonus is that there are many different office outlets you can explore and, with so many options, that keeps prices competitive.

Remember to buy the best office chair you can budget for though, because skimping on one can result in uncomfortable days sat at your desk and potential health issues coming to light further down the line.
Are you a pro? Subscribe to our newsletter
Sign up to the TechRadar Pro newsletter to get all the top news, opinion, features and guidance your business needs to succeed!
Rob Clymo has been a tech journalist for more years than he can actually remember, having started out in the wacky world of print magazines before discovering the power of the internet. Since he's been all-digital he has run the Innovation channel during a few years at Microsoft as well as turning out regular news, reviews, features and other content for the likes of TechRadar, TechRadar Pro, Tom's Guide, Fit&Well, Gizmodo, Shortlist, Automotive Interiors World, Automotive Testing Technology International, Future of Transportation and Electric & Hybrid Vehicle Technology International. In the rare moments he's not working he's usually out and about on one of numerous e-bikes in his collection.