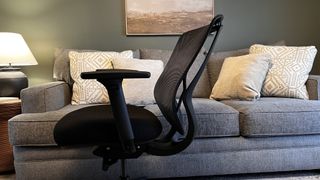 (Image credit: Future)
Even if you've splurged and purchased the best office chair for yourself, there's still some setting up to be done when you get it into position in your home or work-based office. After all, there's not much point in buying new office equipment, such as a chair or office desk, if it doesn't meet your needs as expected.
Getting your office equipment into the right position is vital to ensure that it won't be detrimental to your health. It's easy to end up with bad posture and back problems if your office chair isn't configured as it should be. What's more, if your office chair isn't comfortable and accommodating it could also prove to be bad for your general wellbeing too.
Think about how many hours you sit at your desk and it's not hard to image just how problematical that could become if you're forced to be uncomfortable all day. So, the five ways to adjust your chair we have lined up below should enable you to get the best from your seating position. And, if things still don't feel right after that, maybe it's time to invest in a brand new office chair?
5 ways to adjust your office chair
1. Seat height
In most cases, you'll find that the majority of office chairs have the ability to be raised and lowered. It really doesn't matter on the style of office chair as such, but lookout for the lever, or levers that will enable you to carry out this most basic of adjustment tasks.

Office chairs invariably sit on top of a cylinder, and moving the lever will allow you to raise or lower its height. This will let you set it so it sits at the right height in relation to your desk, while also allowing you plenty of leg comfort. We've also got a handy explainer on how to fix this part of a worn out office chair.
2. Tilt and tension
These might seem like related areas, but they are both vital in getting an office chair adjusted to meet your needs. The tilt lever will allow you to move the chair in a reclining direction, or limit its movement if you don't want any recline functionality at all.

A tilt tension knob, meanwhile, allows you to make fine adjustments to this pitch and also enable it to do this dynamically when you're sat in the chair itself. In other words, adjusting the knob should allow you to recline backwards automatically when, say, you're on the phone but keep you upright when you're tackling keyboard chores.
3. Tilt lock
Similarly, lookout in your office chair manual for an explainer on how the tilt lock mechanism works on your chosen model. This is a useful feature to know about as it'll keep the chair in an upright position if you need it that way, without the back of the chair leaning when someone puts their weight against it.

Of course, it all depends on the design and style of the office chair you've purchased as to how this can be adjusted. You may find that the lever has been integrated with the adjustment features above, although more complex and expensive office chairs will often have an additional lever for changing this setting.
4. Synchro tilt
Keep an eye out for your office chair having a synchro tilt adjustment mechanism. This adds another lever of flexibility to your chair setup as it optimises the recline ratio; in other words, it can be reclined faster while retaining the level of the seat in proximity to the floor.

You'll probably need to check the manual that has been supplied with your office chair to determine if this feature is built in to the design. Some office workers often have this feature and don't immediately know how to use or configure it. That's why it's always best to go for a quality office chair with lots of functions and a dependable user manual.
5. Back adjustment
It might seem like a given, but it's surprising just how many office chairs are used by people with the back adjustment setting all wrong. Again, checking your manual should help you to determine how best to set this so the chair will feel comfortable. This task is invariably done using a knob built into the back of the chair, although there can be variations on this theme.

Having the ability to adjust this setting quickly and easily is vital, especially if you frequently share your office chair with other workers. Being able to restore your preferred settings efficiently can make the difference between feeling happy about someone else sitting in 'your' seat, as opposed to taking ten minutes trying to reset things back to the way they were originally.
Final thoughts
If you've invested in a good quality office chair then you'll probably find that it comes complete with all the adjustability you'll ever need. You should certainly find it has the above mentioned options, so you'll be able to get it into an optimal position for staying productive and comfortable too.

If you've opted for a more budget solution then you may well find the adjustment list is rather shorter, but even the most basic office chairs usually come with the ability to raise, lower and move pitch. If yours doesn't meet even these basic requirements, it's obviously time to start shopping for the best office chair replacement.
Think about who will be using your office chair over time – if it's just you and you work for yourself this isn't really going to be an issue. However, if you run a business that needs office equipment that will be used by a wide variety of employees, it's vital to ensure there is enough level of adjustment available to make your office chair collection a comfortable proposition for everybody.

If it lacks the basic ability to be adjusted then you may need to spend a little more money and get an office chair that offers a better degree of adjustability.
Are you a pro? Subscribe to our newsletter
Sign up to the TechRadar Pro newsletter to get all the top news, opinion, features and guidance your business needs to succeed!
Rob Clymo has been a tech journalist for more years than he can actually remember, having started out in the wacky world of print magazines before discovering the power of the internet. Since he's been all-digital he has run the Innovation channel during a few years at Microsoft as well as turning out regular news, reviews, features and other content for the likes of TechRadar, TechRadar Pro, Tom's Guide, Fit&Well, Gizmodo, Shortlist, Automotive Interiors World, Automotive Testing Technology International, Future of Transportation and Electric & Hybrid Vehicle Technology International. In the rare moments he's not working he's usually out and about on one of numerous e-bikes in his collection.