Let's admit it: the smartwatch is dying, at least in the form we expected.

The 'mini phone on the wrist' hasn't taken off as a must-have product, slipping merely into the realms of luxury purchase... and not really offering a huge amount.

But the Apple Watch 3 is starting to offer a glimmer of something different... a more health-focused device.

Yes, the notion of the smartwatch pivoting to a fitness device is hardly new, as companies like Garmin are gatecrashing the best-selling smartwatch lists with things like the Forerunner 630, which is a run tracker with smart capabilities and does the job well.

Samsung, Apple and LG all have a huge core of fitness tracking in their latest releases as well, extending beyond the basic step counting and packing in GPS, strength training and more rounded workout routines.

But watching the launch of Apple's new watchOS 4, it was hard not to be struck by how the future of wearables is heading beyond fitness and into the world of more general health.

Tim Cook set tongues wagging recently when he was pictured wearing a glucose monitor in public, a sure sign that Apple is - at least thinking of - building such functionality into the next Apple Watch.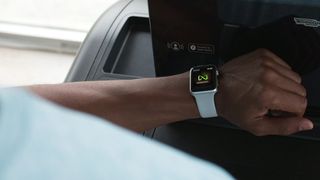 That was reinforced by the announcement that Core Bluetooth is going to be part of the new watchOS, allowing the connection of a wider variety of sensors.
My colleague Andrew London did some digging into this, checking out what the companies Apple whizzed past on stage are actually going to be offering on the Apple Watch.
While he couldn't find anything on the surfboard sensor that can tell you in real time how high you're leaping, or much more on the tennis racquet sensor that connects to the Watch, the glucose meter from Dexcom was of more interest.
This needle-sized device that the user embeds under their skin connects directly to your Apple Watch and can give diabetics live updates on their glucose levels. Intrusive, yes, but a better solution than constantly drawing your own blood for many.
But if the Apple Watch 3 doesn't even need to break the skin, then it's going to be a big draw for many. My father suffers from diabetes but suddenly came to me recently (after reading of the rumors of Tim Cook wearing the glucose monitor) to ask if could use the new Apple Watch with his Sony phone.
When I told him this would be impossible, he started asking how much it would be to buy an iPhone and which he should go for - such was his desire to have a gadget that took away the hassle of having to check his blood all the time.
Filling the fitness
The new watchOS 4 - the platform that would theoretically power the new Apple Watch 3 if it's shown this year - also has a number of new features that embed the smartwatch into a wider range of fitness fans' lives.
Partnering with brands like TechnoGym will allow wearers to get more accurate distance and speed data from a treadmill sent to the watch, with a little tap of the Watch onto the NFC sensor pairing the two up instantly.
It'll even read your heart rate from the wearable and pump it up to the screen of the treadmill (or other fitness machine) - and it's little things like this that Apple does well in terms of quietly embedding users within its ecosystem.
Because while none of this is necessarily proprietary to Apple, it's a brand that knows how to create frameworks for developers to work with, and a stable product that partner brands want to be associated with.
Other smartwatches could feasibly achieve the same thing - given that TechnoGym's cloud-based Unity platform is actually Android based there's no reason why Samsung couldn't offer the same kind of tie-in with a fitness equipment manufacturer - but Apple's slick customer experience and superior sales make it a much more attractive proposition for brands.
And one of the key issues that's been a bugbear of mine with the Apple Watch is being solved with the new watchOS 4 software: you can now fully share the data from the Workouts app with other third-party applications, so in theory you'll be able to full port your run from the Apple Watch to Strava's platform without having to use the much-poorer Strava app.
Run this city
While away covering the WWDC event I also had the chance to run with the founder of RunGo, an app that has thousands of running routes mapped out globally - but crucially, gives you audio feedback on which way to turn.
That little jogging sat-nav has been added as an Apple Watch 2 app now that the hardware has GPS on board, and it was another facet that something like a dedicated running watch from TomTom or Polar doesn't have in its arsenal.
It worked pretty well as long as you trusted in it - waiting to almost the last moment before getting ready to turn - and there are tonnes of routes already on there, with any user able to create their own option and share it with the community.
(I did ask whether they would ever be able to integrate something like Strava's Heat Maps, which shows on a map where people run the most, into the app. It's the first thing I look at when I visit a new place as it means I find the more tried-and-tested routes, and the developer I spoke to said it was something that was being looked into.)
So, should we be getting excited about the Apple Watch 3? Could this be the point where the power of the phone fuses with the impressive capabilities of a running watch and genuinely helpful medical aid?
There are still some hurdles to overcome, at least on the fitness side: using both Strava and RunGo on the Apple Watch isn't as fully-featured as the main Workouts app, and that's something the developers and Apple need to work together to solve.
But should it all come together for the next iteration - and if running fades into the background to offer a more all-round health service that is relevant to far more people - then that could finally pave the way for smartwatches to actually offer something truly useful to many, rather than the luxury second screen they are now.