An ever-improving running watch
More strings to the fitness bow
As a fitness tracker, the Apple Watch 3 is one of the best
The fitness side of the Apple Watch 3 is arguably now the most important of the wearable range, and that's clear in the way Apple is positioning the device.
From improved heart rate monitoring to being able to take calls when out running, every featured is centered around the fact that you can live a better, healthier lifestyle with this device.
The heart rate monitoring is more advanced than ever - it's no longer just counting your beats per minute, but recording your daily resting heart rate, your workout ranges, pulse while walking, all to give you a chart of whether it's improving or not.
The thing is that, while this information is interesting, it's not given in a way that offers insights into what you're doing. One can extrapolate that a lowering resting heart rate is indicative of an improved level of fitness, but this isn't overt from Apple.
Apps will be able to take advantage of this information, but it would be nice to see Apple giving insights into this - heart rate variability is also tracked, for instance, and this is a really neat metric to show tiredness.
However, Apple just shows it as a number on the Watch 3, and that's something that certain users might like explained a little better.
One of the best things about the Apple Watch 3 is that it's got 16GB internal storage (for the LTE version, 8GB with just GPS), which means you can fill it with your tracks from your phone.
The Watch 3 will naturally sync tracks that you play regularly from the phone, which is nice when you fancy listening to some music and haven't bothered to sync anything over recently (or don't have the LTE version of the Watch or a data connection for streaming).
However, this only works if you have an Apple Music subscription or regularly listen to songs stored on the phone - any other streaming service isn't supported.
Being able to listen to music on the go this way is great for a run, and being able to switch tracks while running is ace, thanks to just a flip to the left showing the music screen.
However, be warned: syncing the music takes AGES, so you'll need to prepare the effort ahead of time. The Watch 3 needs to be charging, and it's best done overnight - this isn't something do just before you head out the door on a whim to take on a workout.
The music quality is strong though and if you're a signed up, regular Apple Music user, this is a strong reason to buy the Apple Watch. You can buy the older model to store tunes onboard but you'll only be able to stream songs on the go with the LTE capabilities of the Apple Watch 3.
Another upgrade with watchOS 4 is 'daily inspiration', helping motivate you to achieve your goals when you wake up.
You'll be welcomed with an update on how you did the day before, and given information as you go through the day on how you're getting on. This is done using intelligence from the Watch 3, with it noticing when you're most active and prodding you at the right time.
This can be really helpful, inspiring you to take a little longer on the walk to work to just hit the required level of exercise (denoted by closing a ring), but it can also be infuriating if you're someone who gets obsessed with hitting your levels.
For instance, we were told at 8.30 in the evening that we still needed 100 calories to hit our target, and the Watch 3 suggested a 'brisk 30 minute walk' as a way to do this.
Given we'd just come back from a hard training session up and down hills, this seemed a bit of an unfair suggestion - sure, we'd missed our calorie goal (due to be sedentary in the office) but this extra work wasn't motivating.
(Admittedly, we went and ran around the roads until we'd closed the ring, but that's just an obsession).
Running with the Apple Watch 3
With the addition of GPS (in the Apple Watch 2) and Apple Music streaming on the new Watch, you could make an excellent case for the Apple Watch 3 being one of the best running watches on the market.
The inbuilt Workouts app has been upgraded time and again and is now a much more usable way to track your runs.
While it's still essentially just the same sea of numbers on your wrist when running, it's now much easier to get into a run with a single tap or set up a target - be that distance, time or calorie burn.
When on the run we found the heart rate monitor to be more accurate than before, sometimes even outstripping the chest strap in terms of monitoring our beats per minute correctly.
It wasn't infallible, with some runs instantly hitting a really high heart rate for no reason, so we'd still be tempted to use a chest strap to get a properly accurate heart rate, but overall it's a good tracker if you're thinking of doing one or two easier runs a week.
The accuracy of the GPS is as good as anything we've seen - Apple still refuses to let you see if the GPS has locked before you start a run though, which irks.
While we get that such a thing can get in the way of just getting out and running, it can have an effect on the distance you've run and when you like to be exact, that's annoying.
But much of the time the Apple Watch 3 tracked precisely as well as a dedicated running watch - we benchmarked it against the Garmin Forerunner 735XT and 935, and in both cases we were pleased with the results, with both offering very similar distances at the end of the run and pinging at the same point when we completed each mile.
Battery life, as explained elsewhere in this review, is excellent, and we enjoyed being able to truly drop the phone and still listen to music on the go. We do with Apple would put a dedicated podcast app on the Apple Watch to save your favorite shows on there (ideal for a long run) but that's the only bugbear.
Actually, that's not true - the data from the inbuilt Apple Workouts app is still locked inside, meaning you can't share it with something like Strava.
There's no reason that won't change, but until you can unlock your runs from Apple's Workout app (or the standalone apps improve in quality) it won't be considered a quality running watch...because we all know it doesn't count unless it goes on Strava.
There are ways around that - we've not tried them, but we're seeing good things about apps like HealthFit as a way of bringing your Workout activities to the surface - but it would still be much nicer if you didn't need the hassle of paying for, installing and firing up another app just to do this.
Swim tracking
The Apple Watch 3 follows in the footsteps of the 2 by allowing you to get the thing wet and dunk it in the water to track your swims.
It's 5ATM resistant, so you'll be able to thrash around in the pool with it – and it's a decent device to do so with.
However, if you're a keen swimmer, the basic swimming workout Watch app probably isn't for you. As far as we could tell in our disgustingly splashy attempts, there's very little that can be done here beyond just tracking how many lengths you've completed in the pool while stroking around.
That's on top of the usual metrics - heart rate, calories burned, distance etc - although you'll probably need a dedicated swimming heart rate chest strap to track your pulse accurately as we've found wrist-based option notoriously inaccurate in the pool.
What it doesn't do is offer more advanced features like drills or SWOLF measurement, which some swimmers will look for, and info like pace splits are best seen in the Workouts app after the swim, once synchronised with the phone.
But while the interface is simplistic, the accuracy is pretty high, and the Watch is able to tell when you're swimming and resting accurately through the accelerometer.
Third-party apps were more impressive though – we tried Swim.com as an alternative to the main workout option, and found it to be perfect for the swimmer who's just above novice. You can set drill distances and use a rest timer, with the Watch 3 pinging you through a vibration when it's time to get going again.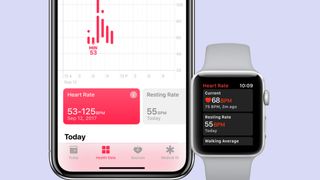 The accuracy within this app was almost perfect, and the way it quickly transitioned between resting and swimming made us feel we would be confident getting fitter at swimming and using this app / Watch 3 combo to track our progress.
WatchOS 4 also offers the ability, as mentioned, to join together activities when you're working out. This means that if you're a triathlete doing brick sessions of swimming, running and cycling you don't need to keep restarting the app – and outdoor swimming tracking on offer here too, using the onboard GPS.
The heart rate monitor on the back of the phone won't work when you're in the water, so presumably the only way to get that data is to use a dedicated strap during the workout... but if you're that serious about swimming then you either want something a little more advanced than what Apple is offering, or you'll know which belt to get.
HIIT workouts and gym friendliness
The Apple Watch 3 also packs other fitness capabilities now - namely the ability to track your high intensity interval training (HIIT) workouts.
This doesn't really differ much from the 'other' workout option that was there before, except the calorie burn is going to be more accurate.
It's nice to have this different mode - for nothing else, to be able to see what you've done in a workout - but it's mostly just for a calorie burn.
The Apple Watch 3 can monitor a large number of workouts from the wrist, and can also connect to enabled gym equipment too - that's a nice touch and means you're able to use it as a heart rate monitor for your cross-stepping or rowing efforts.
We recently tested this feature out as it's been rolled out to gyms across the world now, and it's pretty neat. You just tap the Watch to the machine and it's instantly connected, with the heart rate coming from the Apple Watch and into the machine.
Conversely, the gym equipment (currently just things like elliptical machines, steppers and treadmills) will supply the distance, elevation and other related info to the Watch, allowing you to monitor your workouts exactly in the Health app.
You can even tap the Watch to the machine midway through a workout, and it'll catch up - meaning you won't have lost the data.
This is something that very few other smartwatches can offer - another draw into the Apple ecosystem.
Image Credit: TechRadar