Olympus offers free 45mm lens for OM-D customers
Portrait optic with popular CSC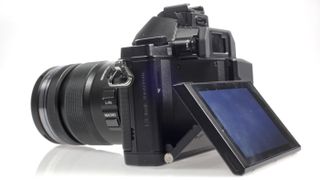 Olympus is running a new promotion, giving customers purchasing an advanced compact system camera a free 45mm lens.
Customers purchasing an Olympus OM-D in the UK will qualify for a free 45mm f/1.8 portrait lens.
Both the OM-D and the 45mm lens have gained great critical success this year, with the OM-D being launched at the CES trade show in January.
Featuring a 16 million pixel Live MOS Four Thirds sensor, a tilting touchscreen and a high resolution electronic viewfinder, the OM-D sits in the premium compact system camera market.
Olympus was one of the first companies to produce a compact system camera and shares the Micro Four Thirds format with Panasonic.
Portraits
The 45mm f/1.8 lens gives an equivalent focal length of 90mm in 35mm terms. With a wide f/1.8 aperture, the lens is particularly useful for shooting portraits but is also good for a variety of other subjects.
To claim the lens, which is worth around £250, customers need to purchase an OM-D between October 15th and December 31st 2012.
The offer will only be valid in the UK and Ireland through authorised Olympus sellers. Customers can reserve a camera for pick-up on the 15th to qualify for the promotion now.
Sign up to receive daily breaking news, reviews, opinion, analysis, deals and more from the world of tech.
Amy has been writing about cameras, photography and associated tech since 2009. Amy was once part of the photography testing team for Future Publishing working across TechRadar, Digital Camera, PhotoPlus, N Photo and Photography Week. For her photography, she has won awards and has been exhibited. She often partakes in unusual projects - including one intense year where she used a different camera every single day. Amy is currently the Features Editor at Amateur Photographer magazine, and in her increasingly little spare time works across a number of high-profile publications including Wired, Stuff, Digital Camera World, Expert Reviews, and just a little off-tangent, PetsRadar.