Future shopping uses phone cameras to deliver
Phones, image recognition and e-money combine in commerce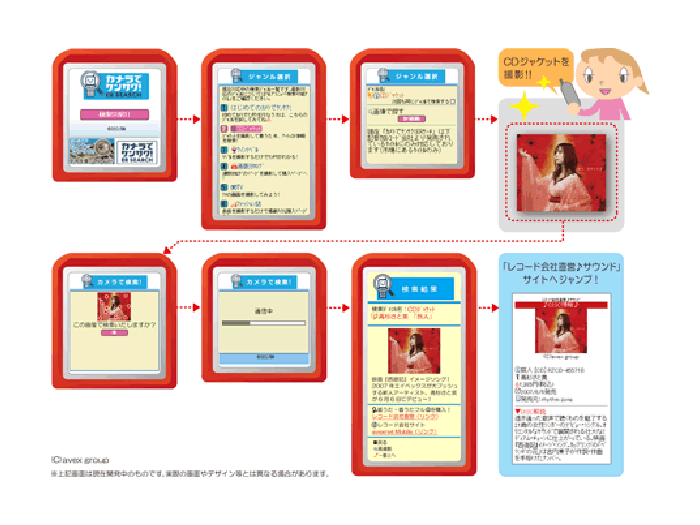 Spending money can hardly get any easier than this - a new online shopping service in Japan allows shoppers to buy music CDs simply by taking a photograph of them with a cameraphone and to pay for them on credit by keying a PIN into the very same mobile phone. Bandai 's ER Search service combines the ubiquity of the cameraphone with the increasing penetration of IC-based electronic credit cards. It does so using its own central database of CD covers, sophisticated image-recognition software and NTT DoCoMo 's DCMX phone-based credit card.
Keep it simple
As for the human element in all this, it's a simple matter of someone spotting a CD they fancy - realistically, it'll be on a printed advert or TV commercial, as going this high-tech in a music shop with the actual CD in hand would be a little pointless - snapping its pic and confirming the purchase.
Next-day delivery of the actual goods can be preceded - of course - by download versions to be listened to on the phone right away.
The software behind ER Search is the brainchild of US company Evolution Robotics and can be used to recognise more or less anything, due to its ability to work out what it sees even when photos are shot at an angle or otherwise unclear.
For now, ER Search is confined to a few Japanese NEC phones, but it could end up in the hands of other makers if it proves successful. And, with most J-Pop music as simple and unchallenging as the ER Search system, there's no reason not to expect it to spread far and wide.
Sign up to receive daily breaking news, reviews, opinion, analysis, deals and more from the world of tech.
J Mark Lytle was an International Editor for TechRadar, based out of Tokyo, who now works as a Script Editor, Consultant at NHK, the Japan Broadcasting Corporation. Writer, multi-platform journalist, all-round editorial and PR consultant with many years' experience as a professional writer, their bylines include CNN, Snap Media and IDG.