BlackBerry Passport, Classic will arrive in US this month
Coming soon to an AT&T store near you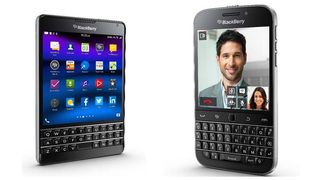 BlackBerry addicts in the US will be happy to know that on February 20, AT&T will begin selling the $649.99 BlackBerry Passport and the $419.99 BlackBerry Classic online and at the carrier's retail stores. Both phones run on the security-centric BlackBerry 10 OS 10.3.1.
While both the BlackBerry Passport and the BlackBerry Classic have been available unlocked internationally, this is the first time that either device will be available for purchase through a US carrier. The Passport is an AT&T exclusive while the BlackBerry Classic will be headed to more carriers.
The Classic and Passport are BlackBerry's latest efforts at competing in the enterprise space against Apple's iPhone and Google's Android OS. A Piper Jaffray report released early this year shows that BlackBerry is trailing its rivals in enterprise adoption, commanding 24%of CIO support versus 98% for iOS and 79% for Google. For those who demand a physical hardware keyboard on their phones, BlackBerry still leads in this space.
BlackBerry Passport
The Passport is BlackBerry's current flagship smartphone offering and features a 4.5-inch Full HD square touchscreen with a 1440 X 1440 resolution. While internally the Passport on AT&T and the international unlocked models are similar, AT&T's model comes with more rounded corners.
Weighing 6.91 ounces and measuring 5.04 X 3.56 X 0.36 inches, the Passport is a large and wide phone with similar dimensions to the LG Optimus Vu on Verizon. That device has a 4:3 aspect ratio display, making it awkward to hold as a phone. With a 5-inch display, the LG rival measures 5.5 X 3.56 X 0.33 inches.
The Passport has a three-row keyboard positioned just below the display. There isn't a dedicated row for the spacebar key, so it's crammed into the third row. Though the Passport does not have the Classic's optical touchpad for navigating the BlackBerry UI, the keyboard itself is a trackpad allowing you to swipe your fingers over the keys.
BlackBerry is positioning the Passport as a productivity heavyweight. The device is rated for 30 hours of battery life and comes with a Qualcomm Snapdragon 801 processor, 32GB storage, 3GB RAM, and 13-megapixel camera with optical image stabilization to help with low light photography.
BlacKBerry Classic
For those who refuse to give up the BlackBerry navigation keys or the optical trackpad found on older BlackBerry Bold and BlackBerry Curve smartphones, the Canadian smartphone-maker designed the Classic as an homage to the past but with a look towards the future.
Running the latest version of the BlackBerry 10 operating system, the BlackBerry Classic packs in a 3.5-inch 720 X 720-pixel resolution touchscreen and 16GB of storage in a design that instantly feels familiar to BlackBerry Bold users. With a steel frame, the Classic has a familiar 4-row keyboard, and the optical trackpad allows users to navigate the OS and select text without having to reach for the touchscreen.
The device also has an 8-megapixel rear camera. BlackBerry claims the Classic has a battery life of 22 mixed hours.
Enterprise appeal
Those choosing a BlackBerry smartphone in 2015 aren't doing so because of BlackBerry's library of apps. Though the BlackBerry App World store is much smaller in comparison to the App Store for iOS or Google's Play Store, BlackBerry included a Java runtime that allows BlackBerry devices to run Android apps with mixed results.
BlackBerry's strength lies in its security features, which will draw appeal from businesses and IT administrators. BlackBerry Protect allows a user to wipe a BlackBerry phone if it's lost or stolen while BlackBerry Safeguard allows users to secure all information on any app.
Popular with the BYOD crowd, BlackBerry Balance in BlackBerry 10 allows users to essentially partition their phone into two profiles, one for work and a second for personal. To protect sensitive work information, data cannot be shared between the profiles.
There is also built-in malware detection and encryption.
Pricing
Retail prices for both models will vary based on the different plans or contract terms that is selected at purchase. Both the Passport and Classic will be available through AT&T's no-commitment Next plans for $0 down. The Passport will cost $21.67 per month on the Next 24 plan, $27.09 with Next 18, or $32.50 with Next 12. With a two-year contract, the Passport could be purchased for $199.99, and the phone retails for $649.99 for those not willing to sign a contract.
The BlackBerry Classic costs $14 with Next 24, $17.50 with Next 18, or $21 per month with Next 12. Like the Passport, there is $0 down on AT&T for the BlackBerry Classic with any of the Next plans. With a two-year contract, the Classic costs $49.99, and those not wanting to sign a service agreement can pick up the Classic at the $419.99 full retail price.
Are you a pro? Subscribe to our newsletter
Sign up to the TechRadar Pro newsletter to get all the top news, opinion, features and guidance your business needs to succeed!