One life insurance company is offering policy holders an Apple Watch 3 for just $25
You'll have to sweat for it, though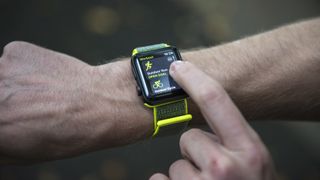 John Hancock Life Insurance is ready to give all US members of its "Vitality" plan an Apple Watch Series 3 for only $25, but the catch is that they will have to work for it.
Technically John Hancock is offering the watch via a two-year payment plan split into 24 monthly installments. Yet if the watch confirms you met a monthly goal of 500 "Vitality" points through activities such as jogging, swimming or hiking, you'll end up paying zero bucks for the month.
Slip up once, though, and you'll end up paying whatever you still owe on the device through the regular payment plan. (Alternatively, policy holders can opt for a "complimentary Fitbit to track your healthy activities" rather than the Apple Watch.)
As CNBC reports, the approach has already attracted some criticism from groups who don't like the way the plan involves reporting physical activity for financial discounts, as they believe it's an invasion of privacy. John Hancock, though, says it has unspecified "safeguards" in place to protect that privacy, particularly from threats such as employers who might want to punish their employees.
Other critics believe the plan is unfair to new mothers and policy holders who don't have time for gym exercise because they're busy juggling multiple jobs at once.
Time and time again
But John Hancock already offered the plan last year for customers who bought coverage of $2 million or more, and the results were impressive.
According to a press release, around half of the people in the plan managed to meet their monthly goals and thus didn't need to pay anything beyond the initial $25. People enrolled in the plan also increased their step count by around 2,000 paces per week and showed a 20% increase in weekly physical activities.
The nationwide rollout of the plan kicks off on November 3, which, perhaps not coincidentally, is the same day the iPhone X hits Apple's retail stores. Additional taxes apply, as well as extra fees if you choose the Apple Watch Series 3 that supports both GPS and built-in cellular (which, let's admit, is kind of the whole appeal of the latest version).
And, sorry, New York. For whatever reason, you're the only state that doesn't qualify for the program.
Aetna employees enjoy a similar program, and it may soon join John Hancock in rolling out the promotion to all of its policy holders.
Sign up to receive daily breaking news, reviews, opinion, analysis, deals and more from the world of tech.